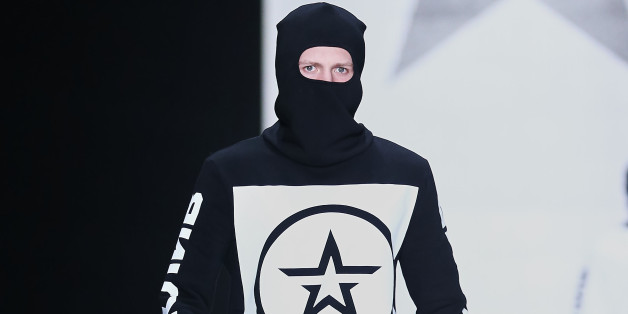 A Russian fashion designer, in collaboration with the country's defense ministry, presented a collection at Moscow Fashion Week last month that winked at Russia's annexation of Crimea.
"I do not sew army uniforms, but I can help make the army attractive to people," designer Leonid Alexeev, now art director for the Russian Army's design bureau, told Russia's Time Out of his collection. "This is my personal form of patriotism."
The collection, Army of Russia, debuted at Mercedes-Benz Fashion Week in Moscow and featured stars, balaclavas and subtle references to Russia's controversial annexation of Crimea from Ukraine. One of the shirts, for example, had the word "polite" written on it and another said, "The polite people have entered the city."
According to The Telegraph, "polite people" is a euphemism for the "silent, heavily armed" men of the Russian marine infantry who have taken over parts of the peninsula. The term is also used by Russian Forbes and other Russian media. It's roughly analogous to the way Western media and Ukrainians called the unofficial Russian soldiers in unmarked uniforms "little green men."
Other parts of the collection allude to clothes worn by Russian-backed forces in the Ukraine.
One jacket was emblazoned with the word "Victory," a reference to the anniversary of Russia's 1945 victory in World War II.
The U.N. human rights office estimates more than 6,000 people have died in the Ukrainian conflict. Despite a ceasefire agreement, fighting in the region intensified again in recent days, warned Observers from the Organization for Security and Cooperation in Europe on Sunday.
According to Alexeev's bio on the fashion week website, he established the label in 2004 and trained at Central St. Martin's College in London. Dazed Digital described the Leonid Alexeev brand as a "menswear label defying traditions with smart-street sensibility and theatrical air."
See some of the designs, below.
Talia Lavin contributed reporting to this piece.
PHOTO GALLERY
Russian Army Design at Moscow Fashion Week