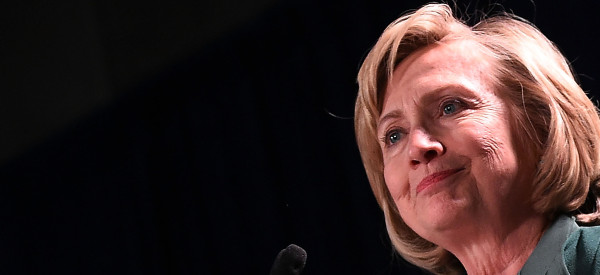 TOP STORIES
To get The Morning Email, HuffPost's daily roundup of the news, in your inbox, sign up here.
HILLARY CLINTON: OFF TO IOWA As Hillary Clinton announced her second run for the presidency with a video message, she was gearing up for her first campaign visit to Iowa. Here's what friends and foes alike had to say about her announcement, as well as an analysis of the video itself and what many are calling its "Warren-esque" message. [AP/HuffPost]

ARE YOU READY TO HEAR ABOUT HILLARY FOR THE NEXT 575 DAYS? Meet her team in this week's Trail to the Chief, and take a look at the ads Republicans are already running against the presumed Democratic nominee. And enjoy SNL's imagining of what Clinton's announcement could have looked like. [Howard Fineman, Jason Linkins and Lauren Weber, HuffPost]
WAPO: 'THOUSANDS DEAD, FEW PROSECUTED' "[Coleman] Brackney is among 54 officers charged over the past decade for fatally shooting someone while on duty, according to an analysis by The Washington Post and researchers at Bowling Green State University. This analysis, based on a wide range of public records and interviews with law enforcement, judicial and other legal experts, sought to identify for the first time every officer who faced charges­ for such shootings since 2005. These represent a small fraction of the thousands of fatal police shootings that have occurred across the country in that time." Take a look at this graphic on the 54 cases. [WaPo]
THE U.S. IS PROTESTING RUSSIA'S INTERCEPTION OF A SPY PLANE "According to the Pentagon, the U.S. RC-135U plane was flying in international airspace north of Poland. U.S. officials say a Russian SU-27 fighter intercepted the U.S. aircraft at a high rate of speed from the rear, and then proceeded to conduct two more passes using 'unsafe and unprofessional maneuvers' in close proximity." [AP]
TURKEY AND SAUDI ARABIA DISCUSSING OUSTER OF ASSAD "Turkey and Saudi Arabia, two nations with a long history of rivalry, are in high-level talks with the goal of forming a military alliance to oust Syrian President Bashar Assad, according to sources familiar with the discussions ... As the partnership is currently envisioned, Turkey would provide ground troops, supported by Saudi Arabian airstrikes, to assist moderate Syrian opposition fighters against Assad's regime, according to one of the sources." [Ryan Grim, Sophia Jones and Jessica Schulberg, HuffPost]
U.S. INCREASES ROLE IN SAUDI CAMPAIGN AGAINST YEMEN REBELS "The U.S. is expanding its role in Saudi Arabia's campaign in Yemen, vetting military targets and searching vessels for Yemen-bound Iranian arms amid growing concerns about the goals of the Saudi-led mission, according to U.S. and Arab officials." [WSJ]
IRAN TO TRY WAPO BUREAU CHIEF ON SPYING CHARGES Jason Rezaian, The Washington Post's Iran Bureau Chief, will be tried after nine months for economic espionage. [CNN]
THE LAUNCH PEOPLE WERE ACTUALLY EXCITED ABOUT YESTERDAY Was the season five premiere of "Game of Thrones." Read HuffPost's recap, as well as this analysis of why the key death in the episode was a necessary departure from the books. And in the spirit of launches, take a look at this picture of Hillary on the Iron Throne. [Erin Whitney, HuffPost]
WHAT'S BREWING
21-YEAR-OLD PHENOM JORDAN SPIETH WON THE MASTERS And the $1.8 million that goes with it. Start practicing your putts kids. [AP]
ALL THE MTV MOVIE AWARD WINNERS As well as a best-dressed list and a reminder that ten years ago, Jessica Simpson and Nick Lachey were a thing at these awards. [HuffPost]
JUSTIN TIMBERLAKE AND JESSICA BIEL WELCOMED A SON Who they named Silas. No comment on the name choice. [HuffPost]
'PITCH PERFECT 3' IS CONFIRMED And a "Pitch Perfect 2" clip dropped -- 'twas an aca-awesome weekend. [Vulture]
THERE'S A 'LOST' SITUATION GOING ON WITH THAT REDDIT BUTTON 700,000 people have pushed it. [Vox]
THE HISTORY OF THE HOT TAKE "But the true hot take is a piece of opinion journalism hastily written in a scolding tone, often by older men (see sourcing note above) who have achieved enough status in media that they don't have to work so hard anymore." [The New Republic]
THE FIVE CARBS TO EAT BEFORE A RACE Makes us want to go for a run … maybe tomorrow. [HuffPost]
WHAT'S WORKING
THE APPS DOCUMENTING POLICE ABUSE "In an effort to protect that constitutional right, developers, in recent years, have been partnering with advocacy groups like the American Civil Liberties Union to develop smartphone apps aimed at making it easier for members of the public to document allegations of police abuse -- and to know their rights while doing so." [HuffPost]
ON THE BLOG
HILLARY CLINTON: A NEW CHAPTER "I wrote this book over the course of 2013 and early 2014, mostly from a cozy, sun-drenched third-floor study in our home in Chappaqua, New York. There's a thick carpet and a comfortable chair, and I can look out through the windows into the treetops. I finally had time to read, catch up on sleep, go on long walks with my husband and our dogs, see more of my family, and think about the future." [HuffPost]
BEFORE YOU GO
~ Meet the new host of "Face the Nation."
~ Kylie Jenner is back on the turquoise hair trend.
~ If you put a chip in it ...
~ Leonardo DiCaprio had quite a blast at Coachella, and Bradley Cooper and Suki Waterhouse may have rekindled the flame there.
~ "Empire's" Cookie finally met the Cookie Monster.
~ Tell us your story …
~ Nike threw down some real talk in its latest commercial.
~ Nelly was arrested on felony drug charges.
~ As Vulture put it, "Ian McKellan will play a clock."
~ The rise of the "work college."
~ Turns out "The Wire" was so realistic, law enforcement officers asked them to leave out details for fear it would expose "vulnerabilities."
~ The Nicholas Sparks movie you can feel least-guilty about watching.
Send tips/quips/quotes/stories/photos/events/scoops to Lauren Weber at lauren.weber@huffingtonpost.com. Follow us on Twitter @LaurenWeberHP. And like what you're reading? Sign up here to get The Morning Email delivered to you.