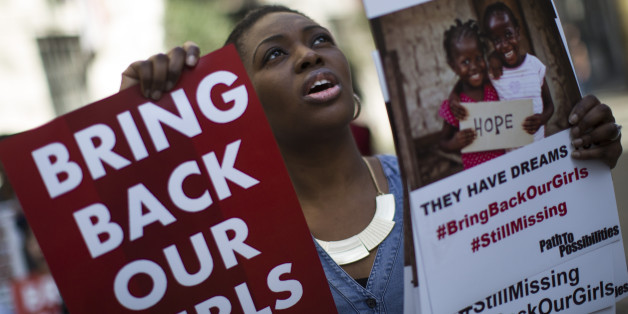 It's been one year since Boko Haram kidnapped more than 200 schoolgirls in Nigeria, and the world refuses to forget about them.
Topics like Chibok Girls and #BringBackOurGirls were trending on social media websites throughout Tuesday in recognition of the anniversary, with organizations and individuals alike calling for a renewed sense of urgency and commitment to their rescue.
United Nations Secretary-General Ban Ki-moon issued a statement on behalf of the U.N., claiming he "will not stop calling for [the girls'] immediate release," and drawing attention to the mass atrocities enacted by the terror group in Nigeria.
"Over the past 12 months, Boko Haram intensified its brutal attacks on boys and girls in Nigeria and neighboring countries," he said, according to the statement. "Hundreds of thousands of children have been displaced from their homes, and deprived of their rights to live and grow up in safety, dignity and peace. Boko Haram's killing, abduction and recruitment of children, including the use of girls as 'suicide bombers,' is abhorrent."
Check out some reactions on Twitter to the one-year anniversary of the abductions. (Story continues below.)
#BringBackOurGirls remembered #365DaysOn http://t.co/2YO6cFy9G2 pic.twitter.com/9aKHYRZcpW

— BBC News (World) (@BBCWorld) April 14, 2015
We stand in Solidarity with the Chibok girls, their families and communities. 12 months & counting #BringBackOurGirls pic.twitter.com/kpQo3BwA7P

— Girls Not Brides (@GirlsNotBrides) April 14, 2015
One year on, CNN's @StephanieBusari reflects on the #BringBackOurGirls kidnapping: http://t.co/MA5G6lXKNg

— CNN International (@cnni) April 14, 2015
It's been one year. We are not giving up. We need urgent action to #BringBackOurGirls! pic.twitter.com/kefBckcVDl

— UN Women (@UN_Women) April 14, 2015
Making Nigerian schools safe for girls is more important than ever http://t.co/lUIhZ89rio #BringBackOurGirls pic.twitter.com/w9YZ0Krx6C

— The Girl Effect (@girleffect) April 14, 2015
#CandleLight Vigil for #219ChibokGirls still in captivity #365DaysON #ChibokGirls #NeverToBeFogotten pic.twitter.com/DcI2ijOL0X

— #BringBackOurGirls (@BBOG_Nigeria) April 14, 2015
1) In a world full of tragedy & heartbreak, no tragedy breaks our heart like #ChibokGirls - still-missing 1yr later. pic.twitter.com/HpL62eOobd

— Adil Najam (@AdilNajam) April 14, 2015
#ChibokGirls ambassadors holding up the names of the missing girls. #Oneyearon #BringBackOurGirls pic.twitter.com/0Qbbl7o44c

— Nkem Ifejika (@nkemifejika) April 14, 2015
300+ schools in #Nigeria have been deliberate targets of violence. #BringBackOurChildhood #BringBackOurGirls pic.twitter.com/bYeTq2fnZL

— UNICEF (@UNICEF) April 14, 2015
The @EmpireStateBldg will be lit up in red in honour of #BringBackOurGirls tonight. Say a quiet prayer for them ... pic.twitter.com/hTXzou6OxK

— J (@jeromeokolo) April 14, 2015
In recognition of the anniversary, children's rights activist Malala Yousafzai wrote an open letter to the Nigerian girls who'd been kidnapped, most of whom are still separated from their families and homes.
In her message, Yousafzai reassured the girls that she and many others are still committed to reuniting them with their loved ones:
I am one of the millions of people around the world who keep you and your families foremost in our thoughts and prayers. We cannot imagine the full extent of the horrors you have endured. But please know this: we will never forget you. We will always stand with you. Today and every day, we call on the Nigerian authorities and the international community to do more to bring you home. We will not rest until you have been reunited with your families.
The 17-year-old also explains why there are reasons for "hope and optimism," including Nigeria's protection over more schools from Boko Haram. Muhammadu Buhari, who won the recent presidential election and will assume office in May, says he's determined to find those who are missing.
Yousafzai -- who gained global prominence after being shot in the head by members of the Taliban for receiving an education in 2012 -- has been a vocal advocate for the missing girls since their abductions. On her birthday last summer, she met with the current Nigerian President Goodluck Jonathan and parents of the kidnapped students to pledge her support in freeing the girls.
"I can see those girls as my sisters," she'd said during her visit, according to Reuters. "And I'm going to speak up for them until they are released."
Read the full letter on the Malala Fund's blog here.
Listen to Yousafzai read her letter below.

To take action on pressing education issues, check out the Global Citizen's widget below.
BEFORE YOU GO
PHOTO GALLERY
Reasons Why Malala Yousafzai Is An Inspiration