A jury has found Aaron Hernandez guilty of first-degree murder in the fatal shooting of semi-pro football player Odin Lloyd.
On Wednesday, Judge E. Susan Garsh sentenced Hernandez, the former New England Patriots tight end, to life without the possibility of parole for killing Lloyd on June 17, 2013. The sentence was mandatory.
The jury found that the ex-NFL player merited the conviction by "reason of extreme atrocity or cruelty."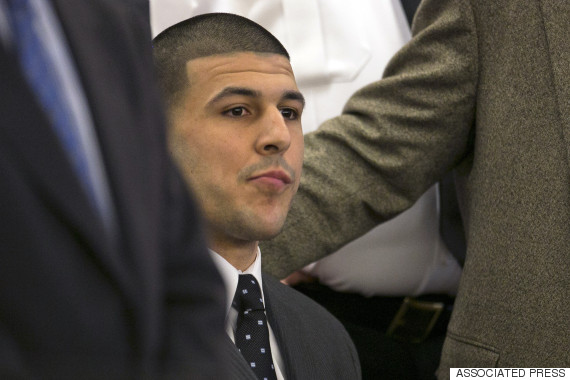 Former New England Patriots football player Aaron Hernandez listens as the guilty verdict is read during his murder trial at the Bristol County Superior Court in Fall River, Mass., Wednesday, April 15, 2015.
From the Boston Globe:
Hernandez, 25, and two accomplices picked up Lloyd, 27, a landscaper who played semiprofessional football, at his home on the pretext that they would party together. Instead they drove through the darkness to an industrial park in North Attleborough near the football player's spacious home, where Hernandez shot Lloyd several times with a .45-caliber Glock pistol, including two kill shots to Lloyd's chest as he writhed in pain on the ground.
The jury also convicted Hernandez on weapons and ammunition possession charges.
MORE: Key Moments From The Aaron Hernandez Murder Trial
Hernandez's fiancee, Shayanna Jenkins, wept openly in court after hearing the verdict.
In a statement read after the judge handed down the conviction, Ursula Ward, Lloyd's mother, called her son the "backbone" of her family.
"My heart stopped beating [when he died]," Ward said. "I wanted to go into the hole [with Odin]."
Deliberations stretched out seven days before jurors in Bristol County Superior Court announced their decision on Wednesday morning. Testimony in the trial lasted about two months and was at times interrupted by severe weather.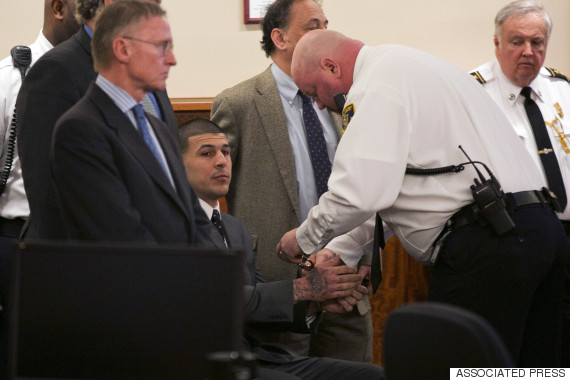 A court officer places handcuffs on the wrists of former New England Patriots football player Aaron Hernandez after the guilty verdict was read during his murder trial at the Bristol County Superior Court in Fall River, Mass., Wednesday, April 15, 2015.

Hernandez's defense admitted that he witnessed the shooting of Lloyd but argued that he has no reason to throw his career away by killing someone. The prosecution was never able to establish Hernandez's motive, according to WCVB.
"Did he make all the right decisions? No," his lawyer, James Sultan said during closing arguments. "He was a 23-year-old kid who witnessed something, a shocking killing, committed by someone he knew. He didn't know what to do, so he just put one foot in front of the other."
Hernandez's alleged accomplices, Ernest Wallace Jr. and Carlos Ortiz, will be tried separately.
Aaron Hernandez has been found guilty of all charges. He faces a mandatory sentence of life in prison without parole. pic.twitter.com/CabZimHTlE

— ESPN (@espn) April 15, 2015
Hernandez also faces murder charges in the 2012 shooting of two Cape Verdean immigrants in Boston.


Like Us On Facebook |

Follow Us On Twitter |

Contact The Author
BEFORE YOU GO
PHOTO GALLERY
PHOTOS: The Aaron Hernandez Case