Snorkeling is the ultimate tropical vacation activity. It's cheap, family-friendly and educational. Plus it's called snorkeling, which makes us giggle.
Giggles aside, the Hawaiian islands are a snorkeler's paradise. The surrounding waters are warm all year long, and they're full of bustling reef ecosystems to explore.
If you go, the most important thing to remember is that you are a visitor in the ocean, so try your best to leave the area exactly as you found it. Coral is a living creature, and touching or stepping on it can cause damage and affect the balance of a delicate system. Also, endangered sea creatures like green sea turtles and Hawaiian monk seals are often seen in Hawaii's waters and disturbing them can result in massive fines, so keep your distance.
Below, some of Hawaii's best spots for snorkeling. So many islands, so little snorkel time...
1. Hanauma Bay, Oahu
Hanauma Bay is one of the most popular tourist destinations in Hawaii, welcoming an average of 3,000 visitors every day. The sheltered bay on the southeast shore of Oahu is home to a large population of coral, and it has long been a favorite spot for tourists and locals alike.
Snorkeling at Hanauma Bay may seem tame, but it's actually the top spot for drownings in the state. A brief safety video is shown before swimmers can enter the water, so they can understand the risks.
2. Molokini Crater, Maui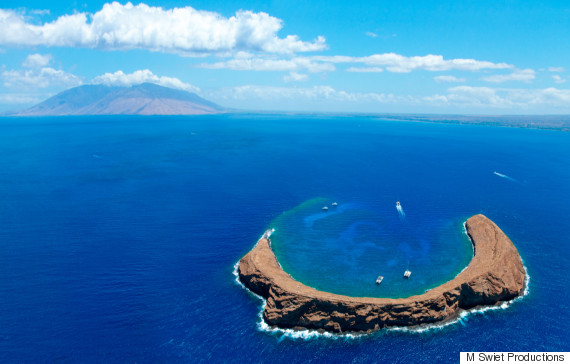 This crescent-shaped volcanic crater lies just off the coast of Maui, so you'll need to take a quick boat trip, but that makes the experience of snorkeling here all the more unforgettable. The shape of the island protects against waves, currents and wind, so the water within is a crystal-clear blue.
3. Tunnels Beach, Kauai
Tunnels Beach is one of the most popular snorkel spots on Kauai, and for good reason. If the turquoise water doesn't convince you, the backdrop will: the beach is nestled below the velvety green mountains of the Na Pali Coast. You'd be hard-pressed to find a more beautiful beach, and the snorkeling is top notch.
However, the currents in Kauai waters can be deceptively strong and dangerous, so always assess conditions before entering the water. And if you get caught in a rip current, don't panic -- stay calm and swim parallel to the shoreline.
4. Kealakekua Bay, Big Island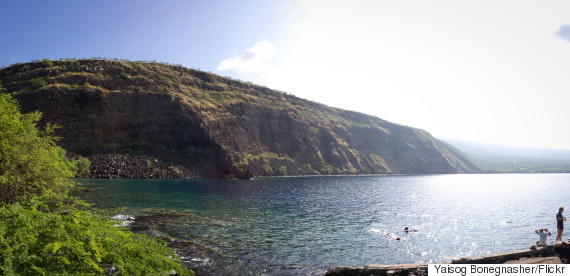 This pristine Marine Life Conservation District on Hawaii Island's west shore is perhaps best known as the location of British explorer Captain James Cook's first landing on the Big Island. Beneath the surface, Kealakekua is full of vibrant heads of coral and lively schools of fish. Visibility is excellent, so you might even spot some spinner dolphins, which are often seen in and around the bay.
5. Shark's Cove, Oahu
Shark's Cove is located on the North Shore of Oahu, which is world-renowned for massive waves during the winter. For this reason we'd recommend only snorkeling here during the summer months, when the surf calms down. Shark's Cove is naturally split into two separate areas: one is enclosed by rocks, and the other opens into the ocean. The enclosed area is generally safe from waves and currents, making it ideal for inexperienced swimmers and children.
6. Honolua Bay, Maui
When ocean conditions are right, Honolua Bay is perfect for snorkeling. Located on the Northwest corner of Maui, it can get crowded with tourists, so arriving early can work to your advantage.
However, this is another spot that should be avoided during the winter months. When the waves get big, it's an especially popular surf spot, and snorkeling conditions are poor.
7. Hulopoe Bay, Lanai
The island of Lanai is one of Hawaii's best kept secrets. Head to Hulopoe Bay on the island's south shore for some of the best snorkeling the small island has to offer. The area is spotted with shallow tide pools and areas further from shore are frequented by dolphins and sea turtles.
BEFORE YOU GO
PHOTO GALLERY
Hawaii In Photos