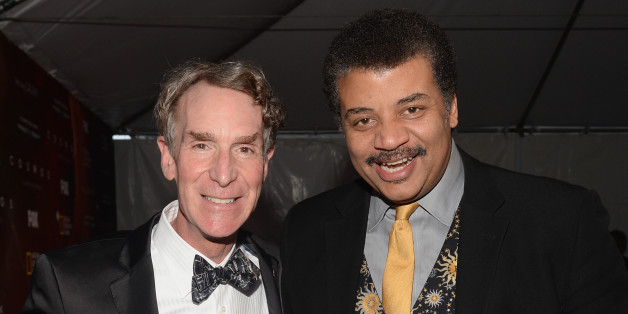 There are no stupid questions.
Make a less-than-profound observation, however, and Bill Nye might just call you out for it. Even if you're Neil deGrasse Tyson.
Tyson took to Twitter on Tuesday, arguing that the phrase "meteoric rise" doesn't make much sense. Hours later, his pal Nye gave him a poke:
@neiltyson Meteors create streaks in skies. From the ground, meteors often look like they're leaving Earth. "Makes no sense" bit of an exag.

— Bill Nye (@BillNye) April 15, 2015
Zing!
Inspired by that burn, The Daily Dot reached into the archives in search of other Nye-Tyson disputes and came up with this exchange about the nature of consciousness:
Take the brain out of it, though, and Tyson is pretty sure he has the brawn to take Nye in a cage match.
"I outweigh him by probably 100 pounds," Tyson explained to Business Insider. "In your classic ... cage match, I really don't think he stands a chance."
Here's a picture of what that might look like:
BEFORE YOU GO
PHOTO GALLERY
Famous Scientists Chillaxin'