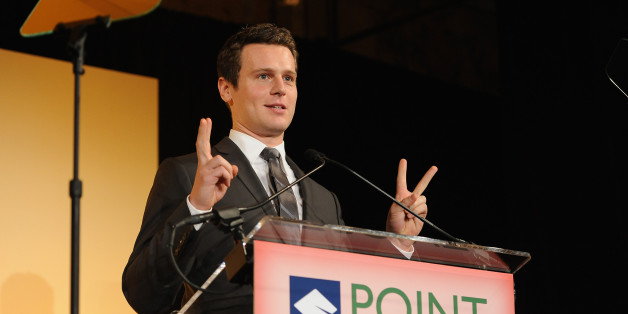 "Looking" fans saddened by the premature demise of the HBO series, take note: Jonathan Groff feels your pain.
The actor, 30, got visibly teary-eyed during a "Looking" salute at the Point Foundation's Point Honors 2015 New York Gala, held April 13 at the New York Public Library, according to the Hollywood Reporter.
Calling the show "my favorite thing that I've ever worked on," Groff told the crowd, which included "Looking" co-stars Frankie J. Alvarez and Murray Bartlett. "I'm not just sad that we didn't get picked up for a third season; getting the opportunity to tell stories about our community was something we took very seriously and put a lot of great thought and care into. It was one of the great joys of being part of that project."
Honored with the foundation's Horizon Award for his leadership role within the LGBTQ community, the star was mostly tight-lipped about a planned "Looking" movie that will conclude the series, but nonetheless noted, "I can't imagine that it will be a wrap-up. But I'm excited that we get to go back and check in with the characters one last time."
He reiterated those sentiments in a separate interview with People magazine, noting, "We wanted to create a show with gay men where they weren't tragic figures or the comedic relief or sexually sensationalized but just multi-dimensional human beings ... … Hopefully it maybe paved the way for other people to create [more] gay stories. Hopefully someday there won't be just one gay show on the air but multiple shows."
Also feted at the event was "Transparent" star Jeffrey Tambor, who took home the Courage Award. The actor recalled his experience visiting a bar in character as his transgender character, Maura, before shooting the acclaimed Amazon series.
"My legs shook because I was so nervous," he told the crowd. "And I said, 'Remember this, don't ever forget this moment because this, when you act, it's about saving lives, it's about making people safe.'"

BEFORE YOU GO
PHOTO GALLERY
2015 Point Foundation Honors