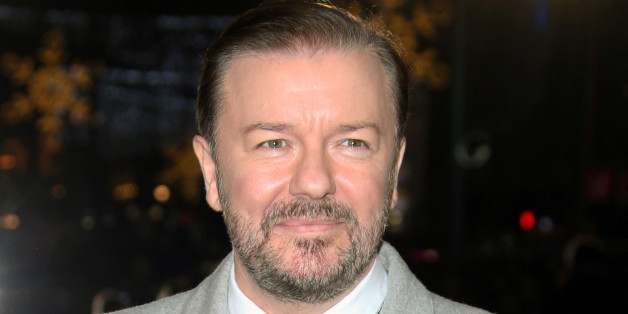 British comedian and animal welfare crusader Ricky Gervais is standing up for giraffes on Twitter by publicly shaming people who hunt them.
Gervais took to Twitter this week and posted the following messages:
Well done. You managed to shoot a stationery, 14 foot peaceful creature with a high velocity rifle. Very sporting. pic.twitter.com/Xuz7F5A3YT

— Ricky Gervais (@rickygervais) April 11, 2015
What must've happened to you in your life to make you want to kill a beautiful animal & then lie next to it smiling? pic.twitter.com/DyYw1T5ck2

— Ricky Gervais (@rickygervais) April 13, 2015
The image accompanying the second of Gervais' tweets features TV personality and hunter Rebecca Francis. Since the messages were posted, Francis said she's received a barrage of death threats.
"Ricky Gervais used his power and influence to set off a firestorm against women in the hunting industry," Francis told The Huffington Post.
Francis said everyone's free to think what they want about hunting. But, in her words, "the issue has has gone from a discussion about the legal act of hunting to the illegal and immoral acts of death threats against me and my family."
There are about 80,000 giraffes left in the wild, a wildlife researcher and scientist recently told ABC News. The numbers have dropped 40 percent over the past 15 years, and some subspecies are considered endangered.
That said, "trophy"-seeking hunters can legally shoot giraffes and other animals during "captive hunts," in which clients pay to hunt animals in fenced parks and enclosures. While it's illegal to hunt endangered animals in the wild, in the U.S. at least, there's no law against killing captive animals that are bred to be shot, the Humane Society notes.
Gervais, perhaps best known for his portrayal of David Brent in the British version of "The Office," is an outspoken supporter of animal rights.
He was named PETA's Person Of The Year in 2013 for his opposition to animal testing and criticism of hunting.
"Animals don't have a voice. But I do. A loud one. I'm a f***king big mouth. My voice is for them. And I'll never shut up while they suffer." he wrote on Facebook in 2014.
Gervais could not be reached for further comment.
H/T The Dodo

BEFORE YOU GO
PHOTO GALLERY
Giraffes On A Boat