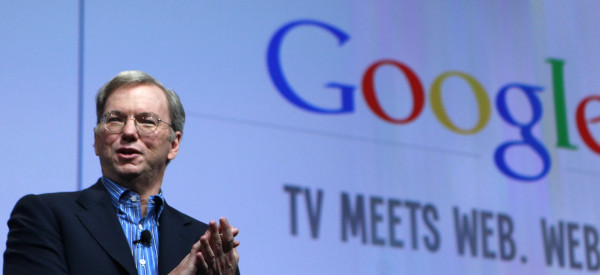 TOP STORIES
To get The Morning Email, HuffPost's daily roundup of the news, in your inbox, sign up here.
GOOGLE HIT WITH ANTITRUST LAWSUIT IN EUROPE "European Union regulators formally accused Google Inc. of violating the bloc's antitrust laws by abusing its dominance of online search, escalating a long-running case that had stalled for years despite three separate attempts at a settlement. Wednesday's move is the first time that any regulator has filed formal antitrust charges against the California search giant, putting the EU in the vanguard of a global debate over the regulation of giant Internet platforms." [WSJ]

WHITE HOUSE WON'T VETO IRAN BILL AFTER CHANGES "After several months of wrangling between the White House and Senate Foreign Relations Committee Chairman Bob Corker (R-Tenn.), a controversial bill to increase Congress' involvement in the Iran nuclear talks passed the committee Tuesday on a unanimous vote of 19-0. In a dramatic change from its stance only hours before the vote, the White House indicated that the president would not veto the legislation." [Jessica Schulberg, HuffPost]
CONGRESS FINALLY KILLED THE 'DOC FIX' Behind the elimination of the "'dumb,' 'bad policy' and 'common-sense-defying' ... policy with no defenders" that Congress eliminated yesterday. [Jeffrey Young, HuffPost]
WHITE HOUSE REMOVES CUBA FROM LIST OF STATE SPONSORS OF TERRORISM The move solidifies the diplomatic ties between the U.S. and Cuba, while emphasizing that "Havana's role as an agent of revolution has long since slipped into history." Check out the remaining countries on the list. [WaPo]
CHICAGO TO PAY REPARATIONS TO TORTURE VICTIMS "Mayor Rahm Emanuel announced Tuesday that the city has reached an agreement to provide a sweeping package of reparations to victims of a notorious Chicago police commander who for decades ran a torture ring against suspects. Police officers under former Chicago police commander Jon Burge used electrical shock, burning and mock executions to elicit confessions from suspects, mostly African-American, from the early 1970s through the early 1990s." [USA Today]
SPACE X LAUNCH SUCCEEDS, BUT LANDING FAILS When all else fails, try, try again. [David Freeman, HuffPost]
THE LEGACY OF BLACKWATER Taking a look at the globalization of the private security firm industry. [NYT]
INTERVIEWING FOR A JOB? GET READY FOR A PERSONALITY TEST "Pre-hire assessments have been used for years, but never have such tests been deployed so widely at companies across the U.S. The automation of the job application process, combined with powerful data tools and inexpensive online software, have led to falling costs, more accurate results and a surge in use. Eight of the top 10 U.S. private employers now administer pre-hire tests in their job applications for some positions." And these tests are no piece of cake. [WSJ]
WHAT'S BREWING
ONE OF THESE MOVIES WILL RULE THEM ALL This summer, at least. [HuffPost]
A GUIDE TO THE DELIVERY OF THE SECOND ROYAL BABY Start watching your phone, as Prince George is set to get a sibling any day now. [Vanity Fair]
KIND BARS, HEALTHY OR NOT? The FDA doesn't seem to think so. [HuffPost]
SO TYLENOL HAS SOME SIDE EFFECTS "Previous research has shown that the over-the-counter painkiller… can ease the psychic pain of rejection and even tamp down feelings of existential dread. And now a new study suggests that acetaminophen blunts the feelings of pleasure too." [HuffPost]
BILLY JOEL'S GIRLFRIEND IS PREGNANT This will be Joel's second child. His first is four years younger than his pregnant girlfriend. [HuffPost]
THE AMERICAN SANDWICH An ode. [NYT]
WHAT'S WORKING
THIS CEO TOOK A MASSIVE PAY CUT TO GIVE ALL OF HIS WORKERS A RAISE "Three weeks ago, Dan Price took a $930,000 pay cut. Growing income inequality had been on his mind for months. But as he went for a hike with a friend one afternoon and listened to her describe her struggle with rising rent prices, he realized he had to do something for his own employees. So Price, the founder and CEO of Gravity Payments in Seattle, decided to raise the minimum salary at his 120-person payment processing company to $70,000." [HuffPost]
ON THE BLOG
HEALTHY EATING STRATEGIES TO ADOPT "Here are five super simple tricks to eating healthier. You can begin right now, and if you don't keep to the tenets one day, just start again the next. There's nothing groundbreaking here. They are easy and painless to follow -- so no excuses." [HuffPost]
BEFORE YOU GO
~ Behind the great Nike heist: employees stealing lots and lots of shoes.
~ Mike Posner has a new (read: not auto-tuned) sound.
~ We have our first look at the cast of "Beauty and the Beast."
~ What chefs order when they eat out.
~ How not to shower.
~ The Atlantic explores "the virtue of being short."
~ Dreams do come true: Emma Stone and Ryan Gosling may reunite in a musical comedy.

~ Noam Chomsky is not a fan of Twitter.
~ Chrissy Teigen's stretch mark shout-out cemented America's love for her.
~ Cattle thieves are on the rise.
~ Khaleesi's wardrobe puts your going out tops to shame.
~ And a decision on Brian Williams's future may be imminent.
Send tips/quips/quotes/stories/photos/events/scoops to Lauren Weber at lauren.weber@huffingtonpost.com. Follow us on Twitter @LaurenWeberHP. And like what you're reading? Sign up here to get The Morning Email delivered to you.