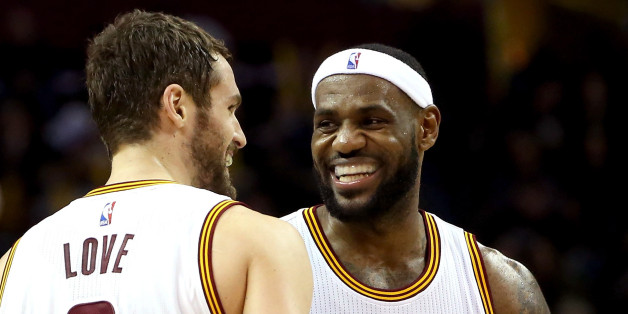 If LeBron James really wants the "aloof" Kevin Love to be in a Cleveland Cavaliers uniform next year, he sure has a weird way of showing it.
The four-time NBA Most Valuable Player was asked the typical "Who's your pick for MVP?" question before the Cavs' final game of the regular season on Wednesday. For some reason, James decided to use the opportunity to take yet another swipe at Love.
From IndeOnline.com:
Who would your vote be for MVP, a reporter asked.

"Who would be my vote?" James said, pausing to think. "Umm, Kevin Love."

The reporters erupted into laughter. James turned to his locker. In terms of a mic drop, it does not get much better.
This breeds the obvious question: WHY, LEBRON, WHY!?!?!? Good natured or not, why take a swipe at one of the best (but more importantly, most sensitive) players on your team just days before his first NBA playoff game, especially considering your relationship with Love has been, uh, uncertain at best this season?
Kevin Love hasn't always been happy this year.
James' jab is a not-so-subtle reference to Love recently saying that Oklahoma City Thunder point guard Russell Westbrook was his choice for MVP, another baffling "why?" moment in the team's season. J.R. Smith later showed Love how it's done by saying "we all know who the real MVP is," which is what you say when you are on a team with LeBron James. LeBron James provided additional instruction on how to answer the MVP question while on LeBron James' team by answering "Myself."
Are we, the media, making a bigger deal out of the Love-James relationship then need be? Probably. Kevin Love not being in this photo, for example, was not a story, but the media decided to make it into one anyway.
But there have certainly been genuinely puzzling moments, such as Love's "we're not best friends" comment, and James taking to Twitter to ask Love to try to fit in. Of course, it's playoff time now, and none of this really matters. Or does it?
Love has the opportunity to become a free agent this summer, but has said publicly that he plans to remain with the Cavs.
BEFORE YOU GO
PHOTO GALLERY
LeBron James on the Cleveland Cavaliers