A man in Syracuse, New York has reason to be tongue-tied: He's been declared the person with the world's widest tongue.
Byron Schlenker, 47, won the jaw-dropping title last November for his 3.37-inch wide tongue and his life hasn't been the same.
To put that in context, "it's roughly more than two centimeters wider than the new iPhone 6," Schlenker told Barcroft TV.
Previously, the widest tongue was 3.1 inches, according to Guinness World Records, the repository for obscure and unique bodily measurements.
For his part, Byron said he is getting used to the fame that comes with the Guinness title.
"I get stopped by people at the grocery store or when I'm out in town to take a picture," he said, according to the Telegraph. "I have had people come to my house to sign their record book. I even had one lady who asked me to lick her Guinness Book, which I politely declined."
"Most people are just surprised I can talk normally."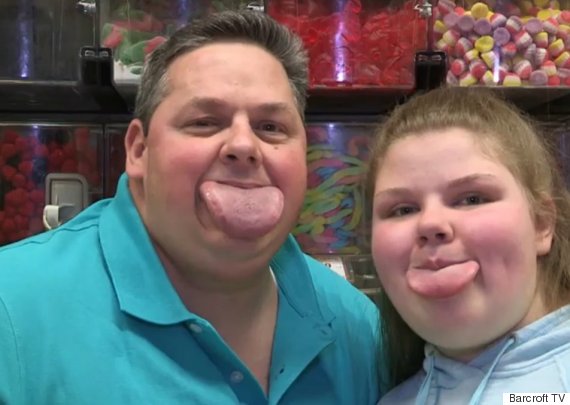 It's led to some uncomfortable comments from friends with big mouths, his wife said.
Vicki Schlenker says her friends "make jokes about Byron's tongue and our love life," but she zips her lips when it comes to erotic insinuations.
"We try to keep it clean. We are a wholesome family with three young ladies in the house so we just kind of laugh it off," Vicki said, according to the Daily Mail.
Schlenker always knew his tongue was a mouthful, but didn't realize it was a record breaker until he was helping his daughter, Emily, 14, with a school project.
Looking at a copy of Guinness World Records, Schlenker saw a page featuring an Australian man with the world's widest tongue. He decided to see if his tongue was wider.
His daughter measured his licker, and soon he was contacting Guinness, according to the New York Post.
Gigantic tongues run in the family. Emily,'s 2.89-inch tongue the world's largest for a woman.
"It does feel a little weird. It's something that doesn't happen every day," Emily said, according to the Mirror.
Like Us On Facebook |

Follow Us On Twitter |

Contact The Author
BEFORE YOU GO
PHOTO GALLERY
Amazing Anatomies