"The photograph itself doesn't interest me," famed photojournalist Henri Cartier-Bresson famously proclaimed. "I want only to capture a minute part of reality."
Such an ethos might help to explain the spirit of San Francisco-based Catchlight's Activist Awards, an annual photography contest that honors both professional and emerging individuals whose visual work focuses on the issues -- underrepresented as they might be -- of our time. The 2014 winners certainly uphold the promise: Swedish professional Åsa Sjöström's "The Secret Camps" documents life in a secluded refuge for women and children, emerging Tamil photographer Amirtharaj Stephen's "Koodankulam: A Nuclear Plant In My Backyard" chronicles community protesters in opposition of the Indian and Russian Government's Koodankulam Nuclear Power Plant (KKNPP).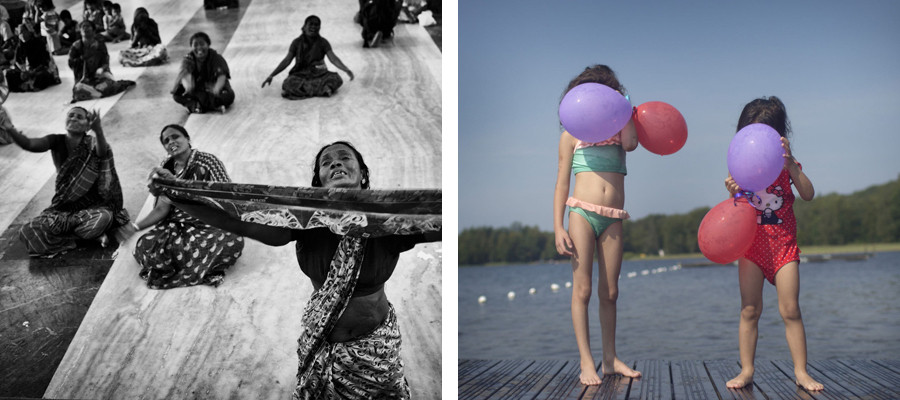 Amid the sea of awards recognizing outstanding efforts in the field of photography today, the Activist Awards manage to set itself apart. The competition doesn't just celebrate innovation and beauty in art, it shines a spotlight on the photographers raising awareness of social agency around the globe, while creating new technologies along the way.
The Activist Awards began in 2009 under the former PhotoPhilanthropy banner, and has since seen submissions from over 600 photographers collaborating with 450 nonprofit organizations in 90 different countries. "These photographers are the eyes on the ground for the rest of us," Catchlight managing director Shoka Javadiangilani explained in a statement. "We want to find and connect devoted and trustworthy visual storytellers, and support them any way possible, to continue helping them do what they are best at. Without seeing, we have little chance to understand how things work and to improve ourselves and the world around us."
Stephen's images are bathed in shadows, the monochromatic photos giving a glimpse into the life of villagers in the Tirunelveli district of the southern Indian state of Tamil Nadu. Protesters flock in front of churches and beaches, rallying against the construction of a nuclear power plant they deemed unsafe for their village. Ultimately, the plant was built, but as Stephen's project illustrates, officials form Russia and India who commissioned the structure did little to successfully assuage the very real, post-Cold War fears of the fisherman-heavy community.
In contrast, Sjöström's series features the obscured faces of women and children living in "secret" Swedish camps meant to function as havens for victims of domestic and honor violence. The pastel-heavy snapshots show bits of leisure, as the young women and their families spend time in the open air. While the images are a far cry from the typical photojournalistic documentation, the unique vision resulted in what the Activist Awards judges like Time magazine photo editor Alice Gabriner and Stephen Mayes, executive director of the Tim Hetherington Trust, deemed an "imaginative, creative, and well-edited series."
Out of the 256 entries in the 2014 Activist Awards, from 54 separate countries, Sjöström and Stephen collected $15,000 and $5,000 respectively after the announcement of their wins this week. Check out their work, with captions provided:
Professional:
PHOTO GALLERY
The Secret Camps
Emerging:
PHOTO GALLERY
Koodankulam: A Nuclear Plant In My Backyard
BEFORE YOU GO
PHOTO GALLERY
The Most Breathtaking Photos From Around The World This Year