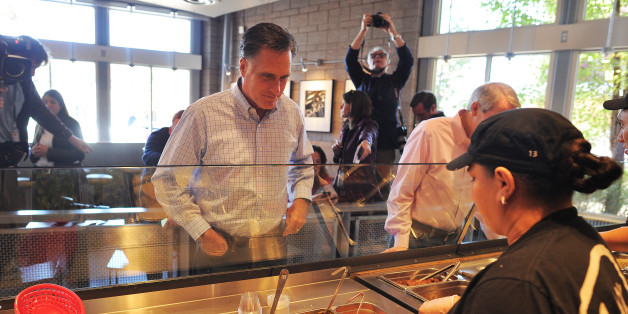 Fast casual chain Chipotle has been in the political spotlight all week, ever since Hillary Clinton stopped in for a burrito bowl in one of her first public appearances after announcing her run for the presidency. But as HuffPost Business's Alexander Kaufman explained on Tuesday, this isn't the first time Chipotle's been graced with a whiff of White House promise: Mitt Romney famously visited a Chipotle in Denver in 2012, and President Barack Obama goes so often that he's almost a regular.
But even if Chipotle has become the most politically opportune of fast food chains, others bear their own political weight. Chick Fil-A, of course, is still associated with its CEO Dan Cathy's anti-gay remarks. And companies like McDonald's and Burger King are enmeshed in deeply political questions of fair pay and inequality.
The truth is that all fast food chains carry a frisson of the political. Indeed, all restaurants have their political element, because they involve so many economic, aesthetic and moral choices made by so many people, from the farmers who raise the cows that provide the restaurant's milk to the Yelper who leaves a good review and encourages others to eat there.
Quantifying the full range of these experiences and influences for even one restaurant would be impossible. But the Wall Street Journal, responding to the clamor around Clinton's visit to Chipotle, unearthed a study that does the next best thing: it reveals the political makeup of the customers at some of the largest fast food chains in the country.
The 2014 study, conducted by Experian Marketing, showed that Chipotle had the most liberal customers of any of the fast food chains examined. Starbucks and Au Bon Pain are just behind it in the liberal category. And as for the most conservative chains? Chick Fil-A, of course, takes the lead, but Sonic and Bob Evans aren't far behind.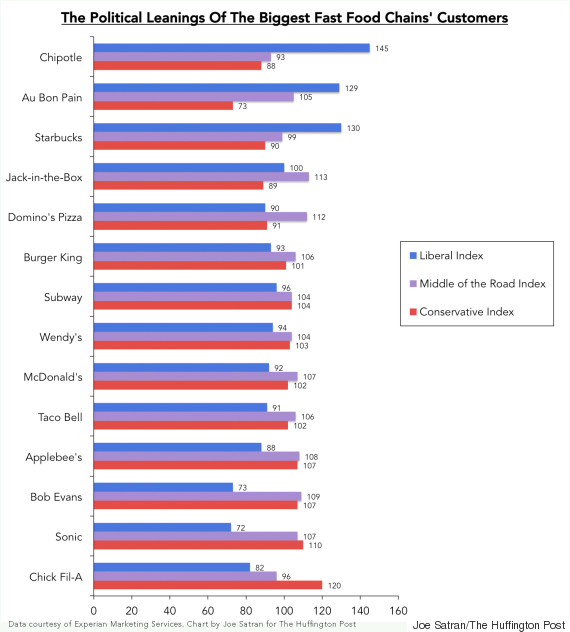 Is that too much to take in all at once? Fear not: Buzzfeed made a quiz that allows you to discover the political leanings implied by your fast food preferences by answering just seven easy multiple choice questions.
BEFORE YOU GO
PHOTO GALLERY
Top 10 Global Quick Service Chains