When Canadian illustrator Lindsay Ishihiro was halfway through her maternity leave, she started chronicling her adventures at home with her new baby in a "slice-of-life" comic series she calls "How Baby."
"How Baby" -- which initially appeared on Ishihiro's Tumblr -- covers the mom's day to day musings and real life experiences as she raises her now 18-month-old daughter, whom she refers to by the nickname Momo.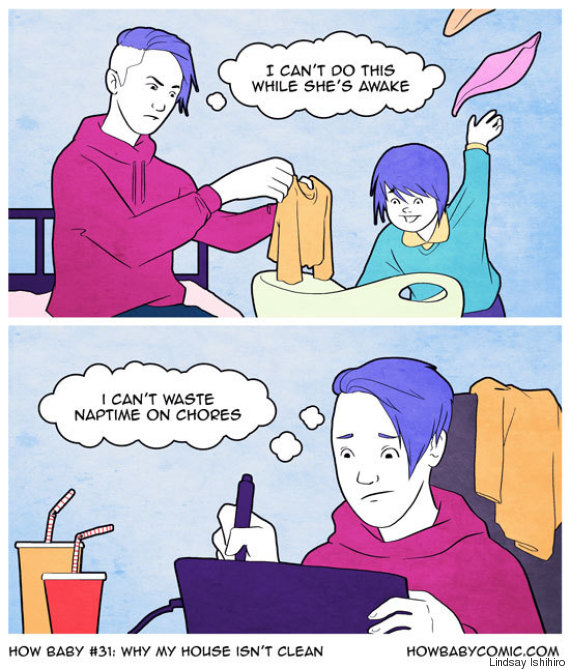 "I like to think that 'How Baby' provides a counterpoint to the sweetly saccharine tone of popular parenting blogs, where every story -- even the ones about how parenting is hard -- ends with an uplifting affirmation about how being a parent is the best thing that ever happened to them," Ishihiro told The Huffington Post. "I'm happy for those people, but that's not the only story out there."
The mom hopes that her comic can be "something for everyone else," she said. "People who love their children too, but who also often feel overwhelmed, scared, sad, antagonized, or just plain bored by ... well, parenthood in general, but specifically motherhood, and all the cultural baggage that comes along with it."
For Ishihiro, that cultural baggage includes the challenges she faces as a working mother maintaining a freelance career in the arts. Her comic "Damned If You Do" covers this topic and arose from her frustration with trying to find childcare so that she could get more work done. After hearing a few "passive aggressive comments" from friends and acquaintances about how often she was looking for someone to watch Momo, the mom created this particular strip.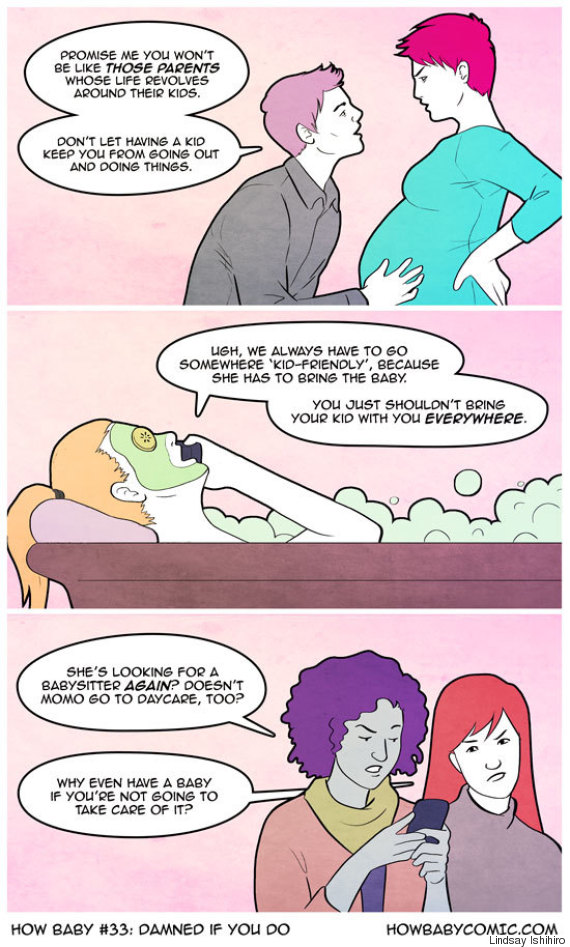 "It felt like I was stuck between two equally unfair ideals: the person who effortlessly sails through motherhood without letting it affect her career or social life, and the person who selflessly devotes her whole life to her children," Ishihiro said.
The artist is the first to admit that her transition into motherhood was difficult. "I chafed under the yoke as I tried to reconcile my identities as an artist, a gamer, and a feminist with this often overwhelming, entirely new identity that I'd been told would completely change my life," she said.
But Ishihiro has been able to channel her conflicting feelings into her art. "How Baby" shows how all those identities are still a part of her. "I want to tell stories for people who are struggling the same way."
Keep scrolling or go to the How Baby website to see Lindsay Ishihiro's funny, difficult, and relatable adventures in parenting. To support her work as an illustrator, visit her profile on Patreon.
H/T Reddit
Like Us On Facebook |

Follow Us On Twitter |

Contact HuffPost Parents
BEFORE YOU GO
PHOTO GALLERY
Working Mother's Top 10 Best Companies 2014