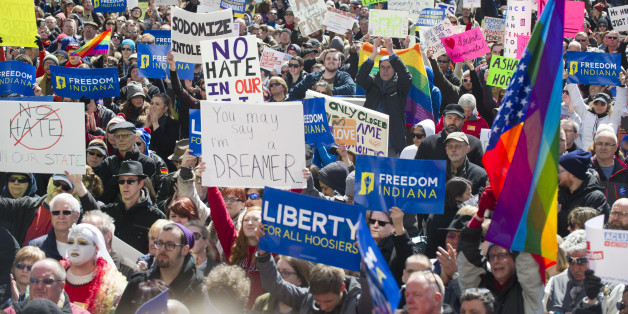 Welcome to this week's ALL TOGETHER, the podcast dedicated to exploring how ethics, religion and spiritual practice is informing our personal lives, our communities and our world. All Together is hosted by Paul Raushenbush, Executive Editor of HuffPost Religion. and the host of All Together. You can download All Together on iTunes, or Stitcher.
In September of 2012, the Rev. Emily Heath wrote a blog for The Huffington Post called: How To Determine If Your Religious Liberty Is Being Threatened in Just 10 Quick Questions.
It was just before the Presidential elections and the topic of religious liberty was very hot. She wrote: "I'm a religious person with a lifelong passion for civil rights, so this is of great interest to me. So much so, that I believe we all need to determine whether our religious liberties are indeed at risk."
The questions offered a pointed distinction with the "A" response representing a true religious liberty issue and "B" being an example of religious liberty used against another individual or group.
For example:
1. My religious liberty is at risk because:
A) I am not allowed to go to a religious service of my own choosing.
B) Others are allowed to go to religious services of their own choosing.

2. My religious liberty is at risk because:
A) I am not allowed to marry the person I love legally, even though my religious community blesses my marriage.
B) Some states refuse to enforce my own particular religious beliefs on marriage on those two guys in line down at the courthouse.
And the list goes on. The battle around the American protection of religious liberty continues with recent bills proposed in Indiana and Arkansas, which purported to protect religious liberty, but were clearly targeting the LGBT community. The bills and the public outcry around them have revealed a deep division within religious communities and America at large about the meaning of religious liberty and how it can be protected while respecting the civil rights of other citizens.
On this week's All Together, Raushenbush speaks with Jay Michaelson, the author of five books including "Gay vs God", "Evolving Dharma" and "Redefining Religious Liberty: The Covert Campaign against Civil Rights"; Michelangelo Signorile, host of The Michelangelo Signorile Show on SiriusXM, and the author of "It's Not Over' Getting Beyond Tolerance, Defeating Homophobia and Winning True Equality"; and Jonathan Merritt who is a columnist with Religion News Service, contributing editor at The Week and The Atlantic and the author of Jesus is Better than You Imagined.