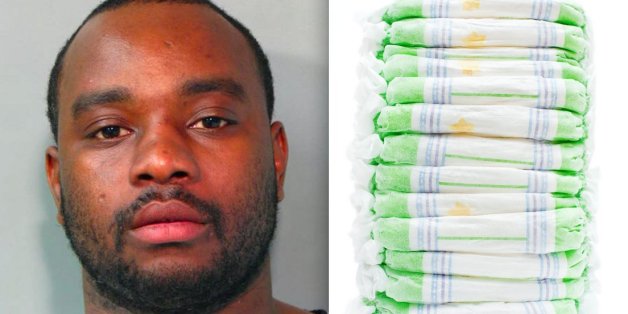 Hiney heist!
A Brooklyn, New York man allegedly switched price tags and used the self-checkout station at a Stop & Shop to steal thousands of dollars worth of diapers, police say. Kevin Hargrove was arrested Thursday after police say he made regular trips to multiple locations of the supermarket and swapped diaper price tags for 99-cent items, according to the New York Daily News.
He's been given the affectionate moniker "Diaper Don" by the local tabloids.
The Daily News reports:
"If I had to guess I've hit every Stop & Shop in New York, New Jersey and Connecticut," an apparently unremorseful Hargrove told cops, according to court papers. "I've been doing this so long I can't remember."

The young father told detectives he was keeping some diapers for his own family but was stealing mostly to sell them on the street, officials said. He stole a wide variety of brands and sizes.
Usually, Hargrove used 99-cent price tags from pie tins to pull off the plot, Pix 11 reports. He'd been running the operation for years and he's accused of striking the shop more than 100 times since January. At one point, he allegedly paid $1.06 for nearly $100 worth of diapers.
He was arraigned Friday on charges of third-degree grand larceny and two counts of second-degree falsifying business records, according to Newsday. Bail was set at $9,000 bond or $4,500 cash.
Like Us On Facebook |

Follow Us On Twitter |

Contact The Author
BEFORE YOU GO
PHOTO GALLERY
Caught On Camera