No amount of popularity could cause the cowboy hat-wearing hero to change course.
Carlos Arredondo rose to international fame after he sprang into action to help save Jeff Bauman, a spectator at the Boston Marathon who lost both legs after the attacks two years ago. While the iconic photo made Arredondo famous, the fervent advocate has kept his focus on the mission that defined him long before he became known for his life-saving efforts and signature hat.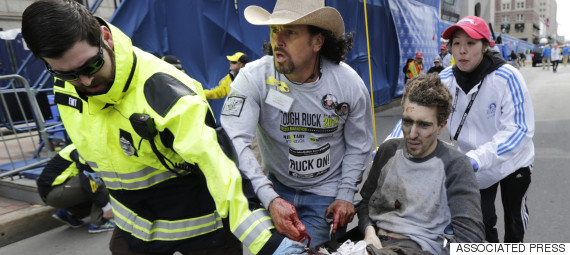 Arredondo recently launched the Arredondo Family Foundation, which will serve military families that have lost relatives to suicide, CBS Boston reported.
The issue hits close to home to the 53-year-old and his wife, Melida.
Their son Lance Cpl. Alexander S. Arredondo was killed in a firefight in Iraq in 2004.
Years later, their other son, Brian, hanged himself on the last day of the Iraq war out of "grief," ABC News reported.
Arredondo plans to focus the charity's efforts on helping siblings who are coping with military suicide. The foundation will offer emergency funds and scholarships at UMass Boston for military siblings, according to CBS.
Five runners raced in the Boston Marathon on Monday in support of the Arredondo Family Foundation. One of those racers includes Chris Laudani, a Boston bartender who's become a local hero for shoveling the marathon's finish line during a blizzard in January.
The Arredondos still remain close with Bauman, who attended the charity's launch event earlier this month.
"Jeff and [his wife] Erin, they fill a place –- they never could never replace Alex or Brian –- but having them in our lives eases things," Melida Arredondo told ABC. "It helps, and we just enjoy spending time together."
Learn more about the Arredondo Family Foundation and how you can get involved here.
BEFORE YOU GO
PHOTO GALLERY
Boston Marathon Bombings