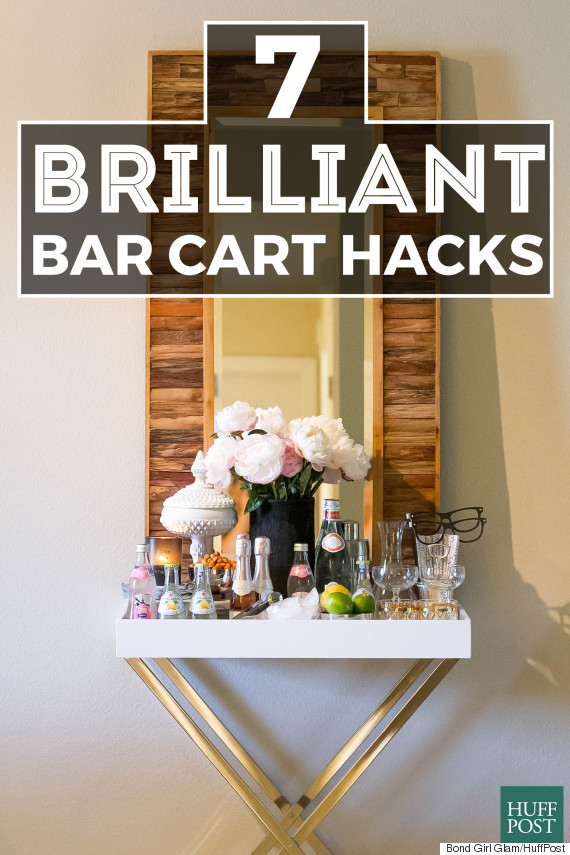 A DIY bar cart is an easy home upgrade that keeps on giving, whether you're trying to bring back the cocktail party or simply pre-game a Netflix marathon.
And while many bar carts look expensive, these boozy beauties don't have to cost a fortune. Keep these hacks in mind when designing your bar cart, and the tab will be less than it was on your last night out. Cheers to cheap decorating!
1. Let your drink dispensers do the decorating for you.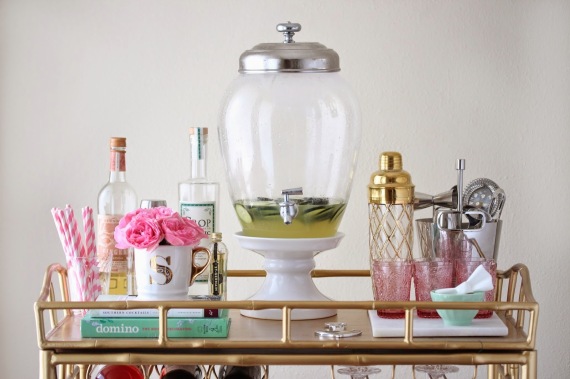 You can easily find a classy glass beverage dispenser online for less than $40. Style it on your bar cart for a centerpiece that -- unlike fancy liquor bottles -- will last all night.
(Photo Credit: gingersnaps)
2. Add a little leather for that high-roller look.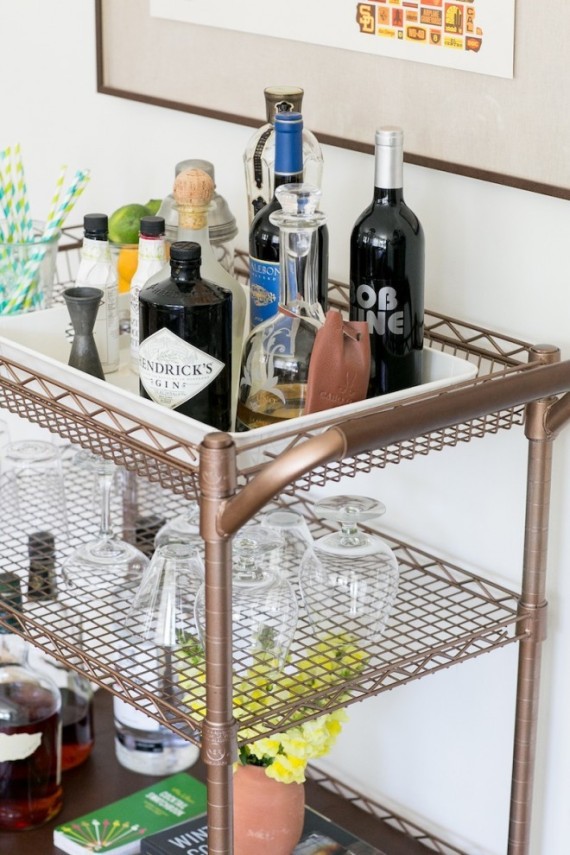 This $60 utility cart got an upgrade from a round of spray paint and some leather upholstery attached to the handle with hot glue. This is actually TOO EASY.
(Photo Credit: The Effortless Chic)
3. Give a mirror the starring role.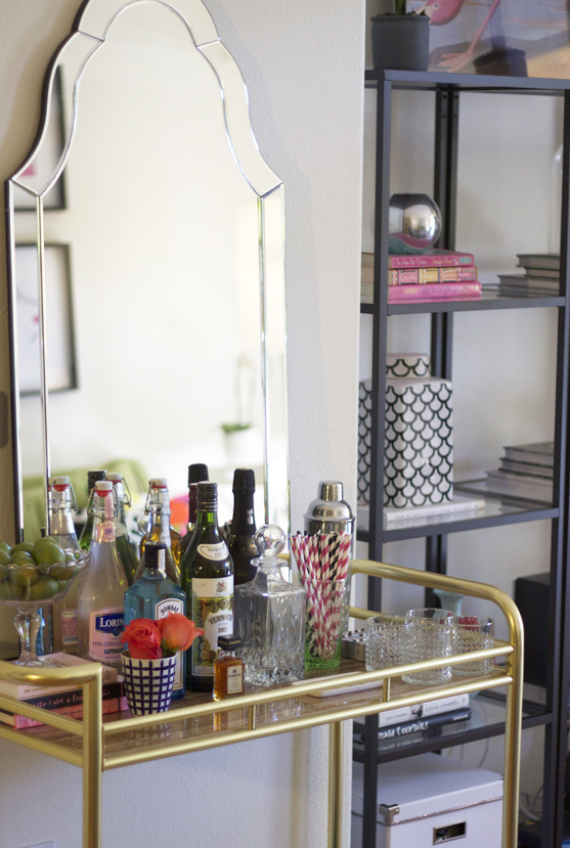 A beveled mirror makes a spray-painted DIY cart look instantly elegant. Even the big ones come cheap!
(Photo Credit: Devon Rachel)
4. Add fresh (fake) accents.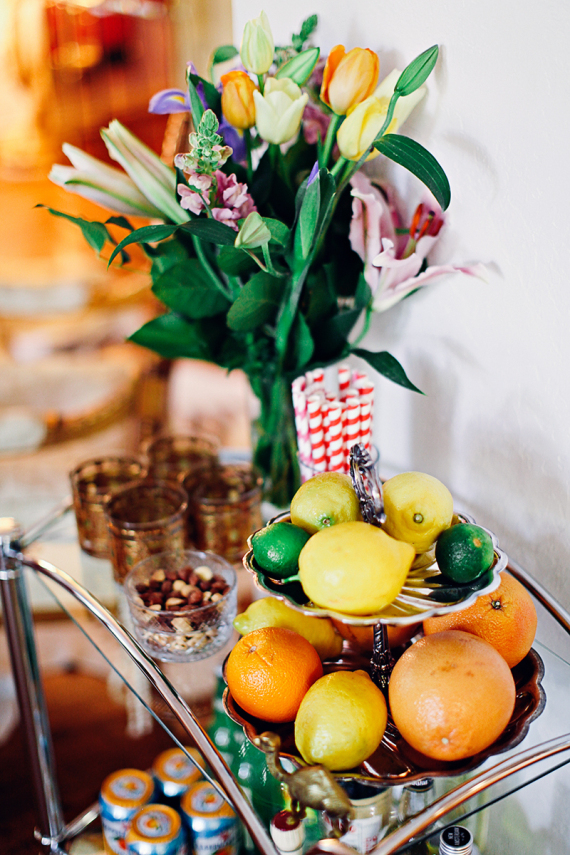 Flowers and fruit are cheap alternatives to big bottles, fancy tumblers and crystal glasses. And who said they had to expensive... or real?
(Photo Credit: Sea of Shoes)
5. Turn a TV tray into the stuff of TV perfection.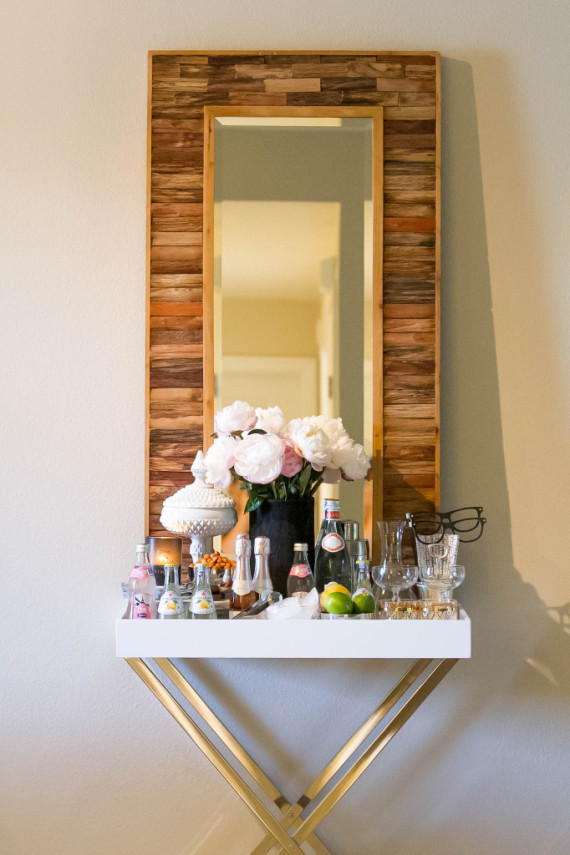 With the right accents (a coat of paint, faux peonies, a DIY mirror), even the humblest of folding TV trays can go ultra-glam.
(Photo Credit: Bond Girl Glam)
6. ...And if you're fancy, add some accents.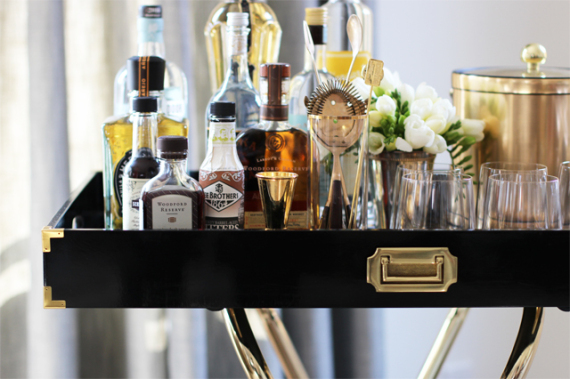 Simply screw some drawer pulls and corners onto a low-cost lacquer serving tray to really rev things up. Gold stand optional; this little tray would also look great set atop a side table.
(Photo Credit: Honestly Yum)
7. Make a bookcase your bar cart, because YOLO.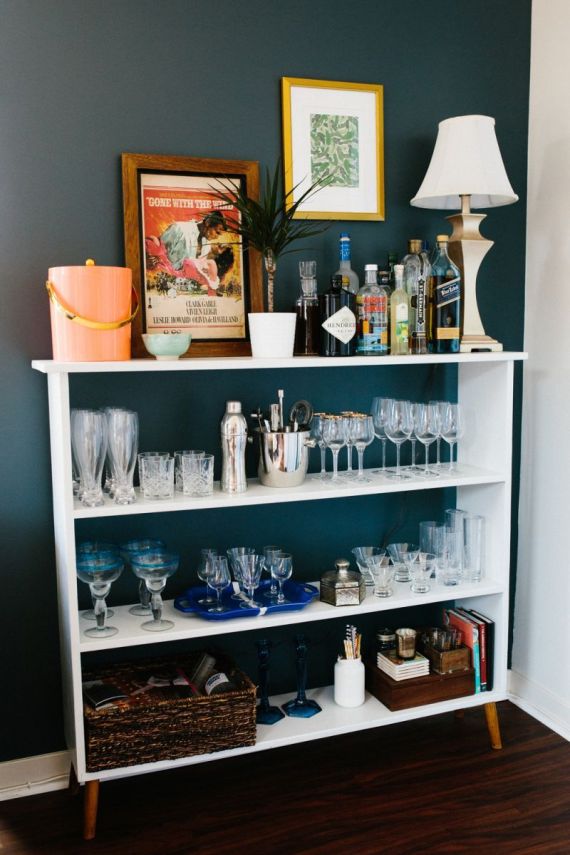 If building a bar cart seems like too much work, load up your bookcase with your favorite bar tools. Let's face it: Sometimes we'd rather hit the booze than the books.
(Photo Credit: The Everygirl)
BEFORE YOU GO
PHOTO GALLERY
10 Things Probably Missing From Your Home Bar