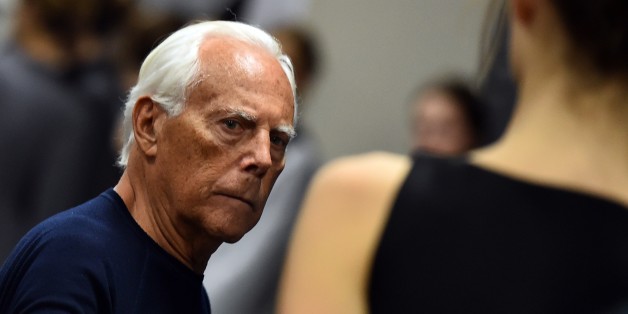 Fashion icon Giorgio Armani has come under fire after claiming in an interview that gay men "do not need to dress homosexual."
The 80-year-old Italian designer told the Sunday Times magazine that gay men are men "100 percent," and then noted, "When homosexuality is exhibited to the extreme -- to say, 'Ah, you know I'm homosexual,' -- that has nothing to do with me. A man has to be a man."
Armani didn't mince words when it came to women who have had plastic surgery or muscular men, regardless of their sexuality.
"A small breast does not have to become bigger," he said. Later, he added, "I don't like muscle boy. Not too much gym! I like somebody healthy, somebody solid, who looks after his body but doesn't use his muscles too much."
The remarks were quickly challenged on social media. "I'd rather be dressed in drag than spotted in Armani Xchange or any of his other vile labels," one Twitter user wrote, according to The International Business Times.
Added another user, cited by The Independent: "What a plank."
Although various media reports have identified him as gay or bisexual, the notoriously private Armani has remained mostly tight-lipped about his own sexuality, but told Vanity Fair in 2000, "I have had women in my life. And sometimes men."
Armani's remarks follow those of Dolce & Gabbana, who suffered a backlash after claiming that children born though IVF are "children of chemistry, synthetic children" in an interview with the Italian magazine Panorama.
"I am gay, I cannot have a child," Domenico Dolce added. "Life has a natural course, some things cannot be changed. One is the family."
It isn't the first time that Armani has made headlines in recent months for outspoken remarks. After Madonna took a tumble at the Brit Awards when an Armani-designed cape failed to detach from her Spanish-style ensemble, he labeled the Queen of Pop "very difficult" to work with.
BEFORE YOU GO
PHOTO GALLERY
Homophobic Tweets By Celebs