From far away, they look like plants from another planet, with a gem-like texture and an iridescent glow. And yet, to many, the otherworldly material would simply be called "trash."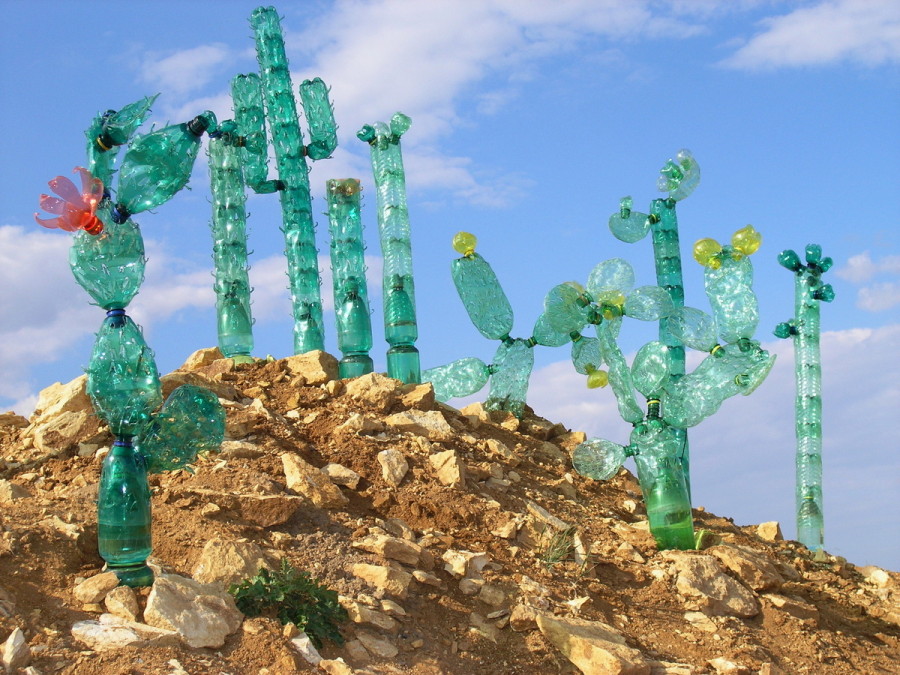 Veronika Richterová, The Collection of Cactuses, Photo Michal Cihlář
Czech Republic-based artist Veronika Richterová is hoping to change that. The environmentally conscious creative is sharing her wisdom with the world, revealing that a bit of creativity can transform yesterday's litter into tomorrow's masterpiece. Since 2004, Richterová has been working with PET bottles, or bottles made of polyethylene terephthalate.
Such vessels can be recycled to reduce the amount of waste in landfills, and are deemed a favorable alternative to aluminum cans and glass bottles. Due to their lightweight composition, they can be transported efficiently, thereby producing fewer greenhouse gas emissions and energy consumption. Although they're generally deemed safe, exposure to heat can lead to some safety concerns. The most sustainable option for beverage carriers, PET bottles can be recycled again and again, made into such materials as carpet fiber, tee-shirt fabric or dog beds. Or magical cactus sculptures.
"I'm always inspired by full recycling bins, where I find everything I need," Richterová explained to The Huffington Post. "The assortment of plastic bottles changes very quickly, so it is really exciting for me to work with new shapes and colors and to monitor their design development."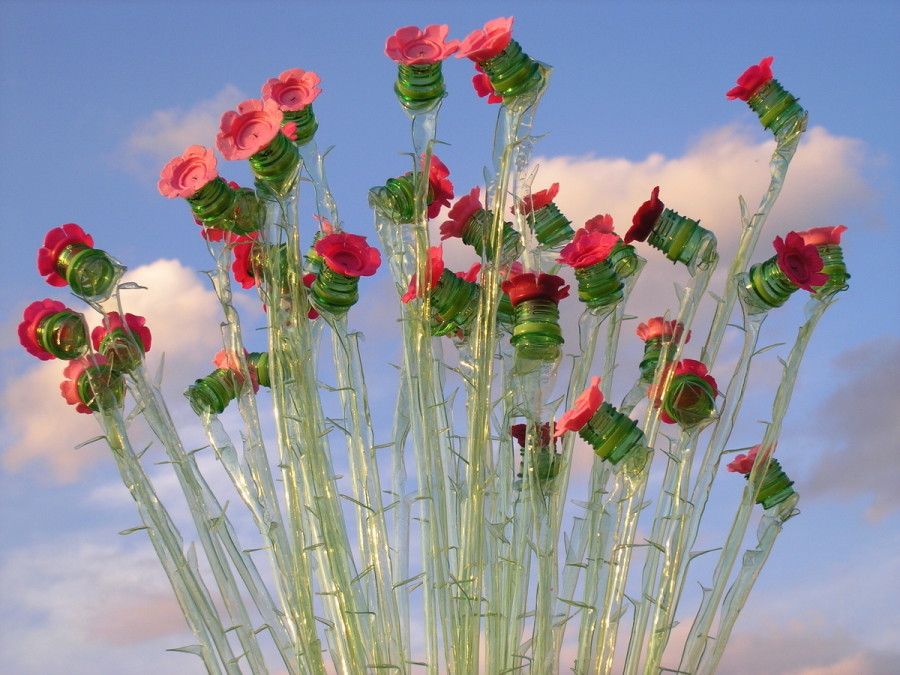 Veronika Richterová, The Collection of Cactuses, Photo Michal Cihlář
Richterová teamed up with her husband, graphic designer Michal Cihlář, to begin the PET-ART Museum, which houses a sweeping collection of 3,500 plastic bottles sourced from 96 countries. The massive reserve traces the evolution of the design of plastic bottles, while illuminating their differences and commonalities at different locations across the globe. The museum also exists to "point out the different possibilities of creative recycling," the artist explained.

So, how does one go about transforming a used Sprite bottle into an emerald cactus? "The principle is very simple; each PET bottle has the tendency to get smaller when heated. However, in my experience, it is hard to regulate the process as different kinds of bottles are of different quality and their behavior is often unpredictable. So my work has always been full of adventure. The final sculpture is usually the result of many experiments. The biggest advantage is that there is a lot of material for free everywhere. I have a special house full of bottles I have found, which is my 'treasury' where I can go to choose what I want to work with."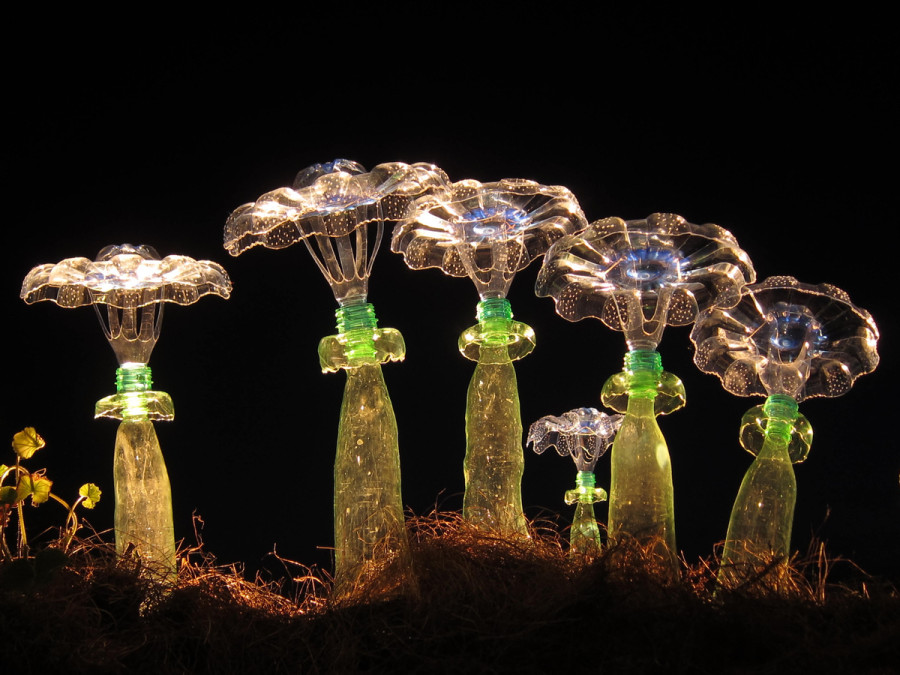 Veronika Richterová, The Collection of Cactuses, Photo Michal Cihlář
The final works resemble the wild vegetation one might find on the other side of a rabbit hole -- transparent, smooth and illuminated from within. Although the ethereal greenery look like the stuff of another planet, they can actually teach us a thing or two about our own world, namely, the unexpected beauty lurking where we least expect it.
Richterová is out to spread the gospel regarding her unusual artistic practice, holding workshops and consultations to instruct others in the ways of eco-friendly art. She also holds portable exhibitions for hire, putting the lightweight and easily transportable nature of her medium to good use.
"I have realized that I have been a recycler since childhood. Aside from my academic studies I have always been experimenting with materials I have found. It's my way of expression, I simply want to share my ideas and delight of creation. I don't mean to communicate a 'save the planet' message through this kind of art, but I do hope to bring people a new point of view on garbage."
Learn more about PET Bottles and the innovative ways you can use them.
PHOTO GALLERY
Recycled Bottle Sculptures
BEFORE YOU GO
PHOTO GALLERY
Green Artists Making Climate Change A Priority