For people who don't have the space for a washer and dryer, or for those who lack access to private laundry facilities, one tiny machine is stepping up in a big way.
Meet the Drumi, a sustainable, miniature washing machine on the way from household design company Yirego. It's basically like a salad spinner for your clothes.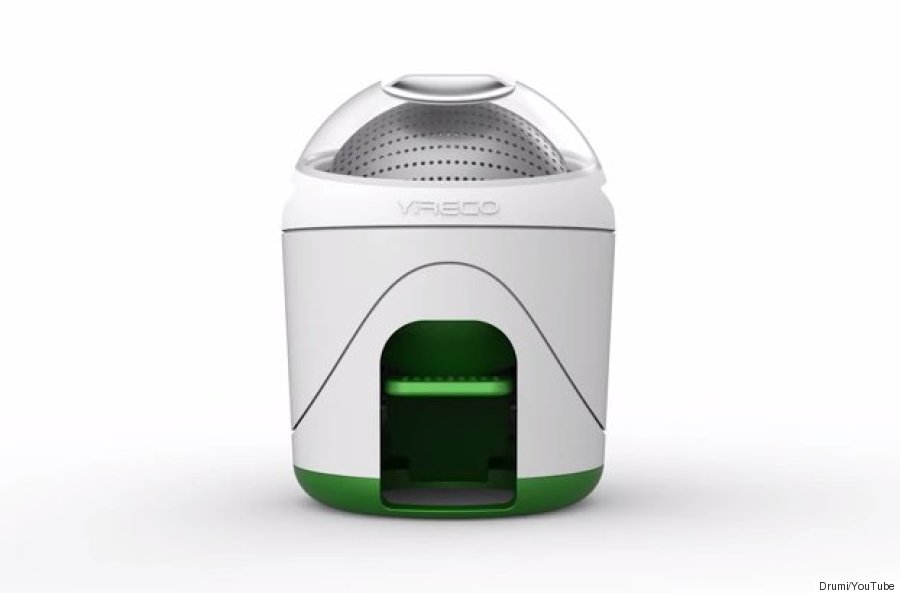 The Drumi is foot-powered, and can clean about three days' worth of personal undergarments and shirts in about 5 minutes. It uses approximately 2 gallons of water per load and only a little soap, which according to Yirego is 80 percent less water and detergent than what's required by regular washing machines.
With 40 percent of the Drumi made from recyclable materials, there isn't a washing machine quite like it on the market. Watch how it works:
This machine was designed for people who usually go to laundromats, and should come in handy for who live in a compact urban homes or can't afford a traditional washer and dryer. Though it isn't intended to entirely eliminate laundromat outings or the use of a regular washing machine, it can replace frequent trips and multiple loads and help reduce a user's carbon footprint.
Yirego told The Huffington Post that the Drumi will retail for a promotional price of $129 until April 23, after which it will retail for $169. The product will officially hit the market this summer, but the company is currently accepting pre-orders from Canadian and US residents. Happy pedaling!
H/T Digital Trends
Have something to say? Check out HuffPost Home on Twitter, Facebook, Pinterest and Instagram.
**
Are you an architect, designer or blogger and would like to get your work seen on HuffPost Home? Reach out to us at homesubmissions@huffingtonpost.com with the subject line "Project submission." (All PR pitches sent to this address will be ignored.)
BEFORE YOU GO
PHOTO GALLERY
6 Laundry Mistakes You're Probably Making