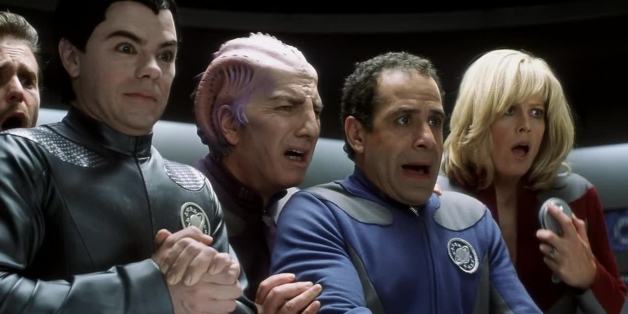 The era of the reboot has spiraled out of control and into space.
The 1999 cult sci-fi comedy "Galaxy Quest" is reportedly being rebooted as a television series, according to Variety. The original film's co-writer Robert Gordon, director Dean Parisot and executive producers Mark Johnson and Melissa Bernstein are all rumored to be in talks to adapt the movie for the small screen.
A spoof on "Star Trek" and the sci-fi genre, "Galaxy Quest" starred Tim Allen, Sigourney Weaver, Alan Rickman and Sam Rockwell. The movie followed a group of actors from a canceled TV show about aliens who reunite for a real space adventure. Gordon talked about the possibility of a "Galaxy Quest" sequel in MTV's oral history of the movie last year saying he definitely had ideas for one. Johnson chimed in to add that he would be game for a sequel or a TV show while Allen, Rockwell and Weaver all agreed.
According to Variety, the TV reboot is being produced by Paramount Television, who are also behind the upcoming "School of Rock," "Shutter Island," "Shooter" and "Minority Report" TV remakes. Paramount TV declined to comment.
For more, head to Variety.
BEFORE YOU GO
PHOTO GALLERY
Celebrity News & Photos