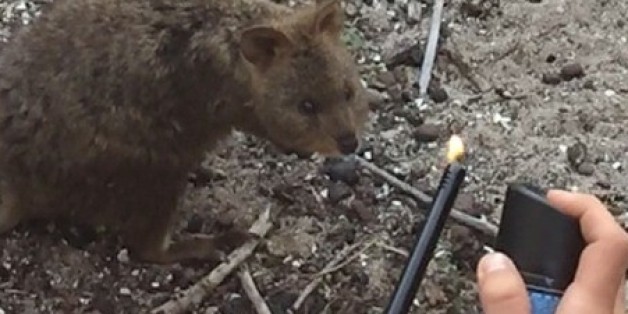 A pair of tourists who filmed themselves setting a quokka on fire have been jailed for a week, according to Western Australia Today.
French nationals Thibaud Jean Leon Vallet, 24, and his cousin Jean Mickael Batrikian, 18, pleaded guilty to counts of animal cruelty for the incident, the Australian outlet reported. They used a can of deodorant and a lighter to singe the quokka in the April 3 incident on Rottnest Island.
The quokka is a friendly marsupial, a small and harmless relative of kangaroos and wallabies. It only inhabits a small range of territory in Australia, including Rottnest Island and Bald Island, along with wetlands on the mainland.
Police pursued the tourists after being informed that they were showing the video of the incident around the island. The quokka survived with singed fur.
Magistrate Elizabeth Langdon sentenced both men to pay a $4,000 fine or spend the week in jail. It's a comparatively light sentence, considering the maximum punishment for harming a quokka is $50,000 and five years in jail.
"The first word that springs to mind to describe your behaviour is abhorrent," she said, according to Western Australia Today.
The quokka has been called the happiest animal in the world. It's classified as vulnerable to extinction by the International Union for Conservation of Nature, largely due to habitat destruction and predation by invasive species.
"I don't think the sentence is enough. I think they got off quite lightly," Peter Murphy of awareness group Quokka Rescue told The Sydney Morning Herald.
The cousins took the jail time over the fine. A spokeswoman from the Department of Corrective Services confirmed to The Sydney Morning Herald that Vallet and Batrikian remained in police custody.
BEFORE YOU GO
PHOTO GALLERY
Cutest Endangered Animals Ever