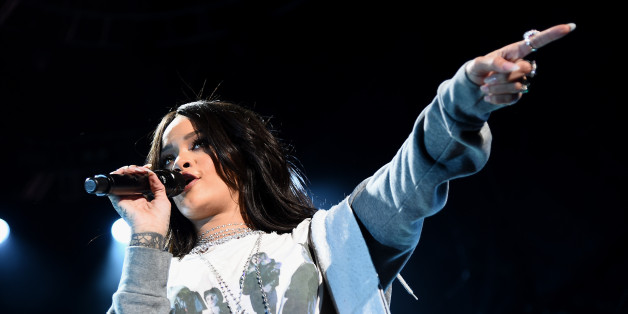 Rihanna celebrated 4/20 a day late by releasing new music from her upcoming eighth studio album. The singer tweeted a streaming link to one of her album interludes, titled "James Joint," on Tuesday.
Go to http://t.co/RJk0cTHYUO right now to hear more new music!!!
Hear it now —> http://t.co/NFEkIDJnK9

— Rihanna (@rihanna) April 21, 2015
The song, which is roughly over a minute long, is very 4/20 appropriate. "I'd rather be smoking weed whenever we breathe / Every time you kiss me / Don't say that you miss me / Just come get me," she sings. On her website, the singer wrote, "In celebration of 420, here's an interlude from my 8th studio album that I call James Joint." Rihanna told V magazine in her recent cover story just how much she loves the track. "Dude, I'm in love with my interludes," she said. "This one called 'James Joint' is on constant repeat." Same, RiRi.
Rihanna has so far released three songs from her upcoming album, including "Bitch Better Have My Money," "FourFiveSeconds" with Kanye West and Paul McCartney, and "American Oxygen."
BEFORE YOU GO
PHOTO GALLERY
Celebrity News & Photos