Warning: This post contains graphic language and may not be suitable for work.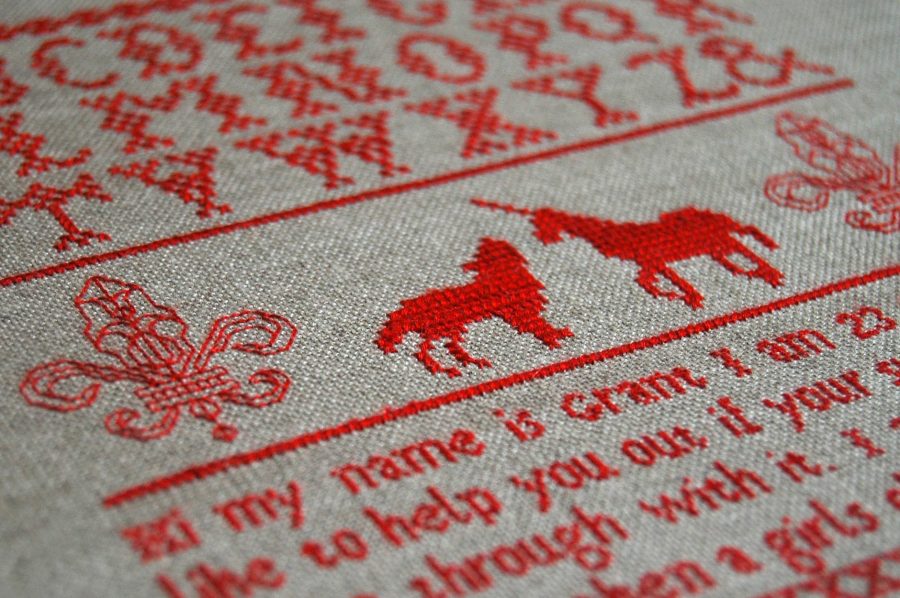 "My inspiration for this project was the Medieval tale of the hunt for the unicorn," artist Spike Dennis explained in an email to The Huffington Post, "which tells of how a unicorn can only be captured by luring it into captivity with a young virgin girl. I wanted to re-imagine the story for the 21st century to create a moral tale for our new digitally interconnected age."
So, how did Dennis transport the lore of the unicorn from Medieval tapestries to the stuff of contemporary art? Well, to start, he posed as a virgin woman on Craigslist.
Yes, for his series "The Hunt for the Unicorn," Dennis posted a Personals ad on Craigslist, catfishing random users who happened to peruse the site. "The ad was posted as a 'woman seeks man' casual encounters ad which read as if it was posted by a college student looking for some fun over the summer before starting university," he explained. Dennis was interested in what kind of Internet users would respond to an ambiguous opportunity for sexual relations.
Spoiler alert: Most of the respondents were gross.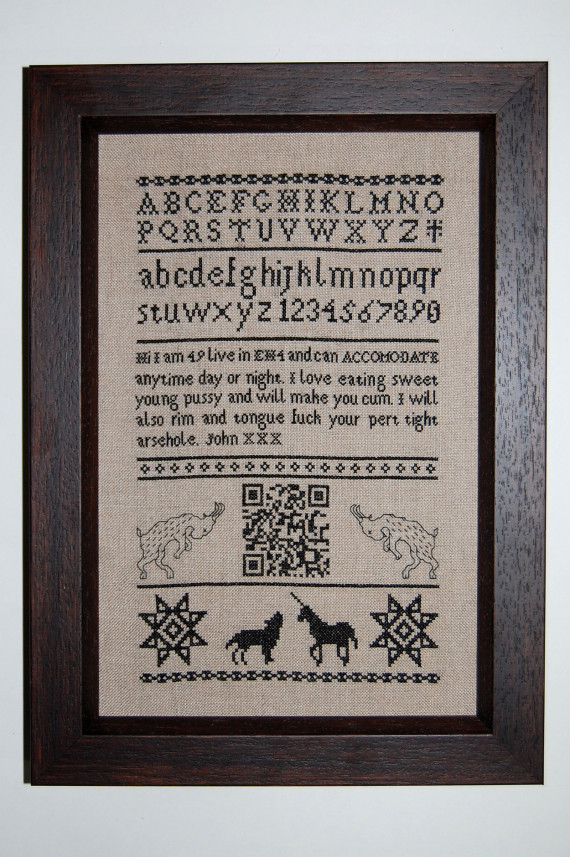 Dennis received plenty of replies, many of which included personal details like names, addresses, phone numbers and places of business. They also included nude photos, lame pick-up lines and plenty of tasteless comments.
"Catfishing is decidedly fishy business, of course," Dennis added, when asked about the details of his Craigslist solicitation. "But like many artists of the centuries, I'm interested in identity, and I've been fascinated with the way that the Internet empowers some people to self-disclose or act out more intensely than they would in person. Through anonymity, invisibility, and dissociative imagination, some people are disinhibited to an extent that they reveal other sides of their physical self. This is something that is quite unique to contemporary society due to the new connective technologies that are available to us and I felt it was something that needed exploring."
Dennis didn't just explore the heinous spiels across the Internet though -- he embroidered them. Responses like, "My fingers are crossed. Hopefully inside you," are rendered in his lovely brand of cross stitch, embroidered with cotton thread on linen. Some of the handmade embroideries are topped off with a dick pic, or a QR code -- aligning the traditional needlework with more contemporary pastimes.
Dennis, a London-based artist and curator, has previously applied his embroidering skills to projects revolving around Freud's castration complex, digital censorship and the Russian folkloric character, Baba Yaga. His project isn't the first time an artist has taken it upon himself to digitally dupe others for the sake of his craft. Dutch artist Dries Verhoeven once lured unsuspecting Grindr users to a glass box where they'd have no choice but to take part in a performance piece.
"One of the core issues that I guess I hope to communicate is something of the perils of oversharing in our new interconnected world," Dennis concluded. "It's amazing how much information people will disclose without thinking -- even to an apparently innocuous personal ad!"
Note to readers: Be careful what you say online, you could be the subject of contemporary artwork.
PHOTO GALLERY
Spike Dennis
BEFORE YOU GO
PHOTO GALLERY
A Brief Guide To The NSFW History Of Penis Art