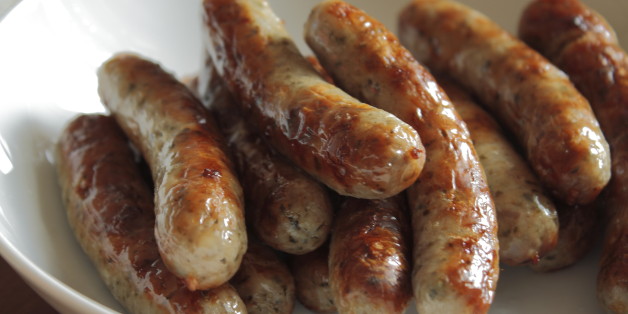 Bad news for breakfast fans.
On Monday Kayem Foods, the supplier of Trader Joe's beloved Sweet Apple Chicken Sausage, recalled 59,203 pounds of its fully-cooked chicken sausage due to possible contamination with pieces of plastic.
The products subject to the recall include the establishment number P7839 in their USDA inspection marks, and may have been purchased in stores nationwide. According to the U.S. Department of Agriculture's Food Safety and Inspection Service, 12-ounce packages of Trader Joe's brand Sweet Apple Chicken Sausage with the case code 9605 and use by/freeze by dates of April 22, 2015; April 25, 2015; and April 29, 2015, are subject to recall.
The 8-ounce packages of Al Fresco brand Apple Maple Fully Cooked Breakfast Chicken Sausage with the case code 9709 and use by/freeze by dates of June 13, 2015, and June 20, 2015, are also included in the recall.
Two consumers found little plastic bits in their food and complained to Kayem, which prompted the company to begin an investigation which led to the recall. While it has not yet been determined how plastic ended up the product, FSIS declared the recall a low health risk, and so far no cases of illness or injury linked to the chicken sausage have been reported.
The company encourages concerned consumers to call Joellen West, a customer relations supervisor at Kayem, at (800) 426-6100, ext. 247 with any questions. Trader Joe's customers can also contact their customer relations department at (626) 599-3817 Monday through Friday, 6 a.m. - 6 p.m. PT or via email.
BEFORE YOU GO
PHOTO GALLERY
4 of the Most Commonly Recalled Foods (and How to Buy Them Safely)