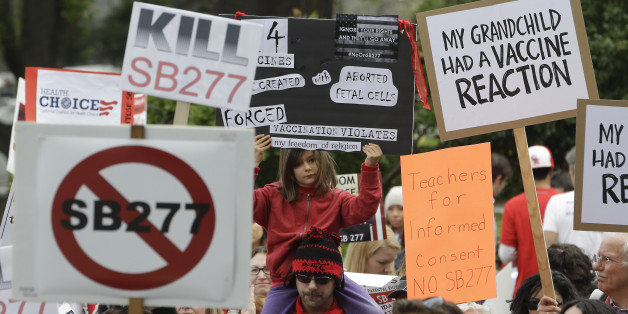 California's mandatory vaccine bill, inspired by the state's recent measles outbreak, passed the Senate Education Committee on Wednesday. Under the bill, parents enrolling their children in California schools will only be allowed to opt them out of vaccines for medical reasons and may no longer cite religious or personal beliefs as reasons not to immunize.
The 7-2 vote comes a week after the measure's authors decided to put the legislation on hold following heated testimony from other lawmakers, who raised concerns that the measure might limit children's access to education, the Sacramento Bee reported. Last week, the legislation was amended to allow parents who don't want their kids immunized to home-school or enroll their kids in an independent study program.
Similar bills in Washington and Oregon failed in March. If California passes the bill, it will join Mississippi and West Virginia as the only states allowing only medical exemptions from vaccines.
"While this bill won't reach everyone, it will increase everyone's safety against preventable diseases," Sen. Ben Allen (D), who co-authored the bill with Sen. Richard Pan (D), said at Wednesday's vote. "We think we've struck a fair balance here that provides more options to parents who are concerned about not vaccinating their children."
The bill follows a major measles outbreak that started in Disneyland in December and resulted in at least 131 cases. Currently, the Los Angeles Times notes, there are more than 13,500 California kindergarten students with personal belief waivers, with 2,764 of those citing religious beliefs.
The bill now moves on to the Senate Judiciary Committee, the San Jose Mercury News reported. If it passes there, it will advance to Assembly committees and, ultimately, the desk of Gov. Jerry Brown (D) for final approval.
The Los Angeles Times reported in February that Brown's spokesman said the governor "believes that vaccinations are profoundly important and a major public health benefit, and any bill that reaches his desk will be closely considered."
This post has been updated with more background on the bill and the measles outbreak in California.
BEFORE YOU GO
PHOTO GALLERY
U.S. State Capitol Buildings