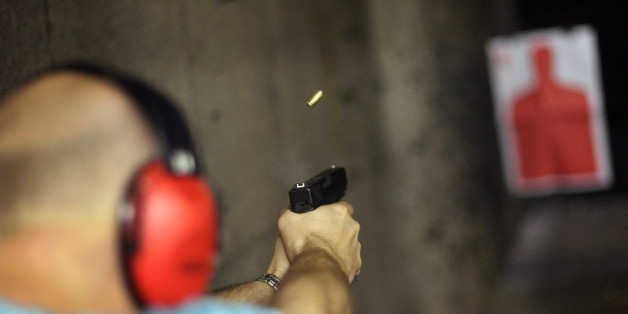 Domestic abuse convicts in Texas are forbidden from possessing firearms under both federal and state law. But until now, there was no system in place to collect those offenders' guns.
This month, Dallas County is set to become the first in the state to collect and store weapons taken from domestic abusers, according to local ABC affiliate WFAA. Officials predict that up to 700 guns each year will be taken and stored at a private gun range that volunteered to provide the storage space.
County Criminal Court Judge Roberto Cañas, who has been working for months to establish the gun confiscation program, told The Huffington Post that the program should start officially within a week. He got involved with the project because he believed it was unjust for domestic violence offenders to be able to keep their firearms.
"I've known we had this hole in our justice system for years," Cañas said. "So I've been the cheerleader that says we need to do something about this aspect -- offenders possessing guns."
DFW Gun Range first agreed in June 2014 to participate in the confiscation program. Soon after, county commissioners voted last year to fund and staff the initiative, the Dallas Morning News notes.
"Imagine how much better victims would sleep at night knowing all the guns had been removed," Jan Langbein, CEO of Genesis Women's Shelter, told the paper after the gun range first signed on. "I think it will save lives. I really do."
Federal law already bans gun possession for those with permanent domestic violence restraining orders. But there are two problems with enforcing that law: First, states that don't have similar rules on the books can't prosecute those who break the federal law. And for those states that do, like Texas, many local jurisdictions don't have a system in place to collect and store the contraband.
READ MORE: Why aren't states taking domestic abuse convicts' guns away?

"When I ordered guys that they couldn't have guns anymore, it was pretty much on your honor," Cañas told WFAA. "It's been a gap in the system['s] response to this type of crime."
Cañas has been working with local government officials on the effort, which is known as the "Firearm Surrender Project," and was the one who convinced DFW Gun Range to act as the storage facility.
According to WFAA, under the new system Dallas judges will start by asking offenders whether they have guns. If they do, they'll be ordered to surrender the weapons either to the gun range or to a third party who can legally own a gun.
Judges will also take steps to double-check whether offenders have concealed carry permits or other records proving that they may own a firearm.
Texas has the nation's 16th-highest rate of women killed by men, according to a 2012 Violence Policy Center analysis of homicides involving a single offender and a single victim. Firearms are involved in about 60 percent of domestic violence-related homicides in Texas, WFAA's report noted.
On average, three women are killed in domestic homicides every day nationwide. And many of those victims are shot: Guns were responsible for the deaths of more than half of all women killed by their partners between 2001 and 2012.
BEFORE YOU GO
PHOTO GALLERY
Politicians Holding Guns