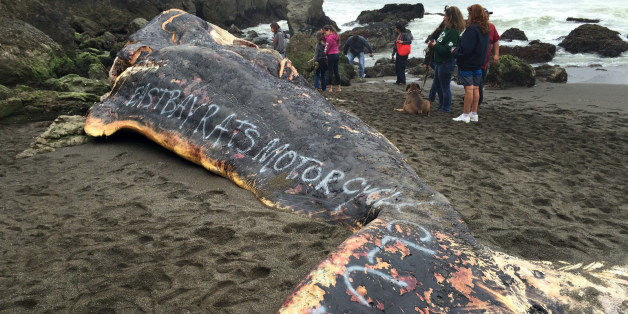 A washed-up whale corpse in the Bay Area has been defaced with the name of a local motorcycle gang, according to Kron 4.
The LA Times reports that the sperm whale's body has lain on the Sharp Park State Beach since April 14, drawing crowds of onlookers. Scientists have been unable to determine the cause of the endangered creature's death.
On the morning of April 21, the words "EAST BAY RATS MOTORCYCLE CLUB" were found spray painted in white along its body. While the Oakland-based club's Facebook page has seen a barrage of critical posts, it has not yet officially issued a response to the graffiti.
Club President Trevor Latham told The Huffington Post the club as a whole never decided to graffiti the whale. He noted that the club doesn't do much graffiti, though it's possible some members were trying guerrilla marketing tactics. Someone might also be trying to frame the Rats.
The Rats are meeting in two weeks, and Latham said that's when they'll get to the bottom of exactly who defaced the whale. When asked whether he'd punish the perpetrator, he suggested they'd have to do something worse than graffiti a whale to get kicked out.
Latham added that he's been getting some "crazy" calls since the whale story broke. "Definitely sitting on my porch with a rifle," he told HuffPost.
BEFORE YOU GO
PHOTO GALLERY
Stranded Whales In Everglades