Today is Earth Day, when liberals ascend the highest ivory towers in all the land to sacrifice jobs to their Earth gods upon an altar made of recyclable dishware from the 111th Congress. Rand Paul can no longer market his customized Ray Bans, much like the 2008 showdown between the DSCC and American Apparel over those keffiyehs patterned with Carl Levin's face. And Carly Fiorina will start her presidential campaign in New York City. A student of Rudy Giuliani's 2008 strategy, Fiorina is confident she can do worse. This is HUFFPOST HILL for Wednesday, April 22nd, 2015:
Because life is pointless, the human trafficking bill just passed the Senate 99-0 and Loretta Lynch is set to be confirmed tomorrow -- all this after six weeks of mostly inane delays. Pro tip: No one can filibuster the eventual consumption of our Earth by the bloated, dying sun; it will invoke cloture on all our species' triumphs and follies. Naturally, The Fix has a "the Senate is working!" piece.
FIORINA ANNOUNCING MAY 4 WITH ONLINE VIDEO - She can't be serious with this schedule. Have publishers foregone book tours in favor of presidential campaigns? Reid Epstein: "Mrs. Fiorina, the former chief executive of Hewlett-Packard Co., will formally declare her Republican campaign online and hold a conference call for the national press, according to a person with knowledge of the campaign's plans….It will also put Mrs. Fiorina at odds with two other GOP candidates announcing their 2016 plans that week. Retired neurosurgeon Ben Carson also plans to declare his candidacy on May 4, but he is planning to do so at an event in Detroit, where he was born. Former Arkansas Gov. Mike Huckabee has an event planned the next day in Hope, Ark., his hometown. Detroit and Hope will be mere stage sets for Messrs. Carson and Huckabee--both men now live in Florida. And instead of immediately heading to states with early nominating contests, Mrs. Fiorina will be in New York when her campaign formally launches. The former tech CEO is scheduled to speak at Techcrunch's Disrupt NY 2015 conference on May 5. She has a new book due out that day and is expected to sit for cable TV interviews as well." [WSJ]
OBAMA SPENT EARTH DAY IN THE EVERGLADES, TAUNTING REPUBLICANS - Kate Sheppard: "President Barack Obama is making an Earth Day visit to Florida's Everglades on Wednesday, where he'll talk about environmental issues. It's of course a huge coincidence that the visit is in the backyard of two Republican presidential hopefuls who have been squishy on the subject of climate change." [HuffPost]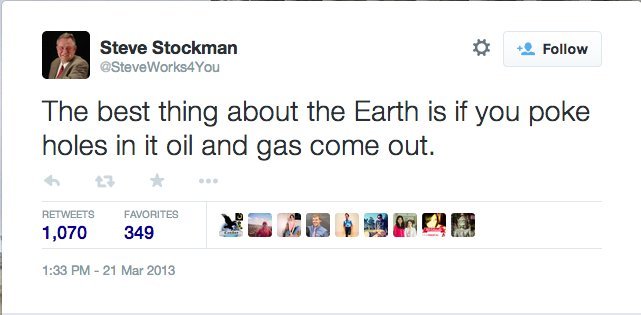 Happy Earth Day
CLINTON LAUNCHING FIELD TEAM - Pro tip for Marlon Marshall: Nothing says "fired up, ready to go" quite like an impassioned speech in front of a bunch of unadorned cubicles. #ExposedBrickIsForWinners Amanda Terkel: "Hillary Clinton's presidential campaign is launching a major grassroots organizing effort Wednesday, sending staffers to every single state to start building an infrastructure of volunteers ready to pound the pavement. What's being called the 'Ramp Up Grassroots Organizing Program' will have paid staffers in all 50 states, the District of Columbia and the territories through the end of May. They'll be working with Clinton supporters to organize local meetings, volunteer trainings and other grassroots events, according to the campaign. Wednesday's announcement recalls the "50-state strategy" pushed by former Vermont Gov. Howard Dean when he was chair of the Democratic National Committee from 2005 to 2009. Dean argued that Democrats shouldn't concede any state as "unwinnable" and should invest resources in building an infrastructure in every single state -- a strategy Clinton will be testing should she make it to the general election." [HuffPost]
RIP, STAFFER THROWN UNDER BUS BY AMY KLOBUCHAR - Blaming staffers is such a hilarious strategy as it also underscores how members of Congress do no real work -- Kardashians with flag pins, if you will. Manu Raju and Burgess Everett: "Klobuchar has been at the center of the showdown over what initially appeared to be a noncontroversial bill she co-authored to prevent girls from being sold into sex slavery. But when she and fellow Democrats failed to notice an anti-abortion provision in the bill, the legislation ended up prompting weeks of partisan bickering and tension within the Senate Democratic Caucus…At one point, Klobuchar -- along with Sens. Patrick Leahy of Vermont and Maria Cantwell of Washington -- got in a heated discussion during a closed-door lunch over how the anti-abortion provision had been overlooked. Cantwell even suggested later that Klobuchar was being unfairly blamed by male senators, according to lawmakers who gave an account of the exchange. Klobuchar later outed a staff member for failing to alert her to the anti-abortion provision, a move that's generally frowned upon in the Senate." [Politico]
DAILY DELANEY DOWNER - Carla Johnson and David Mercer have uncovered more evidence that Obamacare is sapping the American Spirit: "President Barack Obama's health care law has had a surprising side effect: In some states, it appears to be enticing more Americans to apply for food stamps, even as the economy improves. New, streamlined application systems built for the health care overhaul are making it easier for people to enroll in government benefit programs, including insurance coverage and food stamps." [Associated Press]
Does somebody keep forwarding you this newsletter? Get your own copy. It's free! Sign up here. Send tips/stories/photos/events/fundraisers/job movement/juicy miscellanea to huffposthill@huffingtonpost.com. Follow us on Twitter - @HuffPostHill
TED CRUZ HAS ALWAYS BEEN TED CRUZ - But it's unclear if he forced gay kids to get a haircut. "To many former teammates and opponents who recounted his Princeton debating career, Mr. Cruz, the Texas senator who has emerged as a formidable Republican presidential candidate, stood out as a remarkable orator in a college circuit brimming with Type A strivers...For emotional resonance, Mr. Cruz often invoked his father's coming to America from Cuba with $100 sewn into his underwear. When an Amherst team argued at a tournament in 1989 that Ricky Ricardo should have let Lucy work, Mr. Cruz said, in an incensed voice: 'Well, guess what, I'm Cuban! And no self-respecting Cuban man of the era would let his wife work.' … Mr. Cruz's own attempts at humor sometimes missed the mark. In one debate, he proposed a method to detect infidelity, in which God should 'give women a hymen that grows back every time she has intercourse with a different guy, because that will be a 'visible sign' of the breach of trust,' according to a recollection by David Kennedy published in a Harvard debate team reunion booklet in 2001." [NYT]
It's funny 'cause being an oil lobbyist is, in no way shape or form, a deterrent to running for public office in Alaska: "Former senator Mark Begich (D-Alaska), who lost his reelection bid in November, has joined the law and lobby firm Brownstein Hyatt Farber Schreck, where he is leading a strategic advisory unit with Barry Jackson, the former top aide for House Speaker John Boehner (R-Ohio)...He said he plans to split his time between Alaska and Washington, and will continue his work with the Alaska consulting firm he formed earlier this year, Northern Compass Group, but that it will remain separate from Brownstein. At Brownstein, Begich will initially focus on energy and natural resources issues." [WaPo]

"'This time of year again,' Boehner muttered as he dumped out the jelly beans from the cleaned-out ashtray he keeps atop a mahogany side table in his finished basement."
RAY BANNED - Also, everyone knows "the intersection of politics and cool" is Chris Coons. The Hill: "Ray-Ban has asked Sen. Rand Paul's presidential campaign to quit selling the brand's Wayfarer sunglasses, which Paul had imprinted with the 'Rand' logo. The Rand-Ban sunglasses were for sale for $150 on Paul's website as recently as Tuesday. The website described the product as 'the intersection of politics and cool.' But the campaign didn't have Ray-Ban's consent, and the company didn't think that was cool. 'We learned that the Rand Paul campaign had been selling Ray-Ban sunglasses imprinted with the 'Rand' logo without our consent,' Jane Lehman, who handles corporate media at Luxottica, Ray-Ban's public relations firm, wrote in an email to The Hill. 'After a formal request from us, they promptly removed the product from their site and agreed to cease any further use of our trademarks,' she wrote." [The Hill]
Clearly she wasn't around for Dick Cheney's live-action Stratego sessions "Fox News' Dana Perino lit into Senate minority leader Harry Reid in a radio interview with Hugh Hewitt Tuesday, calling Reid 'an absolutely poisonous figure' in Washington. She also said he's the main source of dysfunction in the nation's capital." [Daily Caller]

We're not sure what to make of Mitch McConnell's outfit, but we're going to go ahead and call it, "Stockholm Money Manager."
WHCD IS AWFUL… SEE YOU THERE! - Look, Ed Henry's hair won't helmut-ize itself. Luke Mullins: "As the event's profile has risen, contributions to the association have jumped- from 2009 to 2013, the take increased by 162 percent, to $532,555- but scholarship payouts have inched only 10 percent higher, according to the WHCA's tax filings. Put another way, the association spent almost 60 percent of its revenue on scholarships in 2009, but just 26 percent in 2013. Some of the excess cash has gone to boost compensation of the group's longtime executive director, Julia Whiston- from $40,000 a year in 2004 to a still-modest $142,000- and to build up cash reserves. The association also says it has put $100,000 into an endowment for future scholarships since its last filing. The WHCA isn't in danger of violating the law- the rules governing 501(c)(3)s are so broad that a band of ghost hunters in Memphis qualifies. Nobody is accusing anyone of tapping corporate slush funds: The organization's major donors are media homers like Fox's Bill O'Reilly and Politico." [Washingtonian]
But will George Pataki be there? "Of the large field of potential aspirants, only businessman and TV personality Donald Trump will be in attendance at the correspondents' dinner, as a guest of Fox News..." [RealClearPolitics]
The latest edition of Drinking and Talking featured April Ryan, Olivier Knox and Eric Schultz discussing the dinner with our drunk colleagues.
BECAUSE YOU'VE READ THIS FAR - Here's a French bulldog puppy.
MORE LIKE SENATE BEAN POOP - Unlike many staff assistants, Congress's service staff usually don't have rich parents to support them. Bertrand Olotara: "Every day, I serve food to some of the most powerful people on earth, including many of the senators who are running for president: I'm a cook for the federal contractor that runs the US Senate cafeteria. But today, they'll have to get their meals from someone else's hands, because I'm on strike. I am walking off my job because I want the presidential hopefuls to know that I live in poverty. Many senators canvas the country giving speeches about creating 'opportunity' for workers and helping our kids achieve the 'American dream' – most don't seem to notice or care that workers in their own building are struggling to survive. I'm a single father and I only make $12 an hour; I had to take a second job at a grocery store to make ends meet. But even though I work seven days a week – putting in 70 hours between my two jobs – I can't manage to pay the rent, buy school supplies for my kids or even put food on the table. I hate to admit it, but I have to use food stamps so that my kids don't go to bed hungry." [Guardian]
COMFORT FOOD
- A 1990 Earth Day rap video featuring Will Smith, Queen Latifah and Ice-T.
- Discover the identify of your past lives with Slate's Reincarnation Machine.
- The best moments caught on Jumbotrons.
TWITTERAMA
- @timothypmurphy: "listening tour" is an awful euphemism for "photo-op" and you don't need to use it
@cjciaramella: "Next up, we have David Brock to discuss a new book about Hillary Clinton …"
[Brock stares into camera, screams for 30 seconds]

@BassoonJokes: rolls sex dice gets "listen to" and "your podcast"
Got something to add? Send tips/quotes/stories/photos/events/fundraisers/job movement/juicy miscellanea to Eliot Nelson (eliot@huffingtonpost.com) or Arthur Delaney (arthur@huffingtonpost.com). Follow us on Twitter @HuffPostHill (twitter.com/HuffPostHill). Sign up here: http://huff.to/an2k2e