A New York man is taking a unique approach to clean water advocacy this Earth Day.
Donning a drysuit and exposure protection gear on Wednesday, water advocate and swimmer Christopher Swain is planning to swim the entire 1.8-mile length of New York City's Gowanus Canal in Brooklyn. The canal connects to the East River -- the saltwater tidal strait separating Manhattan from Brooklyn and Queens -- and is one of the most polluted waterways in the United States.
"Could I get diarrhea? Yeah. Could I get dysentery? Yeah. The hope is no I won't," Swain told New York's ABC7 on Tuesday. "I love the water, and love can make you do crazy things."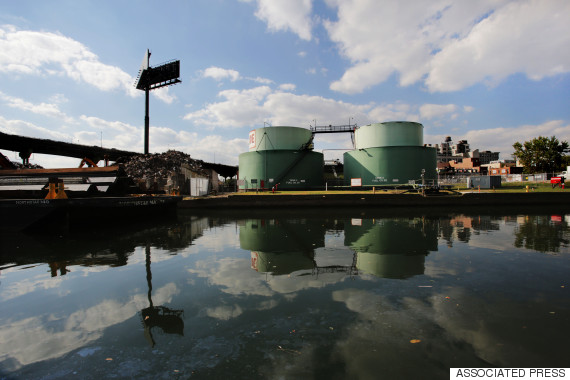 Oil storage tanks reflect on the Gowanus Canal's sheen-covered water in this 2013 photo. (AP Photo/Mark Lennihan)
Decades of industrial pollution, stormwater runoff and sewer overflows have left the canal teeming with "PCBs, heavy metals, pesticides, volatile organic compounds, sewage solids from combined sewer overflows, and polycyclic aromatic hydrocarbons (PAHs)," according to clean water advocacy group Riverkeeper. The bottom of the canal is covered in a layer of sludge several feet thick.
"Based on our extensive patrols to the Gowanus over many years, our water quality sampling there and the very high and frequent fecal contamination we have measured there we strongly advise against swimming in the Gowanus," Riverkeeper Boat Captain John Lipscomb said in a statement to The Huffington Post.
Nicole Butterfield, part of Swain's safety team, patiently waits in her kayak. Says fumes have her eyes watering pic.twitter.com/bVsSzheiLh

— Noah Hurowitz (@NoahHurowitz) April 22, 2015
In 2010, the U.S. Environmental Protection Agency added the canal to its Superfund National Priorities List to develop a cleanup plan. Its 2013 plan found that it will take half a billion dollars and eight to 10 years to clean up the site.
The EPA took notice of Swain's plans, tweeting on Wednesday morning that the agency "strongly advises AGAINST swimming in the Gowanus Canal."
The site was originally the Gowanus Creek and lined with mills and farms. The canal was constructed between 1849 and 1869, and it quickly attracted industry. The area was fully urbanized and industrialized by 1870, according to the city's Department of Environmental Protection.
Swain swam the 315-mile length of New York's Hudson River in 2004, also in the name of clean water advocacy. The Hudson was once very polluted, but cleanup efforts have produced a river that's "something close to clean," Swain wrote in the Poughkeepsie Journal in 2004.
"We used to have to convince folks that the Hudson River was in trouble, that cities and corporations were on track to slaughter the waterway," he wrote. "Now, we need to convince folks that we have a chance to turn the Hudson River back into a diamond."
Chris Swain gargles with hydrogen peroxide after swimming the Gowanus Canal. #1010wins pic.twitter.com/ieXDbkmu75

— Al Jones (@aljoneswins) April 22, 2015
Swain talks about Wednesday's swim the video below: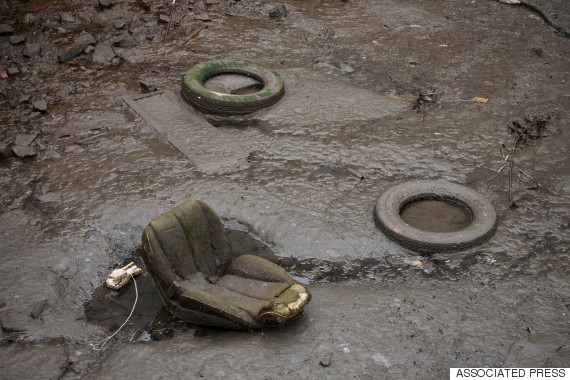 A discarded car seat and tires are shown in the Gowanus Canal on Tuesday, March 2, 2010. (AP Photo/Mark Lennihan)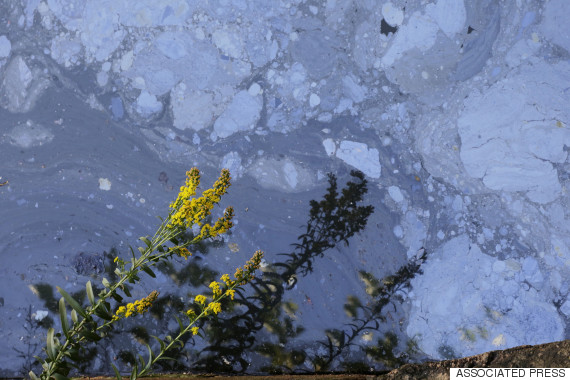 Flowers grow along the oil-stained Gowanus Canal on Monday, Sept. 30, 2013. (AP Photo/Mark Lennihan)
BEFORE YOU GO
PHOTO GALLERY
Evolution of Green Activism