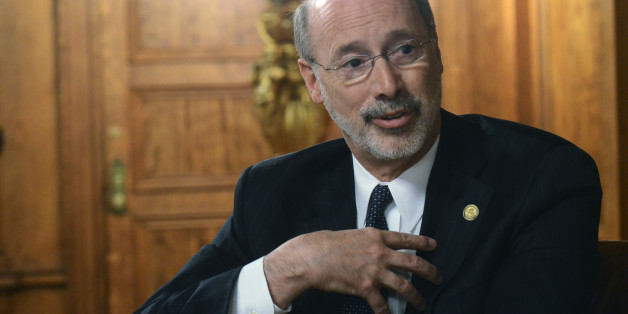 Pennsylvanians applying for nutrition assistance will no longer have to tell the government whether they own burial plots, thanks to a move by Gov. Tom Wolf (D) that will take effect on Monday.
Wolf's predecessor, former Gov. Tom Corbett (R), imposed an asset test on food stamp applicants in 2012 to cut down on "waste, fraud and abuse." The test limits food stamps to people who have less than $5,500 in assets, except for some personal property, including a house and one car. The state's application form asks about bonds, boats and burial agreements with banks or funeral homes. The asset questions come on top of standard queries about income and expenses.
During his campaign for governor last year, Wolf had promised to undo the asset test, calling it "another example of how [Corbett] has embraced policies intended to hurt our most vulnerable residents."
Republicans in many states have tinkered with safety net programs since 2010, seeking to add new eligibility requirements for people who want benefits from the Temporary Assistance for Needy Families program or the much bigger Supplemental Nutrition Assistance Program, commonly known as food stamps. A dozen states have added drug testing requirements to TANF, and Pennsylvania and Michigan both imposed food stamp asset tests in 2012.
Nationally, most people who receive food stamps don't have to meet a set of eligibility requirements specifically for SNAP, because they've already qualified for another program, such as TANF. The idea is that if people have already met those requirements, they shouldn't be made to answer another series of questions about how poor they are. Critics of state asset tests say the additional paperwork is an unnecessary burden.
"With an asset test, applicants must supply all this information and also prove they don't possess other valuable assets by submitting additional documents, like bank statements for checking and savings accounts, and vehicle registrations," Just Harvest, a Pennsylvania anti-hunger nonprofit, said in a fact sheet about the state's asset test.
Though Corbett's administration suggested the asset requirements would save money, the state Department of Human Services said in 2013 that the additional criteria had only affected less than 1 percent of the program's 1.8 million beneficiaries. The department said Tuesday that eliminating the extra eligibility requirements will save the state $3.5 million a year.
"This will also remove unnecessary administrative burdens and costs to the commonwealth, as well as increased errors that could potentially result in federal sanctions for the state," the department said in a release, noting that households kicked off food stamps by the test tended to include elderly or disabled family members.
The average monthly SNAP benefit is about $125 per person. The average funeral cost more than $7,000 in 2012, according to the National Funeral Directors Association.
BEFORE YOU GO
PHOTO GALLERY
HAHA: Politicians Cracking Up