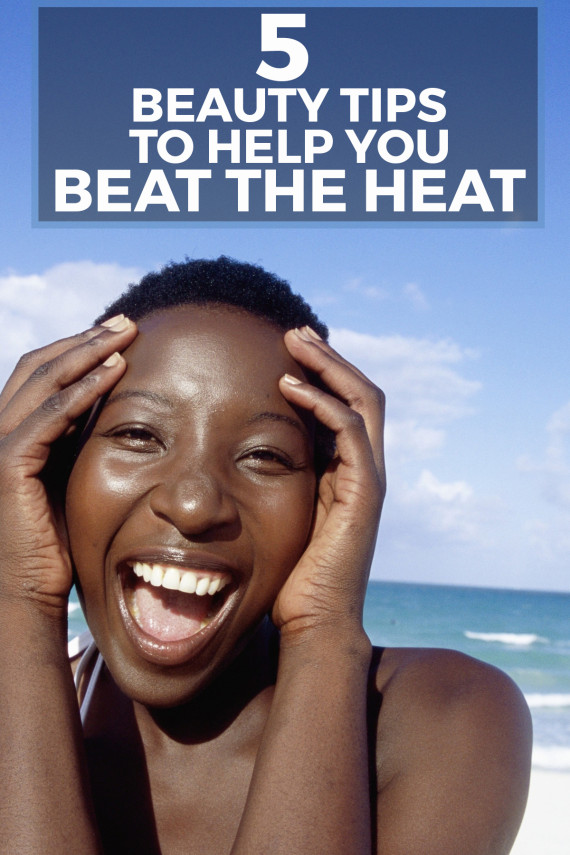 Photo: Rolf Bruderer/Fuse via Getty Images
Once the temperatures start rising, the editors here at HuffPost Lifestyle pare down our makeup routines to the essentials: mascara, concealer and tinted lip balm. A full face of makeup just doesn't hold up (or look as good) when it's hot and sticky outside.
During the summer months, you can't go wrong with wearing little-to-no makeup, but it does get tricky when choosing formulas and products that can withstand heat, humidity and even sweat.
To help you avoid hot-weather beauty blunders, we asked Jessica Scantlin, the head makeup artist at Blushington Makeup and Beauty Lounge, to share her tips and tricks.
1. DO invest in waterproof makeup.
Makeup has come a long way since the bulletproof-but-heavy liners, lipsticks and mascaras from the '80s. Thanks to cosmetics companies like Stila, Kevyn Aucoin and Bobbi Brown, consumers have access to a wider range of products that truly stay put where you put them, without clogging your pores.
Becca Beach Tint, Stila Stay All Day Waterproof Liquid Eye Liner, Kevyn Aucoin Curling Mascara, Bobbi Brown Cosmetics Long-Wear Cream Shadow Stick, CoverGirl Lip Perfection Lipstick
2. DON'T use powder products.
"Have you ever baked and placed flour in water without mixing it?" Scantlin asks. "It separates and forms in a clump, which is exactly what powder does to you in the summertime after a long day." Your skin is extra hydrated in the summer and you will naturally sweat more, so that's why this pro believes that creams are hands-down the best option.
Unlike matte powders, which sink into the fine lines and creases of your face, cream-based eyeshadow, blush and foundation glide on smoothly and help to create dewy, naturally flushed or bronzed effects.
3. DO set your makeup with a setting spray.
This product provides a light layer of protection to keep your makeup from sliding down your face. Cooling mists also work great to set makeup and leave your skin refreshed during those hot summer months. Scantlin likes to store hers in the fridge to ensure an extra cooling effect. Bonus: Most setting sprays smell great.
Julie Hewett Cucumber Water, Urban Decay All Nighter Long-Lasting Makeup Setting Spray, NYX Dewy Finish Setting Spray, The Body Shop Vitamin E Face Mist, Skindinavia The Makeup Finishing Spray
4. DON'T wear thick facial creams.
"Never use a thick cream in the summer as this will make your makeup slide right off your face," said Scantlin. "Use something lighter and make sure to let it absorb before applying your makeup for the day." She swears by moisturizers with SPF that are lightweight, yet still give your complexion a boost of radiance and hydration.
Eve Lom Daily Protection+ SPF 50, CeraVe Facial Moisturizing Lotion SPF 30, First Aid Beauty Ultra Repair Pure Mineral Sunscreen Moisturizer, Sun Bum SPF 30 Moisturizing Sunscreen Lotion, La Roche Posay Anthelios SX Moisturizer SPF 15

5. DO go the DIY route to combat under-eye puffiness and oily skin.
Don't toss your tea bags! After steeping them in a pitcher of iced tea, let them cool and lay them on your eyelids. The caffeine from the tea helps to shrink blood vessels, thus minimizing puffy under-eyes and dark circles.
Want to create a great natural mask for oily skin? Grab some papaya. "Just simply mash it up and apply it to your face. The natural enzymes in papaya help pull out the oil without stripping the skin," said Scantlin.

BEFORE YOU GO
PHOTO GALLERY
50 Beauty Tips