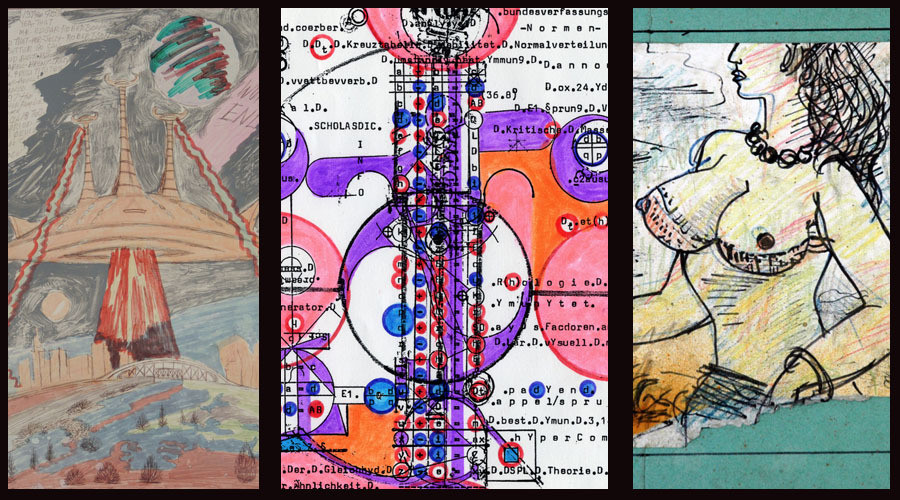 It's hard to discuss the genre often referred to as "outsider art" without calling into question the term itself. Referencing art made not only on the periphery of the artistic institution, but on the outskirts of society and culture in the widest sense, the category generates a boundary in its very utterance, erecting a spoken wall between what's in and what's out.
A recently closed group exhibition at David Zwirner Gallery in New York City, titled "System and Vision," featured artists "whose unique ideas developed outside the circuit of art world institutions," in the words of the gallery.
The show featured the work of 11 artists and one anonymous collective, some creating erotic drawings, others rigidly formulaic photographs; some lifelike dolls, others convoluted calendars. What ties the exhibition and its wide range of artists together, is their mutual distance from market trends and art historical traditions -- including any awareness or expectation of being a publicly viewed artist whatsoever.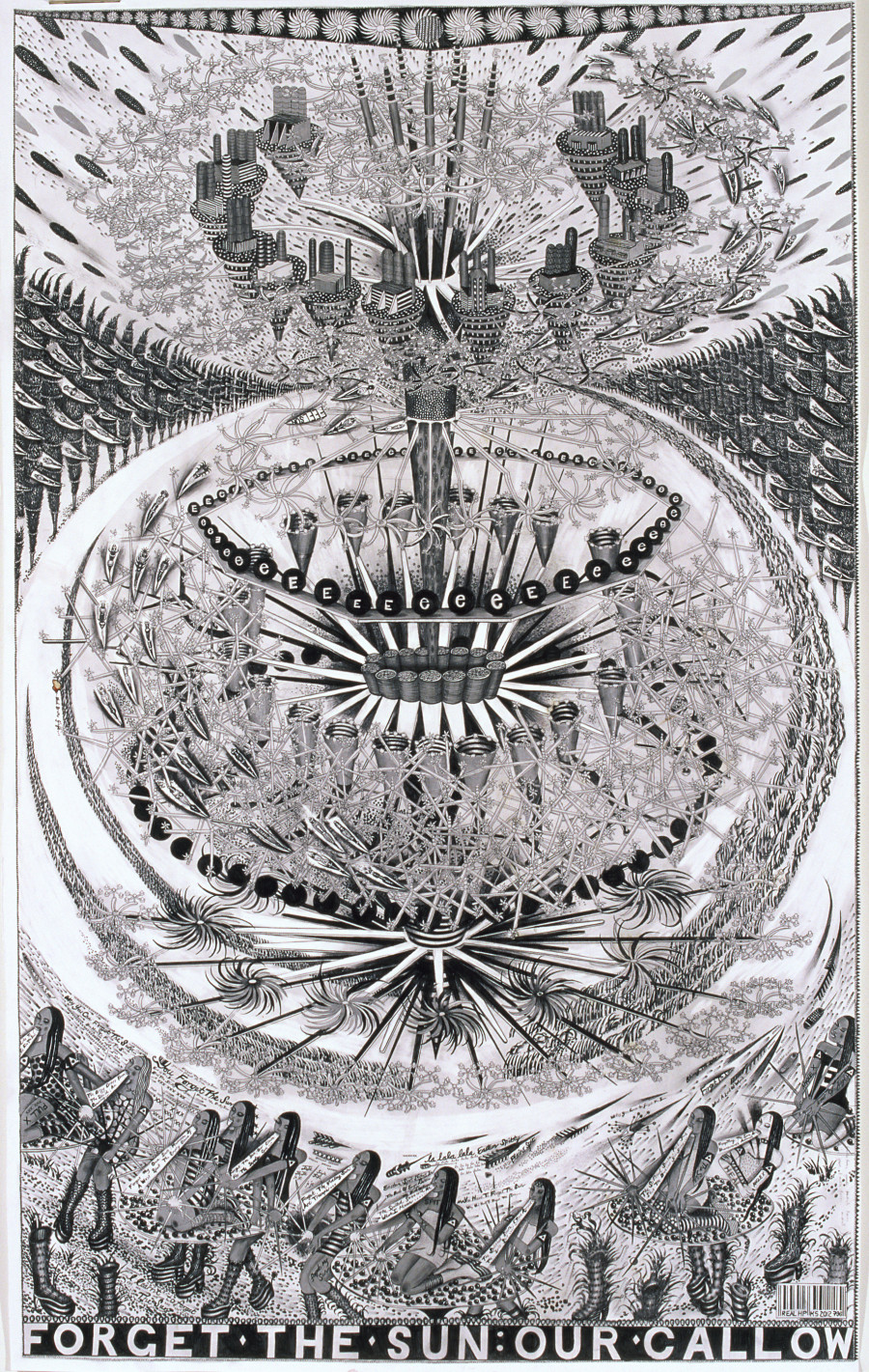 Chris Hipkiss, Forget The Sun, 2012, Mixed media on paper, 57 1/2 x 36 1/4 inches (146 x 92 cm), Courtesy Galerie Susanne Zander / Delmes & Zander (Berlin + Cologne)
Despite the fact that the artists on view might never have anticipated they'd be shown at a gallery, here they were, suddenly featured at one of the biggest and most powerful contemporary art spaces in the world. As ArtReview put it, the haven is "the closest a commercial gallery can come to being a museum." Last year David Zwirner himself came in at No. 2 in the publication's yearly roundup of the art world's "Power 100," ranking above fellow art dealer Larry Gagosian, MoMA director Glenn Lowry and Jeff Koons, among many, many others. All of which is to say, the gallery is most definitely not an "outsider" gallery.
So where does that put "System and Vision," a medley of artists suddenly placed on the same walls as art world giants like Yayoi Kusama, Richard Serra and Dan Flavin? Let's take a closer look at the substance of the show, which was organized -- into four thematic categories: eroticism, pseudo-science, science fiction and the occult -- in collaboration with Delmes & Zander, a gallery based in Germany that focuses on "conceptual outsider art."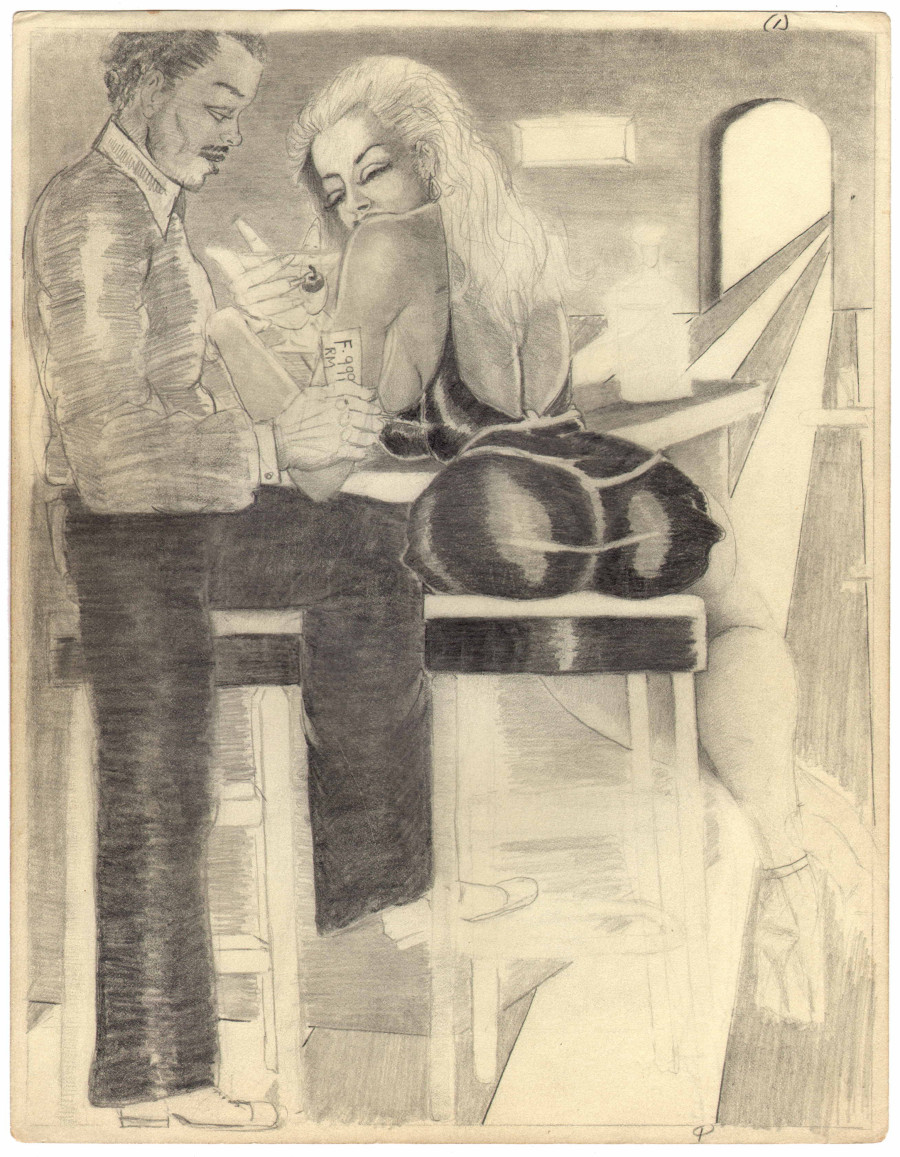 William Crawford, Untitled, 1990s, Pencil on paper, 11 x 8 1/2 inches (28 x 21.5 cm), Courtesy Galerie Susanne Zander / Delmes & Zander (Berlin + Cologne)
Sex is a common subject for many artists, but the erotic terrain navigated by visionaries operates somewhat differently. This particular breed of "raw erotica" is a mode of intense desire that is rarely translated into physical copulation -- whether due to geographical isolation, physical or developmental disability. Such carnal impulses reach their fruition in the act of art-making itself, yielding visuals that stray from the depictions of sex we widely encounter in art, film, porn and real life. Some are naive, others aggressive or just plain bizarre, depending on the artist's exposure to sex in the flesh as opposed to on the page.
One such erotically inclined artist is William Crawford, a man whose name is only known by his signature, sprawled on some of the hundreds of orgiastic drawings discovered in an abandoned house in Oakland, California. Many of the works were created on the backs of prison rosters in the 1990s, leading to the theory that Crawford created them behind bars, yearning for sexual activity. The frequent appearance of a man with an afro and mustache, thought to be Crawford himself, provides a potential visual reference for the artist.
The pencil on paper drawings depict leather-clad bombshells, group sexual encounters, rape scenes and other taboo reveries, in a style that shifts from exaggerated and cartoonish to startlingly precise. Amersand Gallery describes Crawford's artistic style as "more a dream than documentation, more fantasy than perversion: the mise en scène of a sexual reverie in which Crawford is king."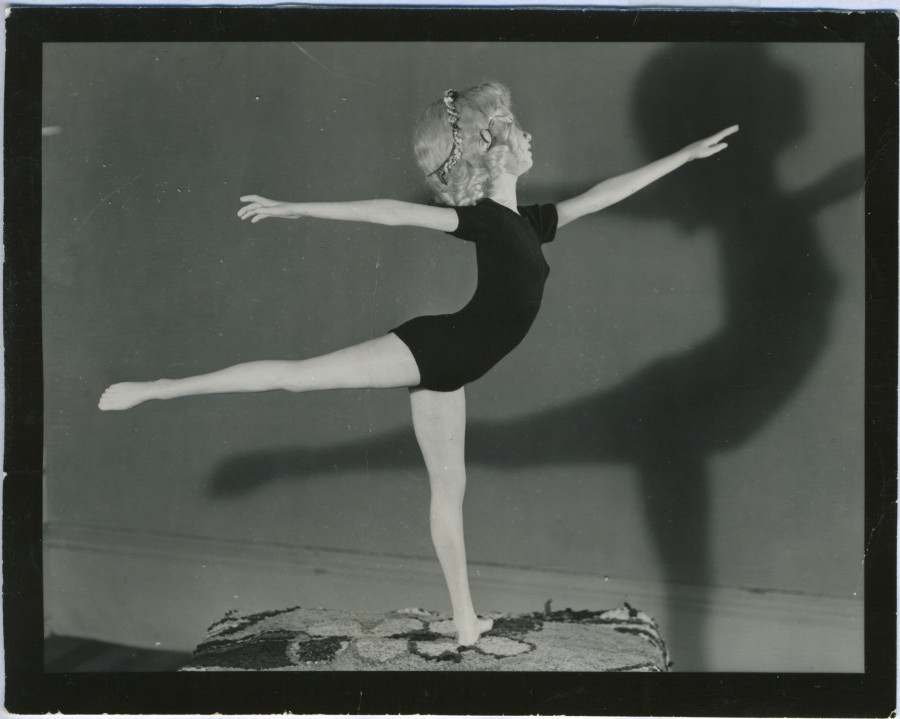 Morton Bartlett, Untitled, ca. 1950, Vintage gelatin silver print, 4 x 5 1/8 inches (10 x 13 cm), Courtesy Galerie Susanne Zander / Delmes & Zander (Berlin + Cologne)
An even stranger take on the erotic theme manifests itself in the work of Morton Bartlett, a graphic designer who, at the age of 27, furtively began crafting incredibly lifelike dolls of boys and girls ranging in age from eight to sixteen. Between 1936 and 1960 Bartlett created 15 dolls in secret, meticulously carving and painting their bodies as well as creating their ensembles from scratch.
The dolls look as sinister as the unusual hobby sounds. "They project childish innocence," Ken Johnson wrote for the Boston Globe, "but in Bartlett's hands innocence becomes a kind of tease. Note the glimpses of underwear and lacy petticoats in many of the photographs. Looking at these dolls is like seeing through the eyes of a pedophile."
Although there's some level of desire pulsing through Bartlett's dolls, there is nothing explicitly aligning them with sex. In "How to Look at Outsider Art," Lyle Rexer aligns the artist's mission with that of Edgar Degas, bringing his bronze ballerinas to life. For Rexer, Bartlett's standout feat is using the power of the camera to bring the lifeless dolls a sense of uncanny vitality. "They take their place almost seamlessly among the vast archive of the once-but-no-longer-alive captured in photographs, and in death they gain a convincing vitality they do not have as objects."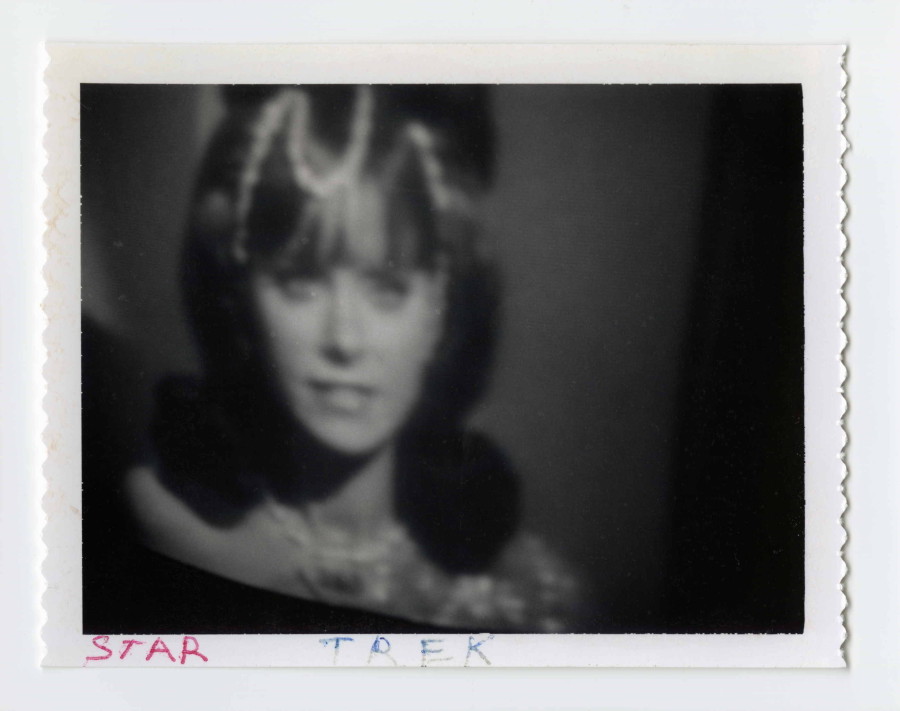 Type 42 (Anonymous), Star Trek, 1960s-1970s, Mixed media on Polaroid, 3 1/4 x 4 1/4 inches (8.3 x 10.8 cm), Courtesy Galerie Susanne Zander / Delmes & Zander (Berlin + Cologne)
Also exploring the mystifying abilities of photography is the found collection of 950 Polaroids referred to as Type 42, capturing the expressions of television, B-movie and sci-fi actresses. The dizzying black-and-white photos, taken between 1969 and 1972, capture starlet's faces like floating heads against a black backdrop, pixelated, buckled and sparkling. Details are scribbled on the borders of the images, fastidiously recording each actress' name, television program or movie title, and sometimes measurements.
"The survey of the archive shows that the photographer went to great lengths to capture specific poses and moments within these televised shows and movies. The viewer can only guess the number of 'takes' that must have cycled through to get each final shot." David Zwirner Gallery notes the level of obsession not only applied to the actresses themselves, but to the archiving system of the project itself.
An artist known as Prophet Royal Robertson, who was born in 1936 and later developed paranoid schizophrenia, bridges the categories of erotica and sci-fi with his violent and apocalyptic cardboard depictions. His piece "THE DAY THE WORLD END" (many of his drawings are titled in all-caps) seems to stem from his first vision at 14 years old, of a space ship with God as a driver. Memories of his ex-wife's unfaithfulness later started to fuse with his with schizophrenic hallucinations, until the impending threat of global female conspiracy seemed inevitable. His works combine futuristic prophecies with violent, misogynist fantasies, all pointing back to his own sense of powerlessness.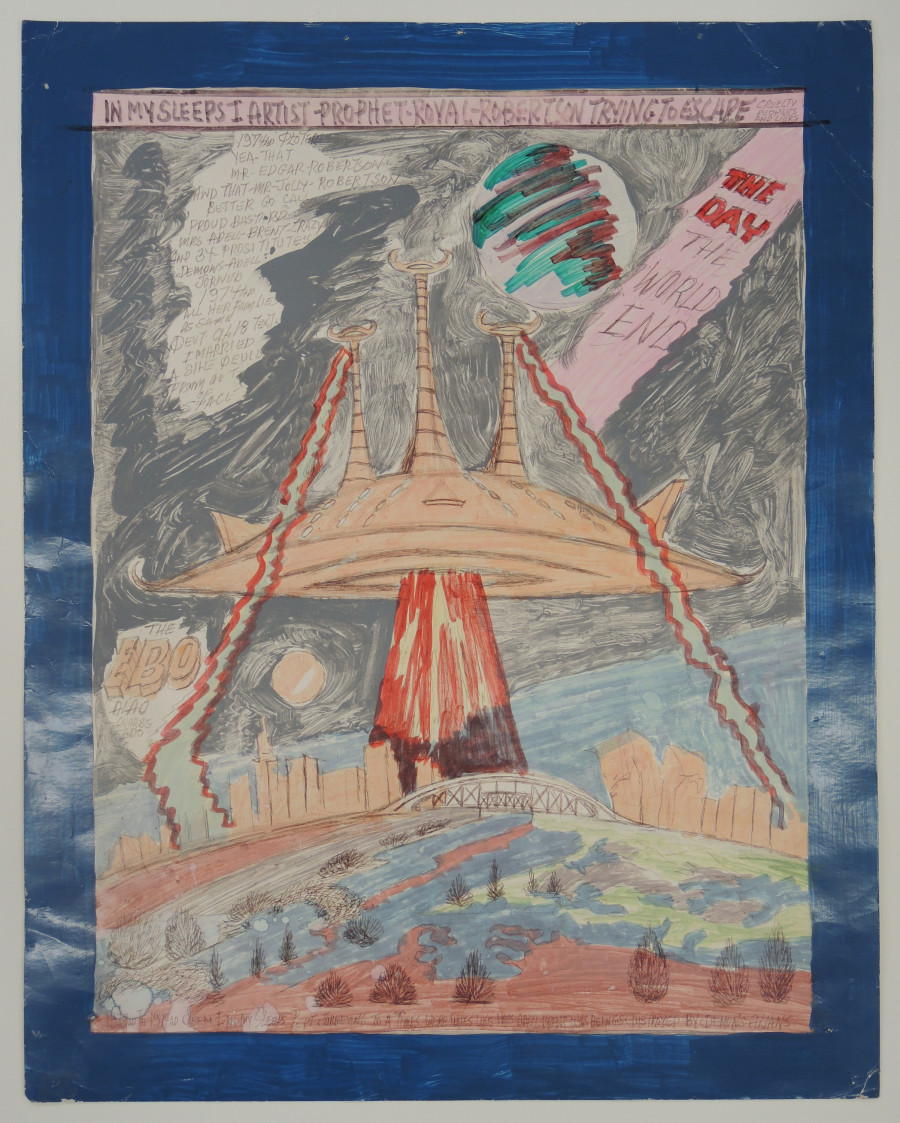 Prophet Royal Robertson, THE DAY THE WORLD END, 1990s, Ink, marker, and enamel on cardboard, 28 x 22 1/8 inches (71 x 56 cm), Courtesy Galerie Susanne Zander / Delmes & Zander (Berlin + Cologne)
Often, the term "outsider art" tells more about the artist -- and his or her life story, mental or emotional aptitude -- than the art. It's a genre normally dictated by a certain kind of story more than a singular style. However, David Zwirner Gallery's statement never once uses the term "outsider art." Possibly, in part, because after showing at Zwirner, they're not quite outsiders anymore.
As the show's title conveys, the artists of "System and Vision" overlap with their individualized, yet mutually obsessive practices, as well as their imaginative visions, each molding an entire world inside the mind. Rather than highlighting the stories of the artists on view, the organizers emphasize the primary inklings of a thematic foundation, a potential method that could unite an anonymous batch of fame-crazy Polaroids from the '60s with a bizarre trove of erotic pencil drawings from the '90s. The emphasis shifts from the story to the style.
It would be incorrect to say that because these artists showed at Zwirner they are now a part of the same league as the gallery's world famous darlings. That's, in part, why 11 of them showed at once. However, for many of the exhibited artists, some of whom remain anonymous or nearly entirely cloaked in mystery, it's a radical step toward the mainstream, perhaps an unthinkable one.
As the phrase "outsider art" creates a discriminatory boundary, divesting untrained artists from their rightful places in the artistic spotlight, "System and Vision" could be a step forward. As could the language of its press release, which refuses to use the term "outsider art" nor another alternative. It's unusual to see a name like William Crawford alongside Alice Neel, even if its sandwiched among 10 other names. Hopefully one day it won't be.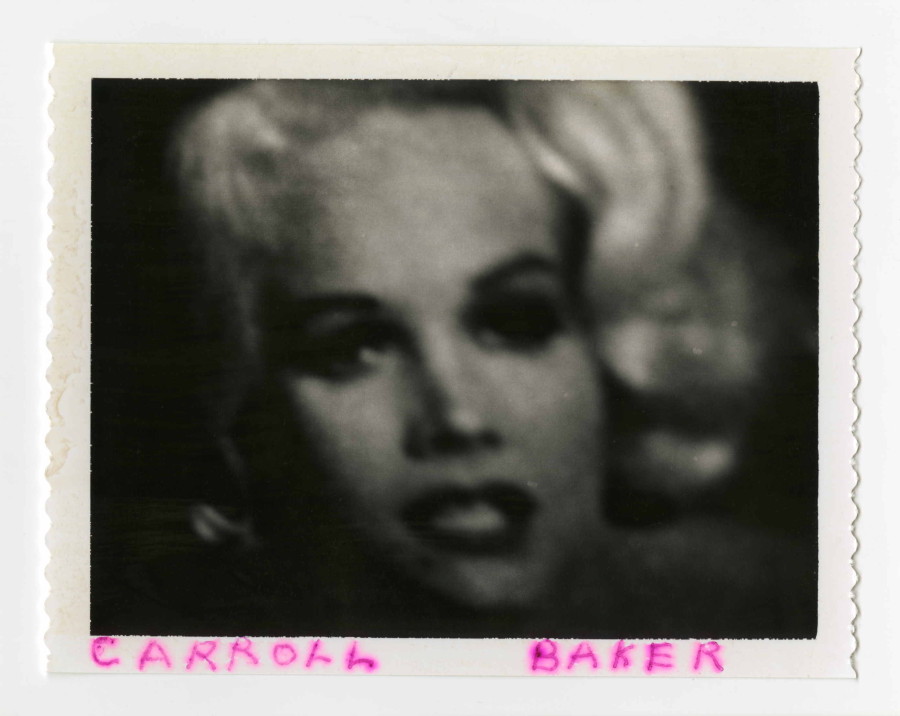 Type 42 (Anonymous), Carroll Baker, 1960s-1970s, Mixed media on Polaroid, 3 1/4 x 4 1/4 inches (8.3 x 10.8 cm), Courtesy Galerie Susanne Zander / Delmes & Zander (Berlin + Cologne)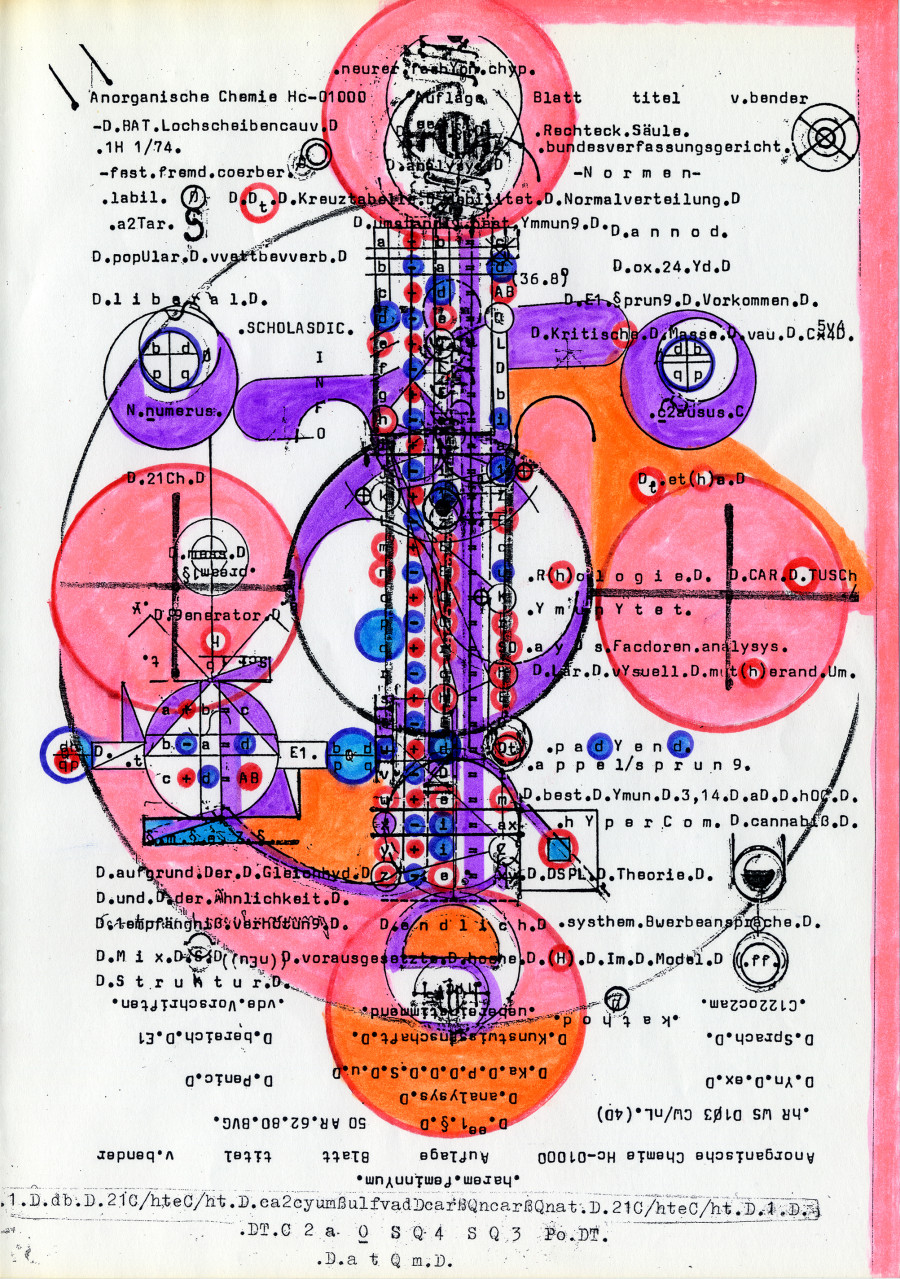 Harald Bender, Untitled, 1999-2014 (detail), Mixed media on paper in plastic files in file folder, file folder: 11 1/2 x 12 5/8 x 3 1/8 inches (29 x 32 x 8 cm), 200 pages, each: 11 7/8 x 8 1/4 inches (30 x 21 cm), Courtesy Galerie Susanne Zander / Delmes & Zander (Berlin + Cologne)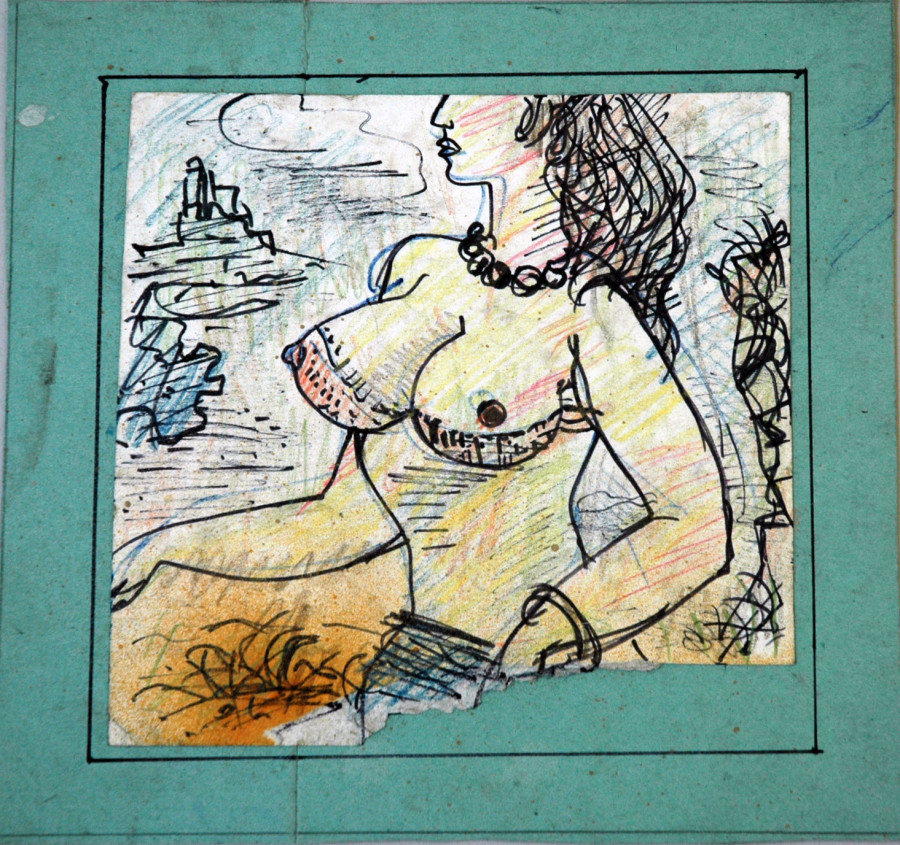 Miroslav Tichý, Untitled, n.d., Mixed media on paper on cardboard, 9 1/2 x 10 1/8 inches (24 x 25.5 cm), Courtesy Galerie Susanne Zander / Delmes & Zander (Berlin + Cologne)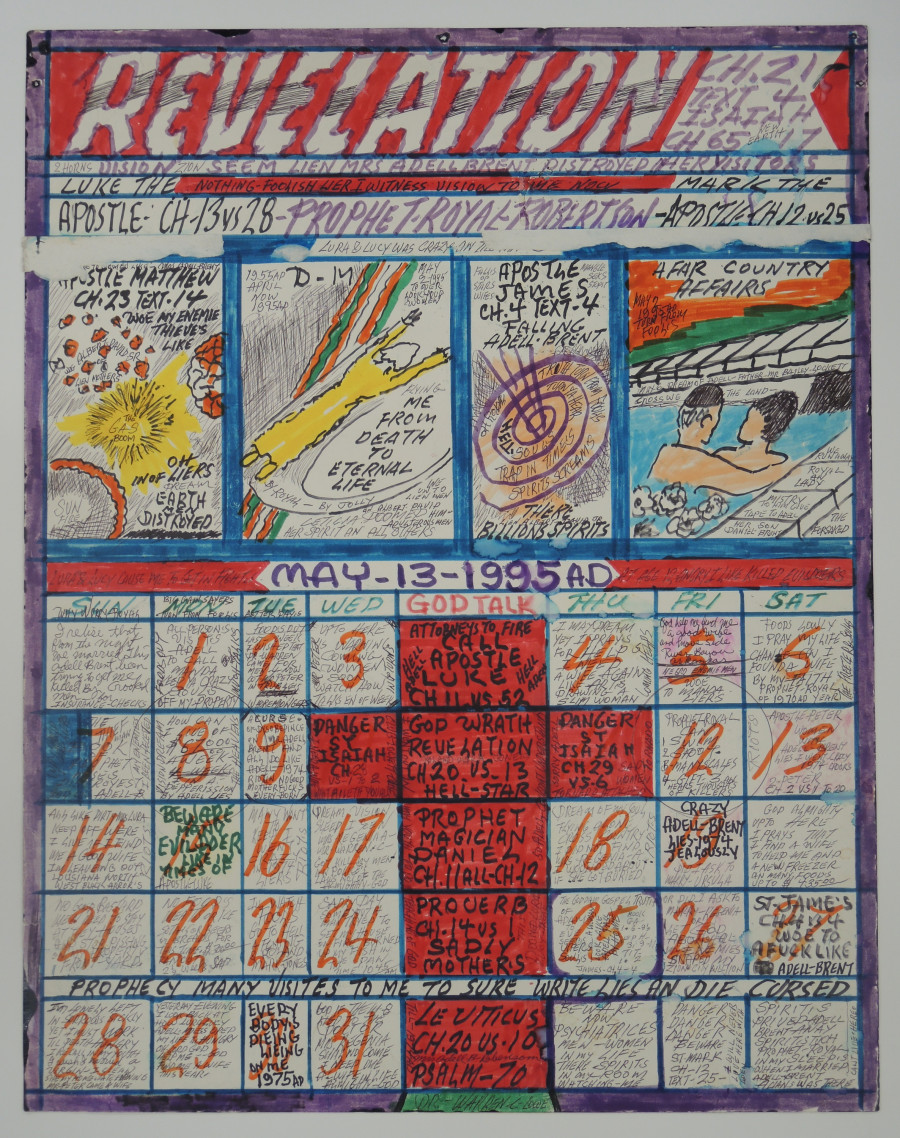 Prophet Royal Robertson, NO GOOD PROUD BASTARDS, 1995, Ink, marker, and paint on cardboard, 28 x 22 1/8 inches (71 x 56 cm), Courtesy Galerie Susanne Zander / Delmes & Zander (Berlin + Cologne)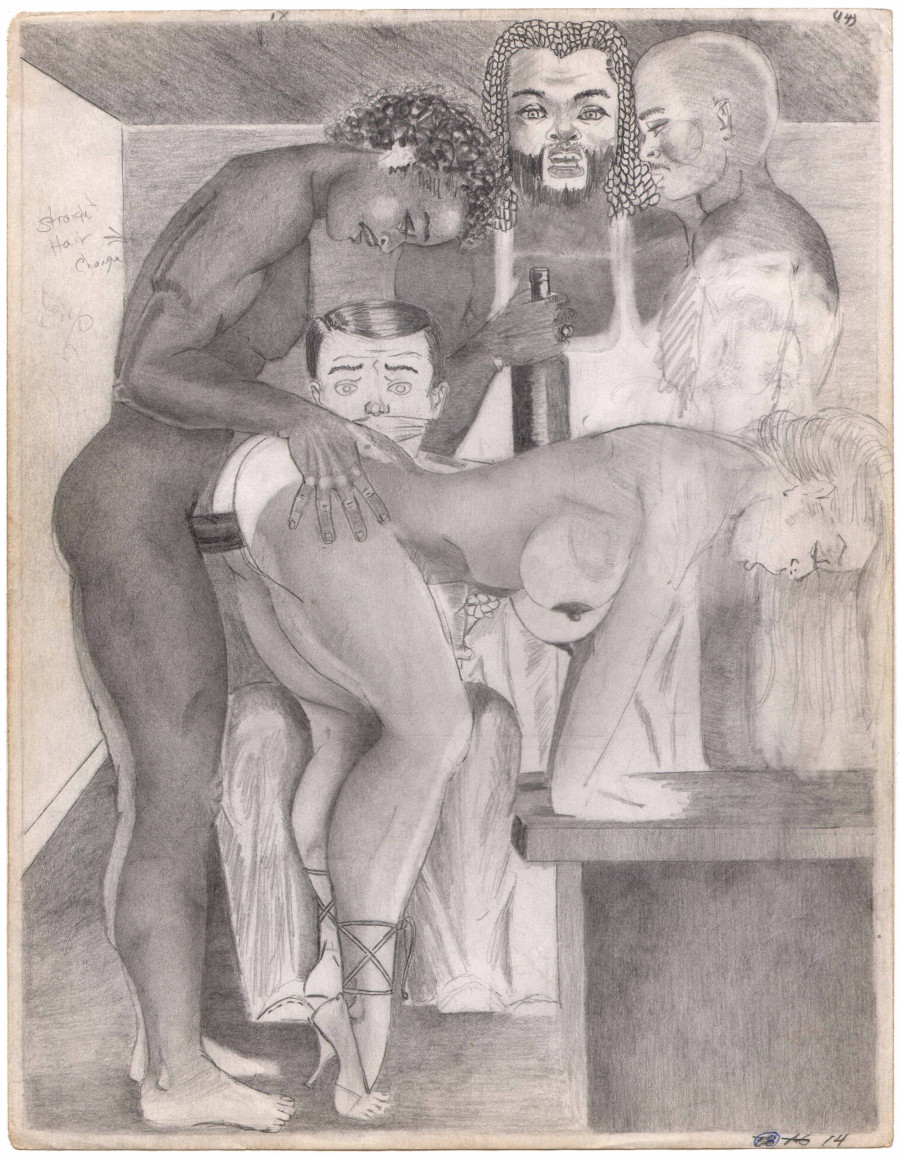 William Crawford, Untitled, 1990s, Pencil on paper, 11 x 8 1/2 inches (28 x 21.5 cm), Courtesy Galerie Susanne Zander / Delmes & Zander (Berlin + Cologne)
BEFORE YOU GO
PHOTO GALLERY
Outsider Art Fair Preview