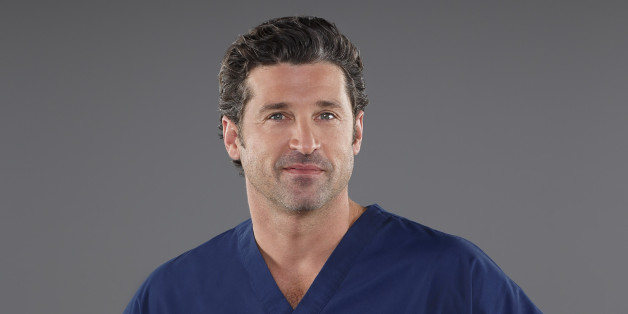 If you have not seen "Grey's Anatomy" Season 11, Episode 21, "How to Save a Life," DO NOT continue reading. Spoilers ahead!
All the tears. All the tissues. All the heartbreak.
"Grey's Anatomy" killed off one of its stars on Thursday night: McDreamy himself, Derek Shepherd. And it was a doozy.
After he rescues and saves four people following a terrible crash, Derek gets back in his car and carelessly reaches for his phone instead of watching the road. If he had been paying attention, he would have seen the oncoming truck headed his way. He's taken to the hospital -- no, not Grey Sloan Memorial -- and although he's awake, he can't speak. We only hear the voice that's in his head, alerting us to the fact that Derek knows he's going to die. Unlike his colleagues at Grey Sloan, the doctors and surgeons who are taking care of him at the hospital he's transported to are not at the top of their game and fail to take him in for a brain scan right away. This, ultimately, is the cause of his death as he suffers brain damage. (Yes, too close to home, we know!) Finally, after what feels like forever, Meredith is brought to the hospital and makes the decision to take her husband, her soulmate, her true person, off of life support.
Just can't. 😭😭😭😭😭😭😭😭😭😭😭💔💔💔💔💔💔💔💔😫😩😩😩😫😫😫😭😭😭😭😭 #GreysAnatomy pic.twitter.com/vUqv40KdpS

— Greys Anatomy (@GreysABC) April 24, 2015
Patrick Dempsey, who of course played Derek for the past 11 seasons, released a statement to TVLine following the episode.
"It's been a remarkable ride," the actor told TVLine. "The worldwide impact has been extraordinary. It is incredible how devoted and passionate the fans are and I will forever be grateful and humbled by the experience."
Dempsey also talks about his exit from the show in the new issue of Entertainment Weekly, hitting newsstands later this week. Sadly, one subscriber got a hold of the issue early, and was clearly not happy about the spoiler. His character's death is particularly surprising because Dempsey signed a two-year contract extension last year that would have kept him on the show through next season. "Grey's" has yet to be renewed for a 12th season.
The show's creator Shonda Rhimes released a lengthy statement following the episode, according to People:
Derek Shepherd is and will always be an incredibly important character -- for Meredith, for me and for the fans. I absolutely never imagined saying goodbye to our 'McDreamy.' Patrick Dempsey's performance shaped Derek in a way that I know we both hope became a meaningful example -- happy, sad, romantic, painful and always true -- of what young women should demand from modern love. His loss will be felt by all. Now, Meredith and the entire 'Grey's Anatomy' family are about to enter uncharted territory as we head into this new chapter of her life. The possibilities for what may come are endless. As Ellis Grey would say: the carousel never stops turning.
R.I.P., McDreamy.

BEFORE YOU GO
PHOTO GALLERY
Greys Anatomy Cast - Where Are They Now?