Tom Brady skipped a meeting with President Obama, no doubt because of the president's love of interceptions. Israel turned 67 today, though under the Ryan budget, it wouldn't be able to retire to Florida for another three years. And the Benghazi panel summoned Hillary Clinton to testify before it next month, presumably giving her van enough time to get to Washington. This is HUFFPOST HILL for Thursday, April 23rd, 2015:
TED CRUZ TOO BUSY FIGHTING FOR FREEDOM TO MAKE LYNCH VOTE - Igor Bobic: "Sen. Ted Cruz (R-Texas) went on the Senate floor early Thursday afternoon to voice his strenuous objection to the nomination of Loretta Lynch as the next U.S. attorney general. The current U.S. attorney for the Eastern District of New York would continue President Barack Obama's 'abuse of power' on immigration, Cruz warned. A few hours later, however, Cruz missed the final vote on Lynch's confirmation, making him the only senator recorded as not present. The newly declared presidential candidate did oppose invoking cloture -- a procedural motion to end debate on the nomination -- before the final vote. The senator's office explained that he had to catch a flight to a fundraiser in Texas. His aides further argued that, because more than 60 senators voted to end debate on the nomination, the final vote was largely symbolic." [HuffPost]
TOM BRADY TOO BUSY BEING HANDSOME TO VISIT WHITE HOUSE - David K. Li: "Some patriot. The Super Bowl champion New England Patriots will be honored by President Obama at the White House on Thursday — without their quarterback, Tom Brady. In a deflating move, Brady is blowing off the president and his teammates, citing a prior family commitment." [New York Post]
Comcast has scrapped plans to merge with Time Warner one day after the FCC came out against the deal.
DAILY DELANEY DOWNER - Homeless person too busy cleaning up after staff assistants and lobbyists to afford home, Catherine Rampell reports: "In the basement of the Dirksen Senate Office Building, 63-year-old Charles Gladden works alongside some of the nation's most powerful people. For eight years, he has greeted senators, staffers and lobbyists in the hallways and the cafeteria, at exclusive banquets and special functions. He reflects fondly on some of the warmer colleagues who he says got the boot too soon. But unbeknown to any of these bigwigs, or even to his employer, Gladden is homeless. He works in the Senate cafeteria, and he has not had a fixed address for the past five years." [WashPost]

Remember the caning of Charles Sumner? This is the opposite of that.
Does somebody keep forwarding you this newsletter? Get your own copy. It's free! Sign up here. Send tips/stories/photos/events/fundraisers/job movement/juicy miscellanea to huffposthill@huffingtonpost.com. Follow us on Twitter - @HuffPostHill
BENGHAZI PANEL SUMMONS CLINTON - Have you ever seen a video of those noise-activated dancing flowers activating each other in an endless loop? Don't know why this reminded us of that. Laura Baron-Lopez: "The House Select Committee on Benghazi asked Hillary Clinton on Thursday to testify in two public hearings, one about her use of email during her time as secretary of state, and one about the 2012 terror attack in Benghazi, Libya. In a letter to Clinton's attorney, committee chairman Rep. Trey Gowdy (R-S.C) requested that Clinton publicly testify twice -- first, during the week of May 18 discussing her emails, and then again during the week of June 18 on Benghazi. 'It is necessary to call Secretary Clinton twice because the committee needs to ensure we have a complete and responsive record and all the facts before we then substantively question her on the Benghazi terrorist attacks,' Gowdy said. Gowdy had initially requested that the Democratic presidential front-runner appear for a private interview with his committee, but Clinton's lawyer, David Kendall, replied in a letter to Gowdy on Wednesday that his client would only agree to testify publicly. In the letter, Kendall argued that 'there is no reason to delay her appearance or to have her testify in a private interview.'" [HuffPost]
PETRAEUS GETS TWO YEARS OF PROBATION - Maybe he'll invite Chelsea Manning to join him at whatever contracting firm eventually pays him a seven-figure salary. BuzzFeed: "Former CIA Director David Petraeus was sentenced Thursday to two years of probation and ordered to pay a $100,000 fine for leaking secrets to his biographer, with whom he was having an extramarital affair. The sentence was handed down in a federal courtroom in Charlotte, North Carolina, after Petraeus officially entered guilty pleas to criminal charges of removing and retaining classified material, the Washington Post reported. Petraeus, who agreed to plead guilty in March, was not expected to get prison time. The federal judge who sentenced Petraeus on Thursday, however, went beyond the original plea deal, increasing the fine from the $40,000 that was reportedly agreed to in March...He pleaded guilty in March to a criminal misdemeanor charge of giving Broadwell access to "black books" containing classified information including notes from national security meetings and the identities of covert officers before he became the CIA director." [BuzzFeed]
"Democrats' frustration with President Barack Obama's trade agenda bubbled over Thursday, with key opponents accusing their party's leader of putting more effort into a bid to aid corporate America than anything he's done for the middle class. Calling it 'maddening,' Sen. Sherrod Brown (D-Ohio) told reporters that the Obama administration was putting on a full-court press unlike anything Democrats have ever seen in his presidency in order to win the authority to fast track enormous trade deals.
NO ONE KNOWS WHAT TO DO WITH PATRIOT ACT REAUTHORIZATION - Ali Watkins: "Even as some reform champions have balked at the idea of a full reauthorization, the bill's co-sponsor said NSA oversight really falls to the House and Senate Judiciary committees. 'This is a straight referral to the Judiciary Committee. ... I believe that all we're doing is framing what the possibilities are that members should start considering,' [Richard Burr (R-N.C.)] said...The top Democrat on the Senate Intelligence Committee, though, said their panel was considering its own legislation. 'We are going to do a bill I believe, so it's just the beginning of the process,' Sen. Dianne Feinstein (D-Calif.), vice chairman of the Intelligence Committee, said Wednesday...Meanwhile, Sen. Chuck Grassley (R-Iowa), chairman of the Judiciary Committee, said he hadn't pushed forward with a reform proposal because he was waiting to hear from Burr and the Intelligence Committee." [HuffPost]
CRUZ SEEKS OUT HOMOSEXUALS IN NEW YORK CITY - Not in the "long, late night walks in the ramble" kind of way, though. Maggie Haberman: "[O]n Wednesday night, at a reception for him at the Manhattan apartment of two prominent gay hoteliers, the Texas senator struck quite a different tone. During the gathering, according to two attendees, Mr. Cruz said he would have no problem if one of his daughters was gay. He did not mention his opposition to same-sex marriage, saying only that marriage is an issue that should be left to the states. The dinner and 'fireside chat' for about a dozen people with Mr. Cruz and his wife, Heidi, was at the Central Park South penthouse of Mati Weiderpass and Ian Reisner, longtime business partners who were once a couple and who have been pioneers in the gay hospitality industry...He did not bring up his own opposition to same-sex marriage during the evening, which focused mainly on foreign policy." [NYT]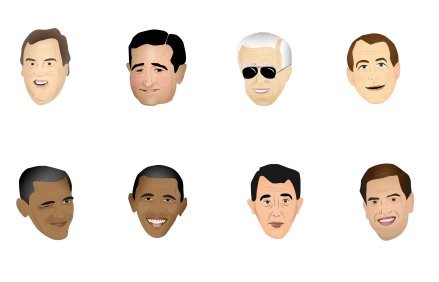 These political emojis from the Washington Post are the bees knees.
Haircuts: Ryan Grim (h/t Amanda Terkel), Janice Delaney (h/t Arthur Delaney)
BECAUSE YOU'VE READ THIS FAR - Heres a kitten.
LOW-NUMBERED D.C. LICENSE PLATES HOLDERS REVEALED - D.C. low-number license plates are to 21st century Washingtonian mayors what post office jobs were to 19th century politicians. Will Sommer: "Besides showing how tight you are with a District pol, the plates serve no practical purpose... Marijuana legalization activist Adam Eidinger mellowed considerably on the mayor after she gave him the '420' plate. While new at-large councilmember Elissa Silverman refused to hand out plates, her fellow ethics-minded freshmen couldn't follow suit—their constituents love them too much! LL has embedded the full list of plate recipients at the bottom of this post. City documents obtained through the Freedom of Information Act reveal who has the rate for a plate. The lists include at least one convicted felon (Tony Cheng, a restaurateur who was busted two years ago by the feds), and a whole lots of developers and churches. Meanwhile, a new adminsitration means turnover at the top of the plate hierarchy. Bowser's brother gets No. 7, while Bowser's mom rolls with plate No. 1." [City Paper]
COMFORT FOOD
- A relaxing video featuring all the adjectives Jony Ive has used to describe the Apple Watch
- Puppies sound like BMX bikes.
- Catching up with the "Charlie Bit My Finger" boys.
TWITTERAMA
@AshAlman: Major takeaway from storytelling exercise with kids on Take Your Child to Work Day: "Parents lie and Santa isn't real" … That kid will make a fine reporter one day. No bullshit.
@Mobute: i once wrote a two-word lede: "it died." the rest of story was cut for length, but got hon. mention at the National Magazine Award. bourbon.
@MarkLeibovich: Just witnessed first-ever meeting between Elizabeth Warren and Bill Belichick. Unclear if they will keep in touch.
Got something to add? Send tips/quotes/stories/photos/events/fundraisers/job movement/juicy miscellanea to Eliot Nelson (eliot@huffingtonpost.com) or Arthur Delaney (arthur@huffingtonpost.com). Follow us on Twitter @HuffPostHill (twitter.com/HuffPostHill). Sign up here: http://huff.to/an2k2e