NEW YORK -- Kalief Browder spent three years in New York City's notorious Rikers Island jail complex on a robbery charge that was ultimately dismissed.
Browder was 16 when he was put behind bars in 2010. While his friends in the Bronx finished high school, Browder was in and out of solitary confinement, where he spent an accumulated two years. He told The Huffington Post last year that guards "starved" him as punishment for repeated suicide attempts.
A video published by The New Yorker on Thursday shows some of the horrific violence Browder faced during his stay on Rikers, at the hands of both guards and inmates.
The video begins with surveillance footage of a guard approaching the cell where Browder was in solitary confinement, to escort him to the showers, the magazine reports. Browder says something to the guard as he's led away in handcuffs. That's when the guard throws him down and pushes the teen's head into the floor.
When a captain arrives, the guard says Browder was trying to run away, Browder told The New Yorker. "He's lying!" Browder said he screamed. "I didn't do nothing!"
The City Correction Department is investigating, a spokeswoman said, adding that the clash occurred prior to Commissioner Joseph Ponte's arrival. "Safety for staff and inmates is Commissioner Ponte's top priority," the spokeswoman said.
A scathing U.S. Justice Department report last year described the "rampant use of unnecessary and excessive force" by guards against teenage inmates in Rikers. It also said the adolescent inmate facility where Browder was housed as "more inspired by Lord of the Flies than any legitimate philosophy of humane detention."
The second portion of The New Yorker video shows why.
Browder is shown being beaten by 10 fellow inmates as guards struggle to protect him. Browder told The New Yorker the beatdown started after he punched a gang leader, who had spit in his face.
Browder had the opportunity in 2013 to be freed from Rikers. He was offered a deal to plead guilty and be sentenced to time served, or he could take his chances with trial and a possible sentence of 15 years in jail. Browder maintained his innocence and refused to plead guilty. A few months later, the charges against him were dropped.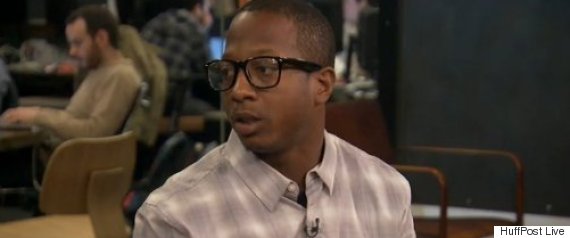 Browder during an interview with HuffPost Live last year. Watch the interview below.
Browder has since filed a civil lawsuit against the Bronx DA's office, the Department of Correction and other defendants.
His protracted ordeal, as chronicled in a widely read New Yorker article by Jennifer Gonnerman last year, helped spur reform on Rikers Island. Last week, Mayor Bill de Blasio said Browder's "tragic story put a human face on Rikers Island's culture of delay -- a culture with profound human and fiscal costs for defendants and our city."

De Blasio and Ponte have introduced a series of Rikers reforms, including ending solitary confinement for 16- and 17-year-olds.
Of the 10,000 inmates currently jailed at Rikers, the mayor's office said last week, 1,500 have been there for at least a year without being convicted of a crime. These lengthy pretrial stays on Rikers are the result of court backlogs, high bail for poor defendants, bad legal representation, and sometimes intentional defense tactics.
As part of a program de Blasio is calling "Justice Reboot," those 1,500 inmates will have a court date by early May, with the aim of resolving their cases within six months.

BEFORE YOU GO