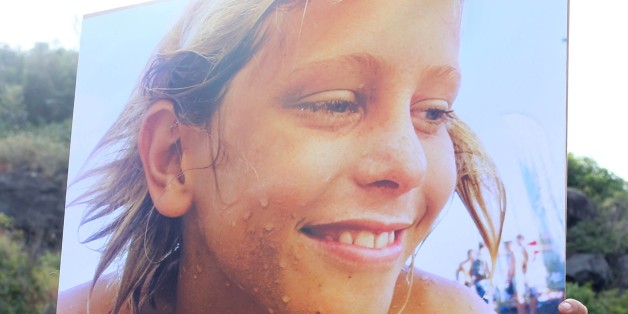 On the morning of April 12, before 13-year-old Elio Canestri was killed by a shark while surfing at a beach in his native Reunion Island, he left a note for his mother.
"Don't worry," the young surfing champion wrote, according to NBC News. "I'm going surfing. If there's no security, I won't surf."
Canestri was referring to shark "spotters," or officials who are tasked with monitoring sharks from the shore while others are out in the water.
The teen and his friends were reportedly surfing in an unmonitored area, where surfing was restricted, during the fatal attack.
Canestri's death was the 16th in a series of shark attacks -- seven of which were fatal -- that have plagued the French island since 2011.
"Another shark attack in Reunion island this morning," professional surfer and Reunion Island native Jeremy Flores wrote on his Instagram after Canestri's death. "Words can't describe how sad and angry I am."
Attacking The Shark Problem
Officials are debating how to handle Reunion Island's persistent shark problem. According to surf news website The Inertia, some island locals believe that the spike in shark attacks are related to a marine reserve created around the island. The reserve protects 80 percent of the island's coral reefs and limits the amount of fishing that can take place.
Shark advocate and professional diver Frédéric Buyle -- who was hired by the government to dive and investigate around the island -- told GQ magazine that the waters around the island are ideal habitats for bull sharks because of the beaches that front streams and the nearby St. Gilles harbor, which is ripe with pollution and fish carcasses.
"Sharks like bull sharks have a territory and they cruise and patrol it all day long," Buyle told Vice in a 2013 interview about Reunion's spike in attacks. "Shore and coastal waters are part of their territory, so there's nothing strange in the fact that they're seen in very shallow waters."
Don't Go In The Water
In 2013, the local government tried to ban surfing and swimming, restricting any ocean activities to a shallow lagoon and a small number of specific areas monitored by lifeguards. But the rule has proved difficult to enforce.
The ban has been extended to February 2016 while the island's Shark Risk Reduction Program experiments with potential solutions, including underwater cameras that live stream videos of conditions, protective nets and drum lines -- floating barrels attached to lines and baited hooks meant to capture large sharks.
Despite the ban, authorities have sanctioned official training sessions for the island's elite surfers, wherein divers with spear guns protect the surfers in the event of an attack.
But the threat of sharks is still so severe on Reunion Island that many locals have stopped going into the water altogether, and the island's best up-and-coming surfers are being sent away to train. The Agence France-Presse reported that the number of licensed surfers in Reunion Island fell from 1,600 in 2011 to 400 today, and there is only one surf school left on the island, compared to the 14 that were once open.
The rise in shark attacks is doing more than keeping people out of the water -- it's hurting the island's economy, too. Reunion, an idyllic island just off the eastern coast of Madagascar, relies heavily on tourism and traveling surfers. According to Surfer Magazine, there is usually a 60 percent tourist cancellation rate after a shark attack occurs on the island.
The Controversial Cull
Desperate for solutions, officials have tried a shark cull of 90 bull sharks and tiger sharks, which has been very controversial. During the cull, local authorities grant authorized fishermen the permission to catch and kill the sharks until their limit is reached.
The shark culls have created a division between surfers who want to protect their lineups and environmentalists who believe that killing sharks is inhumane and ineffective.
Members of the French Surfing Federation have urged local authorities to resume the shark cull, according to the Agence France-Presse, citing that tiger sharks and bull sharks -- the species connected to the attacks -- are not threatened or protected.
Many others believe culling is not the answer and are exploring other ways of protecting humans against sharks.
"As long as these devices are not fatal for sharks, we have no problem with that," Paul Watson, founder of the Sea Shepherd Conservation Society, told Néoplanète Magazine in February. "[Sharks are] predators whose role as cleaners and managers of marine wildlife is crucial for biodiversity ... If we kill them, we really are killing our oceans, and we can not live without the ocean."
On April 20, Imaz Press reported that local fishermen culled a young bull shark and a 400-pound tiger shark in response to Canestri's death.
BEFORE YOU GO
PHOTO GALLERY
25 Ways To Avoid A Shark Attack