The model that inspired Norman Rockwell's famed "Rosie the Riveter" painting, Mary Doyle Keefe, died Tuesday at the age of 92. Keefe died in Simsbury, Connecticut after a short illness, her daughter told The Hartford Courant. The painting is often confused with J. Howard Miller's popular "We Can Do It!" posters.
While Keefe might not have been a household name, many people are familiar with "Rosie the Riveter," Rockwell's painting depicting the strength and courage of American women during World War II. Rockwell later apologized for portraying Keefe's petite body as heftier than it actually was.
"I did have to make you into a sort of a giant," Rockwell wrote in a letter to Keefe, according to The Associated Press.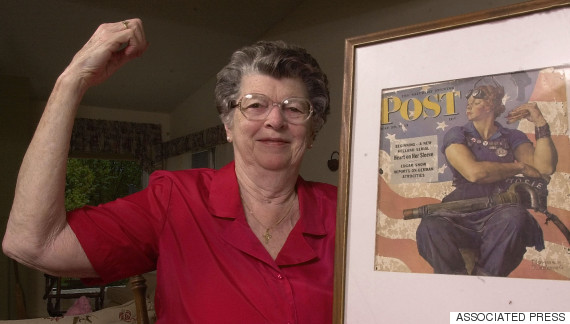 Rockwell was Keefe's neighbor in Arlington, Vermont when he asked the then 19-year-old telephone operator to pose for some photos, from which he created his painting. At the time, she was paid just $10. The image, which landed on the cover of The Saturday Evening Post on May 29, 1943, showed a flame-haired "Rosie" eating a sandwich in blue jeans, with her rivet gun in her lap and her feet resting on a copy of Hitler's "Mein Kampf." It's no surprise the painting soon became an important part of American history and culture.
Keefe went on to receive a dental hygiene degree from Temple University. According to an obituary released by Carmon Funeral Home, she is survived by four children, 11 grandchildren and five great-grandchildren. Memorial services will be held Friday followed by a funeral on Saturday. Her family requests that in lieu of flowers, donations be made to the Juvenile Diabetes Research Foundation.
BEFORE YOU GO
PHOTO GALLERY
Norman Rockwell