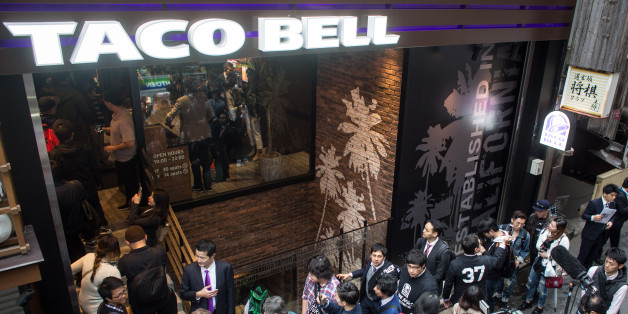 Taco Bell opened its first Japanese location in decades on Tuesday -- and the area's residents ate it up.
Hundreds of people lined up at the entrance of the restaurant, in Tokyo's hip Shibuya neighborhood, before the opening. Some of them reportedly got there the night before to be among the first to order. Taco Bell first opened restaurants in Japan in the 1980s, but then-owner PepsiCo closed all the locations after just a few years because sales were lower than expected, Reuters reports.
Yum! Brands, the current owner of Taco Bell, has high hopes the chain will find more enduring success this time around. Though the company now derives the majority of its sales from locations outside North America, with KFC and Pizza Hut in China alone bringing in almost $7 billion of the company's $13.3 billion in revenues last year, Taco Bell remains a mostly American business. The Tokyo outpost of the chain is now just one of 26 locations outside North America. Even Canada only has 29 Taco Bells.
But the huge crowds of people that greeted this Japanese store could be a sign that customers outside the United States are ready for Taco Bell. Getty Images photographer Chris McGrath was on hand to document the bonanza.
Here's what he found:
PHOTO GALLERY
Taco Bell Returns To Japan
BEFORE YOU GO
PHOTO GALLERY
Inside Taco Bell's World Headquarters