Washingtonians are calling in chits so they might, MIGHT have the chance to shimmy to "Mustang Sally" beside Chuck Todd for a few seconds. For some reason there's a debate over whether free food and booze are good things. And the president and his staff are finalizing his correspondents' dinner speech. We hope the president makes more offensive jokes about killing people with drones. Sample:
-"Knock Knock"
-"Who's there?"
-"I just droned your village."
-"I just droned your village... who?"
-"You and your family are in my thoughts and prayers."
This guy!
This is HUFFPOST HILL for Friday, April 24th, 2015:
RUBIO AND CRUZ FEELING SOME MAJOR PRE-WHITE HOUSE SENIORITIS - And don't even get us started on all those committee hearings where Cruz puts on sunglasses with eyes on them and fall asleep. Jesse Rifkin: "Presidential candidates Sen. Ted Cruz (R-Texas) and Sen. Marco Rubio (R-Fla.) have the two highest rates of missed votes in the Senate, a Huffington Post analysis shows. Cruz has the highest percentage of total missed votes with 10.4 percent, while Rubio comes in second with 8.2 percent, according to HuffPost's analysis of data compiled by GovTrack. The numbers encompass the full Senate careers of each currently serving member and are accurate as of Friday morning. The ranking excludes Sen. Mark Kirk (R-Ill.) who is technically ranked first but missed all votes during the year he was away recovering from a stroke, as well as Sen. John McCain (R-Ariz.) who is ranked second but missed hundreds of votes during his 2000 and 2008 presidential campaigns. (When the rankings are calculated without considering those time periods, Kirk and McCain end up as No. 3 and No. 10, respectively.)" [HuffPost]

FRIIIIIDAAAAAAYYY
Looks like the correspondents' dinner's meth supply is kaput: "A U.S. Senate staffer allegedly dabbled in drug importation, according to law enforcement. Fred W. Pagan, a staffer for U.S. Senator Thad Cochran (R-Miss.) allegedly told law enforcement agents that he imported drugs from China in a plan to exchange them for sexual favors, according to new documents filed in U.S. District Court. Yesterday, officers from Homeland Security and the Metropolitan Police Department raided Pagan's home on the 5700 block of Colorado Ave. NW. Inside, they allegedly found 181.5 grams of meth, which Pagan allegedly told officers he received on behalf of 'his distributor.'" [WCP]
MCCONNELL WHIPPED LYNCH VOTE - "Senate Majority Leader Mitch McConnell (R-Ky.) worked quietly to round up more than 60 votes to end a filibuster of attorney general nominee Loretta Lynch, Republican senators say...Some GOP senators say McConnell wanted to avoid a battle over the 'nuclear option,' the controversial tactic then-Senate Majority Leader Harry Reid (Nev.) employed in 2013 to reduce the threshold for ending a filibuster of most executive nominees from 60 votes to a simple majority. One lawmaker said McConnell quietly talked to colleagues about voting to advance Lynch to a final up-or-down vote...A senior Republican aide, however, dismissed the theory that McConnell was worried about an impromptu floor fight.'No one was going to object so it's moot,' said the aide. The aide asserted that Lynch had broad support regardless of any possible machinations over Senate procedure, noting her final tally was only a handful of votes short of 60." [The Hill]
Inbox: "[Jared] Polis Proposes Restrain Steve King from Legislating Act'"
RAND NOT STANDING - Dave Weigel: "Two years ago, Kentucky Senator Rand Paul captivated the Senate and the press by waging a filibuster against the nomination of John Brennan, President Obama's new CIA director. For 13 hours, he demanded that the Obama administration offer, publicly, its legal rationale for drone strikes against American citizens, in the United States, that it deems to be enemies. The 'Stand With Rand' iconography that has become part of Paul's presidential campaign dates to that literal late-night stand. On Thursday, after the White House revealed that two hostages had been killed in a drone strike against al-Qaeda, Paul was far more circumspect." Shocker. [Bloomberg]
Haircuts: Ted Cruz (h/t Up w/ Steve Kornacki ), Jason Cherkis (h/t Amanda Terkel), Ashley Alman (h/t Ashley Alman), Jess McIntosh (h/t Elise Foley), Eliot Nelson (h/t Tammy Haddad, Leon Wieseltier, Michelle Obama), Sam Lachman (h/t Sam Lachman).
DAILY DELANEY DOWNER - Maine Gov. Paul LePage (R) doesn't want poor people to buy junk food with food stamps, and his administration has endorsed an effort to stop it. A bill with bipartisan support in the Maine State Legislature would prevent beneficiaries of the Supplemental Nutrition Assistance Program from using their government debit cards to buy candy and soda. "Multiple Red Bulls in one purchase, Rock Star energy drinks, 1-pound bag of Reese's Peanut Butter Cups and 3 gallons of Hershey's Ice Cream in one purchase," Bethany Hamm, an official with the state Department of Health and Human Services, said during a hearing on Thursday, MPBN News reported. [HuffPost]
Does somebody keep forwarding you this newsletter? Get your own copy. It's free! Sign up here. Send tips/stories/photos/events/fundraisers/job movement/juicy miscellanea to huffposthill@huffingtonpost.com. Follow us on Twitter - @HuffPostHill
POLL: PEOPLE LIKE THEIR OBAMACARE - Get out your oven mitts and find the quaintest-goddamn windowsill in your house, here's some fresh Cohn Bread: "A new survey released on Thursday suggests that Affordable Care Act consumers are relatively happy with the insurance that they have purchased. And it's partly for reasons that conservatives would be celebrating -- if only that didn't also mean celebrating 'Obamacare.' The survey comes from the research firm J.D. Power and Associates... The survey also solicited opinions about the benefits of the plans and the costs. The answers were surprisingly positive, at least by the standards of health insurance in America. J.D. Power uses a numerical index, from zero (low) to 1,000 (high), to measure consumer satisfaction. The figure for Affordable Care Act consumers was 696. To put that in perspective, the figure for people with employer-sponsored insurance -- the source of coverage for most working-age Americans -- was 670. The survey found that people who were buying plans for the second consecutive year were more satisfied than those buying for the first time. Those buying plans through marketplaces that the federal government operates, rather than marketplaces that the states run, also tended to be happier." [HuffPost]
HOW WASHINGTON WORKS - And we don't mean the giant furnace beneath Dirksen that outgoing interns are thrown into to help light the Capitol complex. Jonathan D. Salant: "When he first sought an open U.S. House seat last year, Donald Norcross raised $9,000 from defense industry political action committees. Norcross won, and soon after was named to the House Armed Services Committee, which oversees the industry. As he began raising money for his re-election campaign, Norcross (D-1st Dist.) more than doubled the amount of money coming from defense PACs, taking in $20,500 during the first three months of 2015. Freshman U.S. Rep. Tom MacArthur (R-3rd Dist.) raised $7,000 from defense PACs from Jan. 1 to March 31, matching his entire total from his 2014 campaign in just three months after he, too, received a seat on Armed Services." [NJ.com]
Also how Washington works: "Nowhere were the Democrats for Ex-Im cronyism more vocal than at the hearing at which I testified back in June. Leading the charge was the House Financial Services Committee's ranking member, Maxine Waters. To Waters, the corporate beneficiaries of Ex-Im privilege are not 'crony capitalists' but average Americans...So imagine my surprise when I found out yesterday that Mrs. Waters was at one time almost as loud of a voice against the Ex-Im Bank that she is for it today. That's correct. Maxine Waters was against the Export-Import Bank before she was for it. Back in 2002, Waters had some rough words for the bank." [National Review]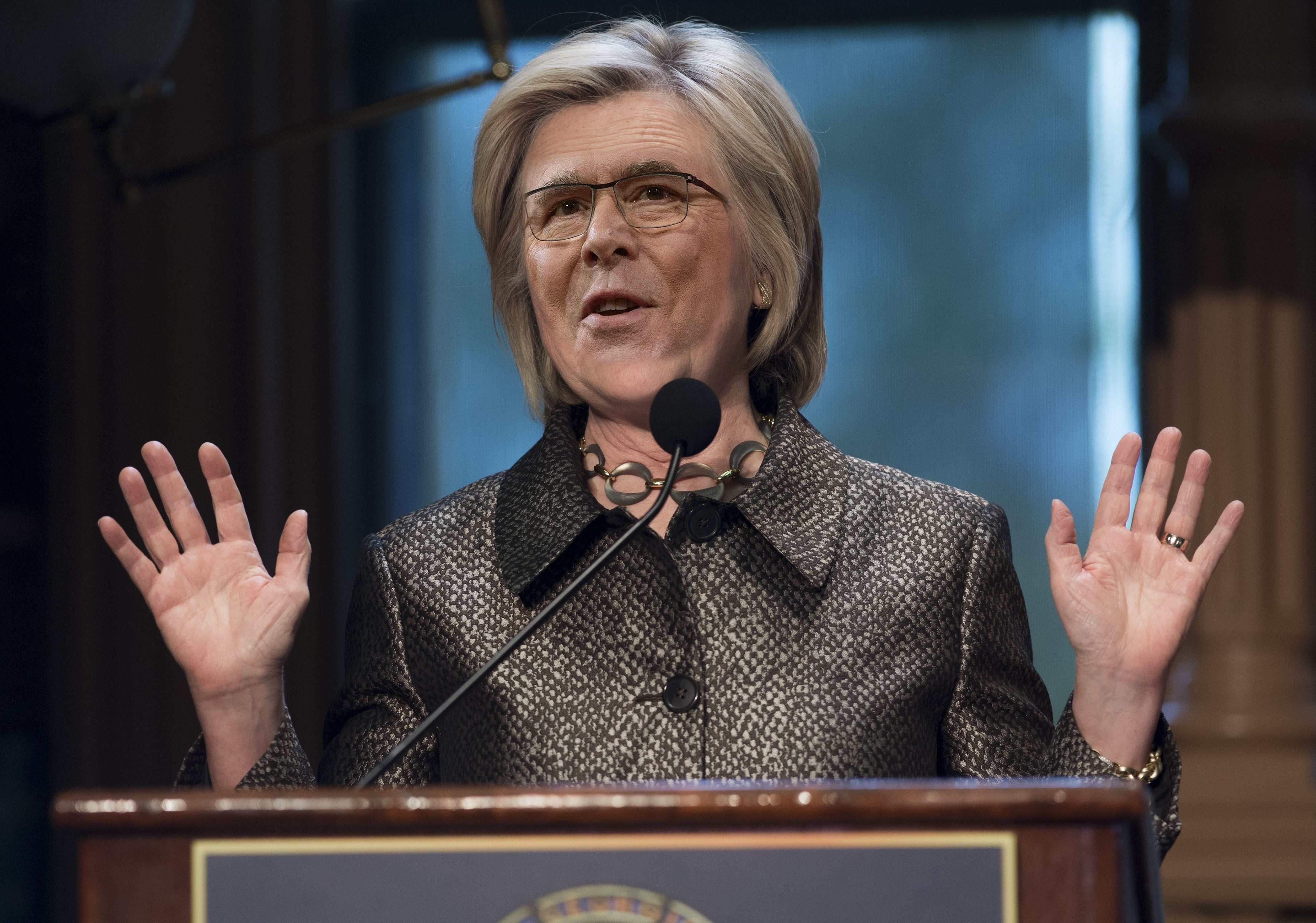 We had some time to kill so we photoshopped this crude Jeb-Hillary hybrid.
THAT TIME ERIC HOLDER WAS OFFERED A LAMB'S HEART - Sam Stein: "He had to wait nearly 170 days for the occasion. But on Monday, Attorney General Eric Holder will officially be replaced by Loretta Lynch, whose nomination finally made its way through the Senate this week. To mark the occasion, Holder's first press secretary in the AG's office, Matthew Miller, took to Twitter to recount some of the most memorable times during his tenure: 'On a foreign trip, watching his face as a minister reached his arm into a roast lamb, pulled out the heart, and handed it over as a gift.' ...Yes. This really happened. Miller told The Huffington Post it took place on an April 2010 trip to Algeria, during which Holder signed a Mutual Legal Assistance Treaty. It was a "big banquet dinner with him as the guest of honor," Miller said. "The interior minister punches his arm right through the side of a whole roast lamb, pulls out the heart, puts it on a plate, and makes a big show of handing it over." [HuffPost]
BECAUSE YOU'VE READ THIS FAR - Here are some basic cats.
CHELSEACLINTON.BIZ IS TAKEN, SORRY - Andrew Kaczynski: "Chelsea Clinton's team seems to have registered just about every domain possibly associated with her imaginable sometimes in 2013. The array of domains associated with her former deputy chief of staff Ali Rubin and a law firm in Washington, D.C., look to have been registered in late 2013. Some of the domains are combinations of her and her husband's name. Others are ones such as 'ChelseaClintonStore.com' and 'ChelseaForTheFuture.com.'" [BuzzFeed]
COMFORT FOOD
- Jamie Oliver using crystals to cook.
- Taiwanese dog owners are giving their pets square haircuts.
- Google Maps features an Android robot peeing on an Apple logo.
TWITTERAMA
@TERKELRAGE: EXCITED TO SEE ALL MY #NERDPROM PEEPS AT THE 14TH AND U MCDONALD'S AFTERPARTY TOMORROW
SULAIMON BROWN WILL BE MANNING THE #MCFLURRY MACHINE
@FINALLEVEL: I've never in my life... and would never throw real money in the air. That's not Gangsta..
@rickklein: Inbox: "GILMORE CALLS ON HILLARY CLINTON TO DROP OUT." h/t @jparkABC
Got something to add? Send tips/quotes/stories/photos/events/fundraisers/job movement/juicy miscellanea to Eliot Nelson (eliot@huffingtonpost.com) or Arthur Delaney (arthur@huffingtonpost.com). Follow us on Twitter @HuffPostHill (twitter.com/HuffPostHill). Sign up here: http://huff.to/an2k2e