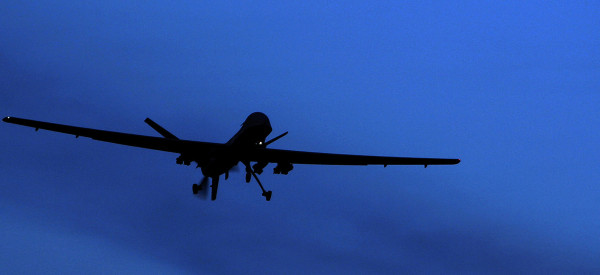 TOP STORIES
To get The Morning Email, HuffPost's daily roundup of the news, in your inbox, sign up here.
EXAMINING A DRONE PROGRAM THAT KILLED AN AMERICAN HOSTAGE The White House disclosed yesterday that a counterterrorism drone operation earlier this year killed two hostages, one of whom was American. Meet the American aid worker with a passion for Pakistan, as well as his Italian counterpart. President Obama took to the briefing room to apologize to the hostages' families. And here's how intelligence forces discovered their grisly mistake, which has reignited the drone debate. [Jason Linkins and Ryan Grim, HuffPost]

COMCAST CALLS OFF TIME WARNER MERGER The $45.2 billion dollar super-deal is now off the table. Here's why the central issue of broadband mattered. [Alexander C. Kaufman and Jenny Che, HuffPost]
OBAMA, DEMS CONTINUE TO SPAR OVER TRADE DEALS "Democrats' frustration with President Barack Obama's trade agenda bubbled over Thursday, with key opponents accusing their party's leader of putting more effort into a bid to aid corporate America than anything he's done for the middle class. Calling it 'maddening,' Sen. Sherrod Brown (D-Ohio) told reporters that the Obama administration was putting on a full-court press unlike anything Democrats have ever seen in his presidency in order to win the authority to fast track enormous trade deals." [Michael McAuliff and Laura Barron-Lopez, HuffPost]
COULD THIS BE THE NEXT NASDAQ BUBBLE? The Wall Street Journal's illustrated guide to the ups and downs of NASDAQ. [WSJ]
INSIDE THE DEADLY 'SPICE' DRUG CRAZE "A sharp rise in visits to emergency rooms and calls to poison control centers nationwide has some health officials fearing that more potent and dangerous variations of a popular drug known as spice have reached the nation's streets, resulting in several deaths." [NYT]
LORETTA LYNCH CONFIRMED AS ATTORNEY GENERAL Making history as the first African American woman to hold the post. [Jennifer Bendery, HuffPost]
DAVID PETRAEUS SENTENCED TO TWO YEARS PROBATION, $100,000 FINE The Washington Post details how the former head of the CIA went from "hero to zero." [Paige Lavender, HuffPost]
WHAT'S BREWING
'GREY'S ANATOMY' DEVASTATES FANS EVERYWHERE With an out of nowhere key character death we still can't get over. Really, Shonda?!?! (Do not click on this link if you have not seen last night's episode or been on the internet in 10 hours.) [HuffPost]
YOU NEVER HAVE TO LEAVE YOUR HOME AGAIN Chipotle delivers. [HuffPost]
JOHNNY DEPP IS TERRIFYING AS WHITEY BULGER You will have nightmares about steak recipes after watching this trailer. [Entertainment Weekly]
THE FIRST YOUTUBE VIDEO In honor of YouTube's tenth birthday, the clip that started it all. [HuffPost]
THE WASHING MACHINE YOU CAN TAKE ANYWHERE That's under two feet tall. [HuffPost]
CHRIS EVANS AND JEREMY RENNER APOLOGIZE AFTER REFERRING TO CHARACTER AS 'SLUT' Not the best way to ingratiate yourself on the Internet, boys. [HuffPost]
MEET THE MAN 'WHO BROKE THE MUSIC INDUSTRY' Bennie Glover spearheaded the online piracy movement. [New Yorker]
HOW, WHAT AND WHEN YOU EAT BREAKFAST IMPACTS THE REST OF THE DAY Sadly, ice cream is still not recommended. [HuffPost]
WHAT'S WORKING
CAMPAIGNING FOR AN END TO THE MEDITERRANEAN MIGRANT CRISIS "Ten years ago, Tareke Brhane arrived on the shores of Italy after a perilous journey from his homeland across the Mediterranean. Now, he's on a mission to help others who are facing the same hardship and danger, at a time when thousands of migrants are dying on the route he once took." [HuffPost]
ON THE BLOG
MARIA SHRIVER: WHO IS THE 21ST CENTURY MAN? "For much of our country's history, the picture of the traditional 'American man' has been dominated by the machismo stereotypes of the Provider, Emotional Rock, Powerbroker, Cowboy, Jock, Good Ole Boy, Macho Man, Mad Man. But these days, there's a whole new mix of images fighting for space: the Stay-at-Home Dad, the Caregiver Son, the Involved Dad, the Two Dads, the Single Dad, the Happily Married Dad, the Emotional Man, the Caring Man." [HuffPost]
BEFORE YOU GO
~ Sawyer Sweeten, who played Geoffrey on "Everybody Loves Raymond," has died after an apparent suicide.
~ When you remix all the Disney songs as 90s jams.
~ Understanding Yellowstone's massive dormant volcano.
~ The creator of emoticons doesn't like emojis that much.
~ Stopping the #1 killer of pregnant women with $6.
~ More ice cream recalls over listeria fears.
~ The "Pitch Perfect 2" Beyonce mash-up is a thing of girl power beauty.
~ How to dominate Scrabble (even after losing zillions of games over your lifetime to your mother).
~ Photographing your best friend's last day on Earth.
~ Mapping the world's languages.
~ Sia's latest music video ditches the small dancing child and replaces her with Heidi Klum and Oberyn from "Game of Thrones."
~ Ryan Murphy opens up about his horror slasher comedy show, "Scream Queens."
~ How to knock down that sticker price when buying a car.
~ Looks like we're headed to Trinidad: here are the cheapest summer flights you can buy right now.
Send tips/quips/quotes/stories/photos/events/scoops to Lauren Weber at lauren.weber@huffingtonpost.com. Follow us on Twitter @LaurenWeberHP. And like what you're reading? Sign up here to get The Morning Email delivered to you.