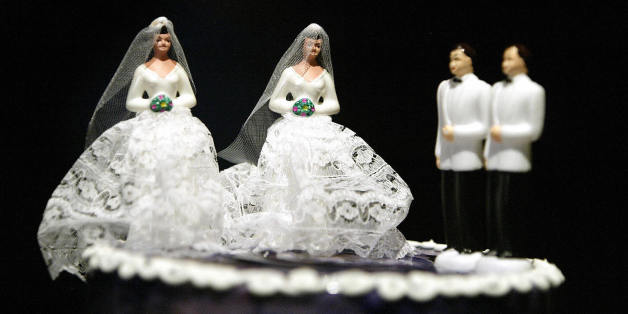 The owners of an Oregon bakery that violated their state's anti-discrimination laws by turning away a lesbian couple who sought a wedding cake are on the receiving end of at least one current online fundraiser in an effort to pay back a fine of $135,000 or more.
An administrative law judge for the Oregon Bureau of Labor and Industries ruled that Aaron and Melissa Klein, who operate Sweet Cakes by Melissa in Gresham, must pay Rachel Bowman-Cryer $75,000 in damages, and another $60,000 to her wife, Laurel Bowman-Cryer, Oregon Live reported.
However, the amounts are not final, as State Labor Commissioner Brad Avakian has the final authority to raise, lower or leave the proposed damages, according to the report.
The Kleins posted the following announcement on their business's Facebook page in response to the news: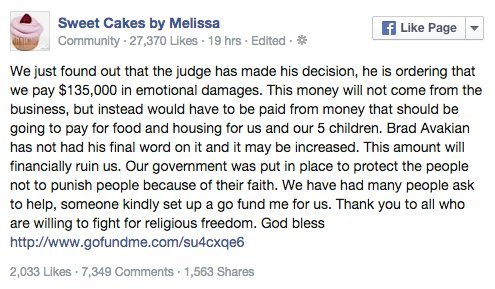 A GoFundMe campaign had originally been set up for the Kleins but was reportedly taken down, as noted by the owners themselves, who claimed "Satan's really at work" in a Facebook post published early Saturday morning:

However, several hours later, Sweet Cakes By Melissa's Facebook page stated that the owners were fighting to reinstate the GoFundMe fundraiser and until doing so, supporters could donate money at a similar site: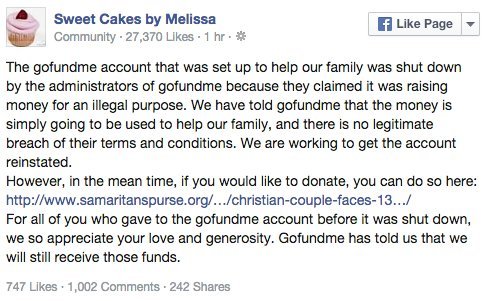 The original GoFundMe campaign had received in excess of $50,000 before being shut down.
In February, it was reported that the Kleins would have to pay the lesbian couple up to $150,000 after a judge ruled that their bakery was not a religious institution under the law.
Although they shuttered their bakery storefront in September 2013 in the wake of the anti-gay controversy, the Kleins still take orders online.
At the time of the 2013 incident, Aaron Klein argued that he and Melissa were simply living in accordance with their religious beliefs by rejecting the lesbian couple's request.
"I believe that marriage is a religious institution ordained by God," he was quoted as saying at the time. "I'd rather have my kids see their dad stand up for what he believes in than to see him bow down because one person complained."
UPDATE: According to GoLocalPDX.com, GoFundMe released a statement about why the Sweet Cakes By Melissa campaign was canceled:
"After careful review by our team, we have found the 'Support Sweet Cakes By Melissa' campaign to be in violation of our Terms and Conditions. The money raised thus far will still be made available for withdrawal. While a different campaign was recently permitted for a pizzeria in Indiana, no laws were violated and the campaign remained live. However, the subjects of the 'Support Sweet Cakes By Melissa' campaign have been formally charged by local authorities and found to be in violation of Oregon state law concerning discriminatory acts. Accordingly, the campaign has been disabled."
BEFORE YOU GO
PHOTO GALLERY
25 LGBT-Friendly Products & Companies Targeted By Boycotters