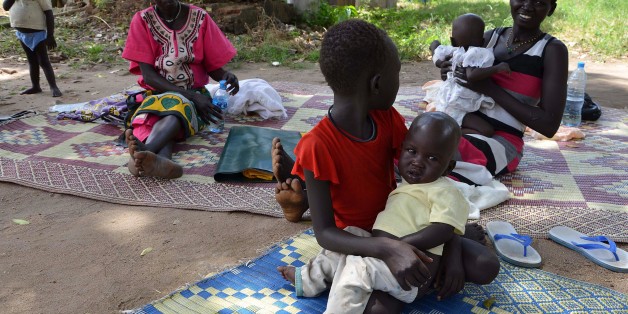 Every day, 1,200 children succumb to malaria, deaths that could easily be prevented with effective and low-cost interventions.
Saturday marks World Malaria Day, and while advocates are celebrating some noteworthy gains, they're also calling on the health community to ramp up its efforts to protect those who are most vulnerable to the disease with affordable measures.
Through malaria prevention, diagnosis and treatment, 4.3 million lives were saved between 2001 and 2013, according to UNICEF. Still, more than half a million people died from the disease in 2013, and the vast majority of the cases occurred in Africa.
To bring the death figures down even further, and nearly eradicate the issue in the next 15 years, the World Health Organization (WHO) is now urging for a more aggressive approach to prevention and treatment.
WHO now recommends diagnostic testing for all suspected malaria cases to make sure that malaria drugs are solely dispensed to patients who have contracted the disease.
The group also recommends that the most susceptible groups, which includes pregnant women, children under 5 and infants, get preventative treatments.
Strategies to protect pregnant women from malaria, for example, cost less 50 cents for the full course of four doses, according to UNICEF.
Eliminating malaria could save economies $270 billion in sub-Saharan Africa alone.
While the situation is grim in some areas, advocates say they feel bolstered by recent innovations.
The world's first malaria vaccine -- a shot designed for children in Africa -- could be approved by international regulators as soon as October, according to Reuters.
Another key prevention tactic may lie in simple LED lights.
A new study published in the Royal Society found that all arthropods analyzed (including mosquitoes) were significantly less attracted to customized LED lighting than fluorescent lighting.
A number of advocacy groups have also done a tremendous job in dispensing protective nets, which keep mosquitoes from preying on humans.
Since 2000, more than half a billion such nets have been sent to Africa, according to The New York Times.
However, on-the-ground advocates remain concerned about how these life-saving nets are being misused in a number of African countries.
In Mozambique, Nigeria, Uganda and elsewhere, some people are so desperate for food that they use the nets for fishing, the Times reported. Others fear that the nets are poisoned and can lead to impotence.
Despite such setbacks, advocates remain hopeful that the disease will come to a relatively swift end.
In November, Microsoft co-founder Bill Gates committed to increasing the budget for his foundation's malaria program by 30 percent to more than $200 million per year. One of his goals includes developing a drug or vaccine that purges the malaria parasite in people who carry the disease, but don't express any symptoms, the Associated Press reported.
"I really do believe that malaria can be eradicated in my lifetime," Gates told the AP.
BEFORE YOU GO
PHOTO GALLERY
Natural Ways To Prevent Mosquito Bites