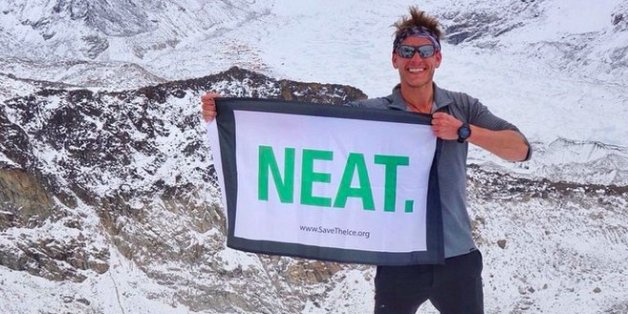 It's nearly impossible to find two people involved in a physical fight at Burning Man. When Dan Fredinburg stumbled upon just that, he responded the way only Dan Fredinburg would.
"He walked right into the middle of it and started dancing with both people," Fredinburg's friend, Max Stossel, told The Huffington Post Monday. "The two very angry men were confused at first. But eventually everyone was laughing and no longer fighting."
Fredinburg's free-spirited attitude carried him through a life rich with adventure, one tragically cut short Saturday by an avalanche on Mount Everest after a 7.8-magnitude earthquake hit Nepal. It was Fredinburg's second attempt to summit the highest peak on earth, having survived a similar disaster nearly a year ago.
As news of Fredinburg's death spread, tributes poured in from across the globe. Friends, loved ones and acquaintances shared memories and tributes to the 33-year-old, who ran a privacy team at Google, a climate change nonprofit called Save the Ice and a combination cafe and social impact startup incubator. They hailed him as a warrior poet, a bright burning star, a Viking philanthropist, a swashbuckler of the finest order, a silent force for justice, a hero.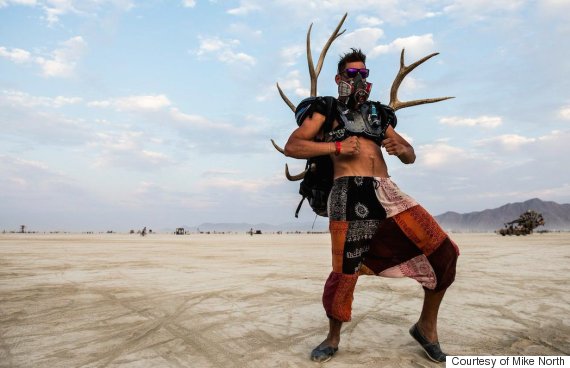 Fredinburg at Burning Man.
"He had this incredible hacker mind, always finding innovative ways to solve problems," Stossel said. "He used that mind to bring more love into the world, more adventure into the world, and create those kinds of experiences for the people he cared about."
Now, the people he cared about want to ensure Fredinburg's legacy continues well beyond his untimely death. On Monday, a group of his closest friends launched LiveDan, a campaign and website dedicated to the principles that guided Fredinburg's life.
"To Live Dan is to live life as an adventure," Fredinburg's close friend, Mike North, a co-creator, told HuffPost. "To not be afraid to go out and pursue dreams and crazy ideas. To get yourself out there in the world and do it. Dan was doing so much, and with no hesitation."
For now, LiveDan works as a simple tool: Visitors to the site can "pledge to live fearlessly" by sharing plans for their own upcoming adventures. Users are also encouraged to donate to Save the Ice and two Nepalese orphanages that Fredinburg was fundraising for with his Everest climb. A Crowdrise campaign launched in his memory over the weekend has raised nearly $50,000 for the orphanages.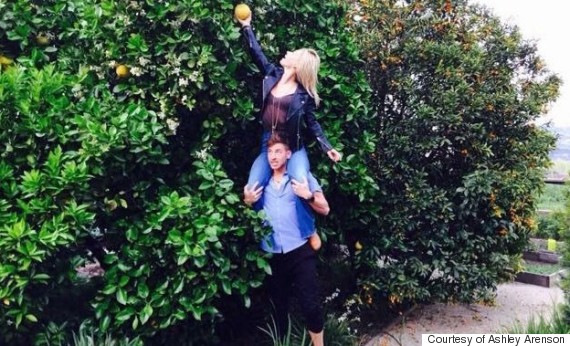 Fredinburg and his girlfriend, Ashley Arenson.
North said he expects the campaign will evolve into something larger, but he's not sure yet what that will be. "We are doing it exactly how Dan would do it," he said. "We don't know exactly where it's going or what it's going to be, but instead of sitting around and thinking about it and planning it, we just decided to do it. It's going to live a life of its own."
Ashley Arenson, Fredinburg's girlfriend of nearly two years, told HuffPost via email that being around Fredinburg made it feel like anything was possible. "Living Dan is living life as you are, who you are, and who you want to be," she said. "Sometimes that means taking the more difficult, less traveled roads. Dan took the untraveled roads."
In addition to his two Everest expeditions, Fredinburg had climbed to the summits of Mount Kilimanjaro and Carstensz Pyramid. To help raise money for Save the Ice, he organized a sailing trip through the Maldives for nearly two dozen of his friends earlier this year, tracing one of the original routes taken by the Swedish Vikings and talking to local residents about climate change.
North said Fredinburg's sense of leadership and fearlessness extended to his travels. "There was one point where it was pouring rain so much that the captain couldn't see out the front of the boat," North recalled. "So Dan went out to the front of the boat with a squeegee. He just stood out there in the storm for a while, squeegeeing so the captain could see."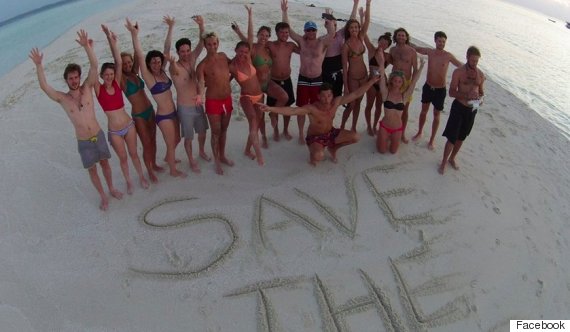 Fredinburg (front) and his friends on an adventure trip he organized.
Such endurance and determination characterized everything Fredinburg did, especially when it came to planning for an Everest climb. Before his first attempt last year, he walked for 20 straight hours in an effort to mentally prepare himself for the journey, North said. "He walked the whole Bay Area, all the way up to Marin and back down," he said. "His feet were covered in blisters."
Although Fredinburg's first attempt to summit the mountain ended in an avalanche, North said giving up was never an option. "It was never a question that he wouldn't do it," he said. "He was set on going back. He wanted this more than anything. It was his dream."
North added that he has managed to find some solace in the idea that Fredinburg died doing what he loved. "For him, that was the thrill of life -- pushing things right up to their limits and being there. Being aware and capable and able to handle it," he said. "I know that's where he wanted to be. He wanted to be on the edge."
BEFORE YOU GO
PHOTO GALLERY
Deadly Earthquake Rocks Nepal