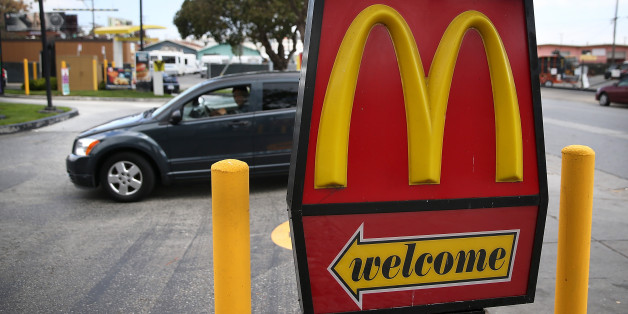 Police were called to a McDonald's in East Lansing, Michigan, at 2 a.m. Thursday after an employee punched a rowdy Michigan State University student in the restaurant, knocking him unconscious.
Another Michigan State student, Kevin Lange, filmed the end of the interaction, including the crucial punch, and uploaded the 10-second video to YouTube.
It's unclear from the video, which has already been viewed nearly 50,000 times, what led to the punch. It opens with three men, two of them McDonald's employees, talking near a restaurant door with a fourth man, who is mostly obscured. A few seconds later, this heretofore unseen fourth man starts to run -- and one of the two McDonald's employees slams him with one swift punch. He falls down, and several other people in the restaurant shout in surprise.
Lange said the apparently drunken student was punched after stumbling into the restaurant, spitting on the counter and throwing a "Caution: Wet Floor" sign.
Police said the man who was punched sustained injuries that were not life-threatening. According to student paper, The State News, he is filing a criminal complaint against the restaurant employee who punched him.
"We take this matter very seriously and are fully cooperating with local law enforcement," McDonald's said in a statement. "Because the matter is under investigation, any further inquiries are being referred to the East Lansing Police Department."
BEFORE YOU GO
PHOTO GALLERY
Mealbreakers