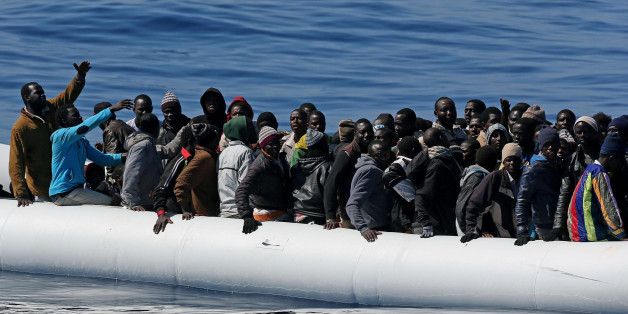 A series of deadly shipwrecks in the Mediterranean Sea has claimed the lives of hundreds of migrants who tried to reach Europe from North Africa in the past weeks. The recurring tragedies and the slow reaction of global power brokers have sparked anger and consternation around the world.
Faced with the crisis, the member states of the European Union convened at a special summit in Brussels last week and agreed to increase efforts against human traffickers and deploy more resources to provide immediate aid to migrants in danger at sea. However many have criticized the proposals as as long overdue, coming after years of increased migrant influx to the EU and thousands of migrant deaths in transit over the Mediterranean. Prior to the summit in Brussels, international medical humanitarian organization Doctors Without Borders condemned European inaction and announced the launch of their own search-and-rescue operation.
The impact of the new EU initiatives will become clear in the near future, but over the past few years, as catastrophic shipwrecks increased and migrant deaths multiplied into the thousands, several private initiatives have sought their own means to offer aid to migrants at risk.
Here are some examples of different ways that private citizens have worked to reduce the human cost of migration to Europe in the face of inaction.
1. The Phoenix Patrols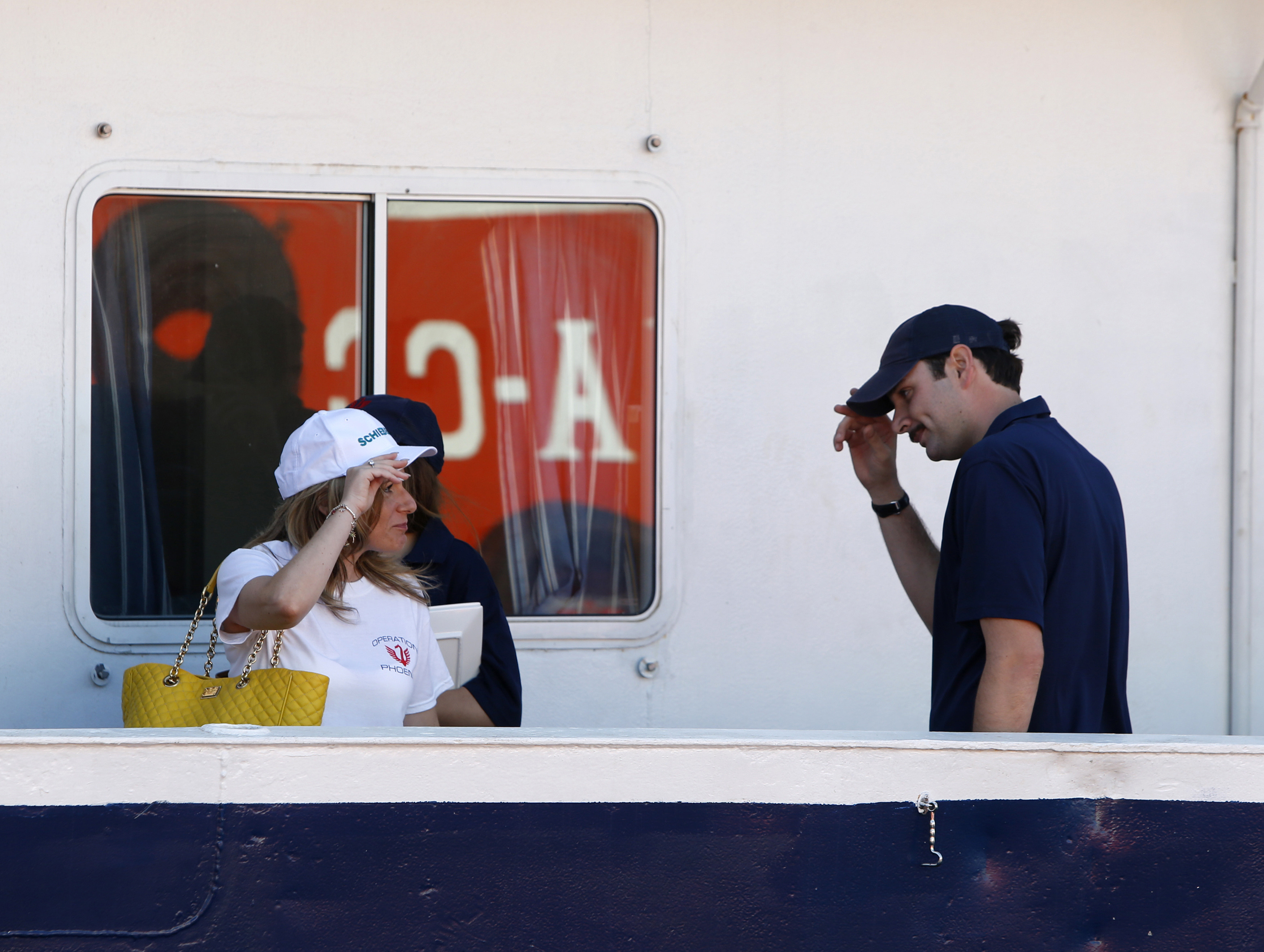 Christopher and Regina Catrambone aboard their boat the Phoenix, April 25, August 2014 (Darrin Zammit Lupi / Reuters)
Christopher and Regina Catrambone are among those who decided to come to the aid of migrants facing danger while trying to penetrate the "European Fortress." This Italian-American couple, whose insurance company is based in Malta, has spent several million dollars to mount a rescue project for migrants. Crewed with about 20 people, their 131-foot ship, the Phoenix, wants to "lend a strong hand to the Italian authorities in the rescue of migrants," explains Agence France Presse.

In a Time Magazine portrait of the couple, Christopher Catrambone explained that he didn't set up the mission to save the world, but to "help people who are in a desperate situation."
"We're talking about our own loss of human dignity as a society," he said, adding that it's impossible to ignore that people are dying at sea.
The NGO the couple created,
MOAS (Migrant Offshore Aid Station)
, was able to prevent the drowning of nearly 3,000 people in 2014,
NPR reports
. But this important -- and expensive -- venture eventually faced with a lack of funding. At the end of last year, Christopher and Regina Catrambone made
an appeal for donations
to continue their humanitarian mission. In early April, MOAS announced that it would continue its sea patrols
through a partnership with the NGO Doctors Without Borders.
Together, the two organizations will patrol with the Phoenix between May and October.
2. From Entrepreneurs To Seafaring Rescuers
Though more modest, Harald Höppner and Matthias Kuhnt's project somewhat resembles that of the Catrambones'. These two German entrepreneurs invested some of their money in a boat. With an initial $162,000, they were able to buy a 68-foot ship that they've used to patrol the Mediterranean in order to detect small migrants' boats in trouble. They also launched a
crowd-funding platform
to pay for part of the costs generated by their boat purchase.

What inspired them to take on this project? Matthias Kuhnt explained to the Washington Post that the idea came to him during celebrations of the 25th anniversary of the fall of the Berlin Wall. "We realized that only a few hundred kilometers from Germany, we are in the process of building a similar border. In 2014 alone, more people died at the borders of the European Union than during the twenty-seven years during which the Berlin Wall separated Germany," he said.

The two men have scheduled a three month mission to launch in mid-May. And they won't be alone. According to the duo, dozens of volunteers have come forward to participate. But the operation has its limits: Höppner and Kuhnt clarified that they will not bring the migrants on their boat for fear of being accused of being smugglers.
"If we come across a boat in distress, we will [send an] alarm [to] the Italian or Maltese coast guard. The authorities will hardly be able to ignore a distress call from a German crew," Kuhnt
told the Washington Post.
3. The French Sailor
French sailor Philippe Martinez has been credited with saving hundreds of migrants' lives--
all on his own initiative.
Martinez spent a part of the summer of 2014 on the Mediterranean. Captain of a tugboat that cruised the high seas off the coast of Libya, he used his ship to rescue migrant ships suffering from a lack of fuel or food -- and in one case, evacuate passengers on a ship that was on the verge of sinking. "Saving lives at sea is the duty of a sailor,"
he told the DPA.
4. Father Zeraï, Remote Rescuer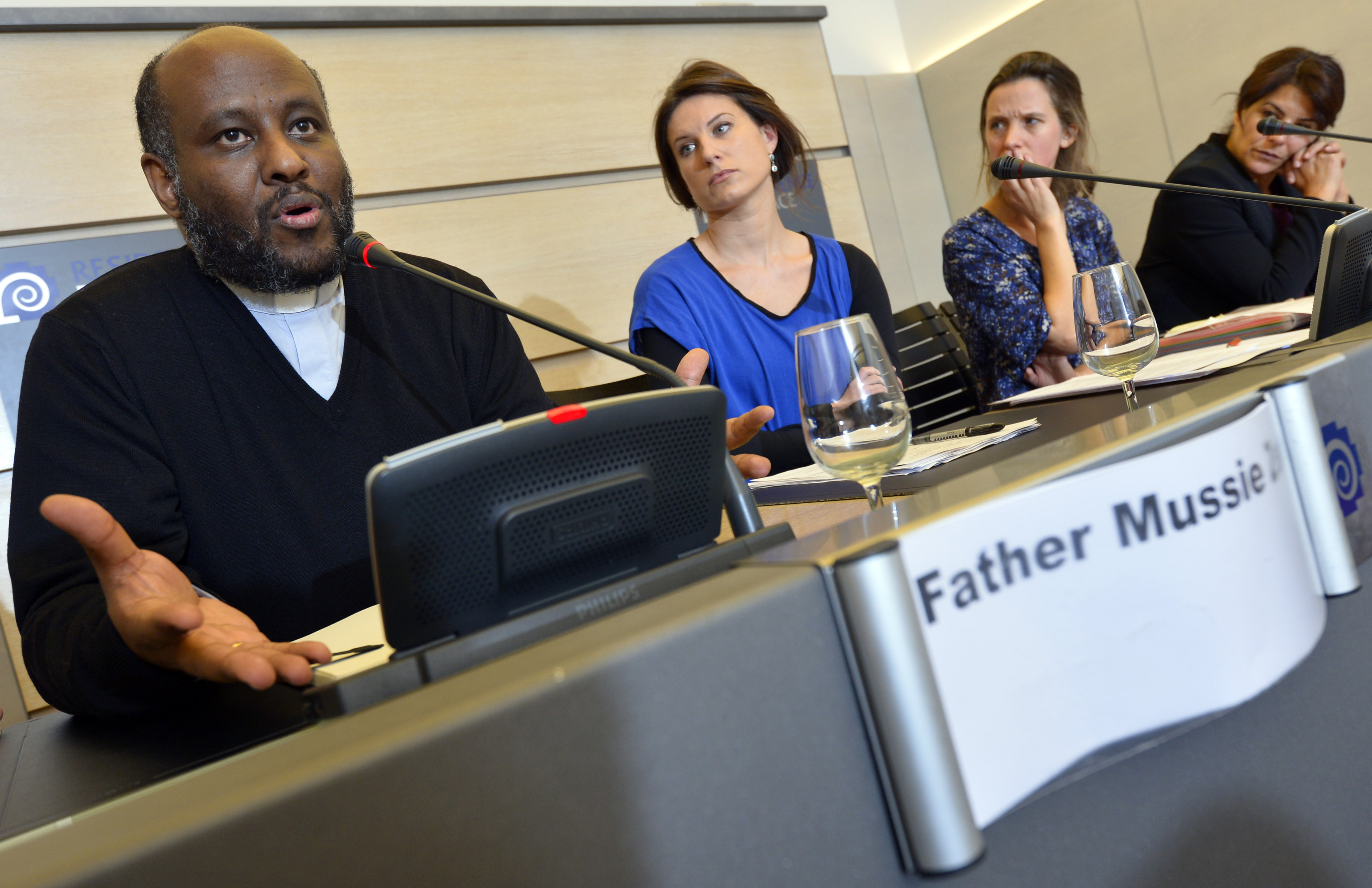 Father Mussie Zerai at a press conference after a shipwreck on Nov. 26, 2013 in Belgium (BENOIT DOPPAGNE / AFP)
Mussi Zeraï has no boat. However, he does has a cell phone-- and he uses it as a weapon to save those who hope for a better life outside of their country of origin. This Switzerland-based Eritrean priest, whose phone number is transmitted from migrant to migrant, contacts Italian emergency services when he receives a distress call from migrants at sea.

He received the first phone call of this kind in 2003, he told the Nouvel Obs. That year, he visited a detention center for migrants in Libya. "I gave them my phone number. Just in case. One of them wrote it on the wall of the prison. And people started calling," he explained to the weekly periodical, stating that at that time, he had alerted the Maritime Rescue Coordination Centre (MRCC) without knowing what to say. More than 10 years later, "not a day goes by that he doesn't call to put us in contact with people at sea who need our help," said a switchboard operator at the Italian Coast Guard, who called Zeraï "the savior of migrants."

This story originally appeared in HuffPost France.