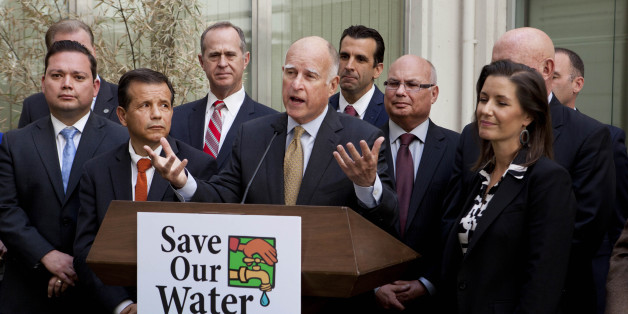 Wasting water in drought-stricken California could soon cost you up to $10,000, Gov. Jerry Brown (D) announced Tuesday after meeting with mayors from across the state.
After introducing California's first statewide mandatory water cutbacks earlier this month, Brown declared he will propose new legislation to help local officials enforce them. These reductions call for residents to decrease their water use by 10 to 35 percent, depending on the water district.
"These measures will strengthen the ability of local officials to build new water projects and ensure that water is not wasted," Brown said in a press release. "As this drought stretches on, we'll continue to do whatever is necessary to help communities save more water."
His proposed legislation will have to be approved by state lawmakers and has not yet been released, but he said at a press conference that "only the worst offenders" would face the $10,000 fine -- which is 20 times greater than the current $500 maximum.
The legislation would also allow water agencies and local governments to enforce water-waste restrictions and to issue related penalties in order to speed up an infraction process that usually involves courts.
A separate item on the legislation is aimed at helping local water agencies speed up and streamline the environmental review process for local water projects.
Brown's plan got a thumbs up from San Jose Mayor Sam Liccardo (D), whose city imposed some of the most sweeping local rules earlier this week, including some strict limits on how residents can wash their cars, water their lawns and maintain their pools.
State Republicans, the San Jose Mercury News noted, will likely be a barrier to passing this legislation.
"California cannot fine our way to a water supply," Assembly Republican Leader Kristin Olsen said in a statement. "California has not built water storage in over 40 years. It's time to stop with the Band-Aid fixes and streamline water storage projects so we can capture water in wet years and prevent water crises for future generations."
BEFORE YOU GO
PHOTO GALLERY
California Drought