Reporters proved that they aren't just good at tweeting out the same speech, they're also good at tweeting the same photo of an empty baseball stadium. Bernie Sanders once appeared in a romantic comedy, but his thriving folk music career wasn't enough to ensure its success. And depending on which cable news network you watch, the Baltimore riots were caused by: terrifying black people (Fox News), this cruel world, but, hey, whaddya going to do? (CNN) or people not paying enough attention to Thomas Roberts (MSNBC). This is HUFFPOST HILL for Wednesday, April 29th, 2015:
GOP WANTS TO GUT PREDATORY LENDING PROTECTIONS FOR VETERANS - A standalone bill, the "You Guys Remember When We Shot Down The 9/11 Survivors Bill And The Disability Treaty, Well Check This!" Act, was a no go. So they went another route. Zach Carter: "House Republicans are pushing legislation to block predatory lending protections for American soldiers, under pressure from the banking lobby. GOP lawmakers tucked the deregulation item into the National Defense Authorization Act -- a major bill setting the military's funding, along with a number of other controversial terms on Guantanamo Bay and other issues. If the banking item is enacted, it would impose a one-year delay on new Department of Defense rules meant to shield military families from abusive terms on payday loans and other forms of high-interest credit. The bill is being considered Wednesday before the House Armed Services Committee. The military has been struggling with the financial impact of predatory lending on service members for years. A 2014 report issued by the Consumer Financial Protection Bureau documents a host of abuses targeting troops. One family that took out a $2,600 loan ended up paying back $3,966.84 over the course of a year. Another borrower spent $1,428.28 to pay off a $485 loan in just six months. Thousands of service members receive short-term, high-interest loans each year." [HuffPost]
TED CRUZ TED CRUZES - Colin Campbell: "Presidential candidate and Sen. Ted Cruz (R-Texas) said on Wednesday that he has never seen a Hispanic person begging for money on the street.'I don't think I've ever seen an Hispanic panhandler. And the reason is: In our community it would be shameful to be begging on the street,' Cruz said, recalling a conversation he once had with a Latino businessman on the topic. Cruz, who is of Cuban descent, made the point while speaking in Washington at a question-and-answer session with the Hispanic Chamber of Commerce." [Business Insider]
BRIDGEGATE: CHRISTIE AIDE TO PLEAD GUILTY - Time for some justice in Fort Lee. David Voreacos: "David Wildstein, a former ally of New Jersey Governor Chris Christie, is set to plead guilty this week, according to a person with knowledge of the matter, suggesting he may be cooperating with prosecutors probing traffic jams he ordered near the George Washington Bridge. Wildstein is scheduled to appear Friday in federal court in Newark, where grand jurors have heard testimony in secret for months about gridlock over four mornings in Fort Lee, New Jersey, according to the person, who requested anonymity because the matter isn't public. He would plead guilty to a charging document known as a criminal information, the person said. It was unclear what the specific charges would be in the plea. The plea was originally scheduled for Thursday, the person said. A plea by Wildstein, who was a top appointee at the Port Authority of New York & New Jersey, would be the first conviction for U.S. Attorney Paul Fishman in an investigation of the September 2013 lane closures." [Bloomberg]
Haircuts: William Allison (h/t William Allison), Sara Bondioli (h/t Sara Bondioli)
DAILY DELANEY DOWNER - The Baltimore Orioles played a baseball game in an entirely empty Camden Yards stadium today because of continued Freddie Gray fallout fears. [HuffPost]
UPSIDE DOWNER - The Baltimore riot that didn't happen.
Does somebody keep forwarding you this newsletter? Get your own copy. It's free! Sign up here. Send tips/stories/photos/events/fundraisers/job movement/juicy miscellanea to huffposthill@huffingtonpost.com. Follow us on Twitter - @HuffPostHill
BERNANKE TO PIMCO - But he kept inflation low, why does he need so much money? Kirsten Grind: "Pacific Investment Management Co. said Wednesday that it has hired former Federal Reserve Chairman Ben Bernanke as a senior adviser to the firm. Mr. Bernanke, who navigated the Fed and helped steer the economy through the 2008 financial crisis, will provide guidance on the money manager's investment process and sometimes meet with clients, Pimco said. The announcement follows news earlier this month that Mr. Bernanke is joining the Chicago-based hedge fund Citadel LLC as a senior adviser. Mr. Bernanke will advise Pimco during a time of tumult at the Newport Beach, Calif.-based firm, which continues to suffer from investor outflows following the departure of star bond-fund manager and co-founder Bill Gross last September. Pimco, with $1.6 trillion in assets under management, is a unit of German insurer Allianz SE." [WSJ]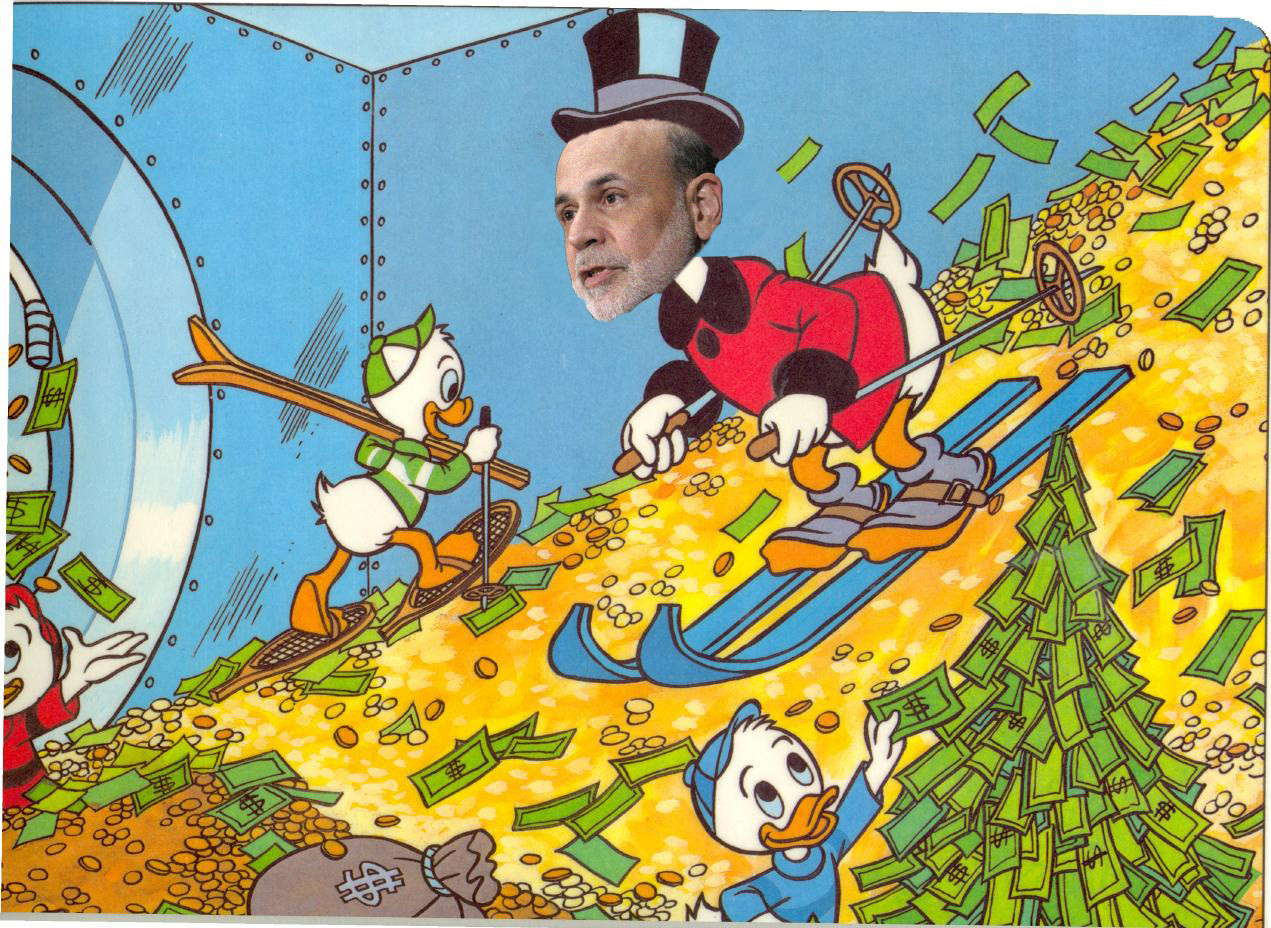 Wheeeeeeeeeeeeeeeee!
SUPREME COURT DOESN'T TOTALLY DESTROY ELECTION PROCESS - Paul Blumenthal: "In a 5-4 decision on Wednesday, the Supreme Court upheld the right of states to ban elected judges from soliciting campaign contributions for their own campaigns. The majority of the decision was penned by Chief Justice John Roberts and joined by the court's four liberal justices. The decision comes after a long string of court rulings that overturned campaign finance regulations, among them the well-known 2010 Citizens United and the 2014 McCutcheon cases. Wednesday's ruling, by contrast, upholds a campaign finance regulation, and does so by making a strong distinction between the role of the judiciary and the role of elected legislative and executive officials. Explaining this distinction, Roberts, writing for the majority, said: 'A State's interest in preserving public confidence in the integrity of its judiciary extends beyond its interest in preventing the appearance of corruption in legislative and executive elections.'" [HuffPost]
"61 Times Bill Kristol Was Reminded of Hitler and Churchill"
CLINTON PROPOSES CRIMINAL JUSTICE REFORM - Because promises made in the early presidential campaign are always seen through (our favorite: 1999 George W. Bush: "we must jawbone OPEC members to lower prices"). Amanda Terkel: "Hillary Clinton on Wednesday used her first major policy speech as a 2016 presidential candidate to draw attention to the death of Baltimore's Freddie Gray, saying it was part of an 'undeniable' pattern in which black men in America are disproportionately targeted by the criminal justice system...Clinton laid out her vision for fundamentally reforming the criminal justice system, centering around an 'end to the era of mass incarceration.' Those changes include addressing probation and drug diversion programs, increasing support for mental health and drug treatment and pursuing alternative punishments for low-level offenders. She also wants to see body cameras given to every police department to increase transparency and accountability in a way that benefits both officers and members of the public." [HuffPost]
From "y'all" to" you all" and back again: Tracking the evolution of Hillary's accent.
Just when you think you understand politics: Martin O'Malley gets dinged after decamping to Baltimore from a European speaking tour. Meanwhile Hillary, who spent the riots fundraising, is #winning #the #day.
David Simon tears into Martin O'Malley
LIBYA RATCHETS UP LOBBYING - "Hello, we noticed on your website that you 'tell clients' stories' and we would like you to not tell ours." Shane Harris: "The fledgling government of Libya has hired a top-flight Washington PR firm to represent its interests in D.C., even though by all accounts Libya is a failed state with no real functioning government. This month, the Libyan embassy in Washington, which maintains a small office in the Watergate office complex, signed a one-year contract worth $1 million with Qorvis MSLGROUP, to 'provide strategic advice and assistance on public relations issues,' according to records filed with the Justice Department. Precisely why the government has decided to spend so heavily on a foreign political campaign when it's fighting for its life against Islamic radicals, political rivals, and ISIS is unclear. Officials at the embassy didn't respond to emails and phone calls seeking comment. But Libya needs all the help it can get in Washington, which officially recognizes a democratically-elected government in the eastern city of Tobruk, and not a rival faction in Tripoli. The country's embassy in the U.S. is operated by Tobruk. Libya has become a breeding ground for jihadists, and ISIS has staged mass beheadings of Christians and journalists." [Daily Beast]

Toure is MSNBC's spirit animal
KEYSTONE PIPELINE A MYSTERY TO MOST AMERICANS - We just assumed it was some kind of sausage grinder-style contraption with a crank that oozes out jobs. Kate Sheppard: "The majority of Americans have no idea what the Keystone XL pipeline is, but among those who do, support for its construction is firmly split along partisan lines, according to a new poll released Wednesday. The University of Texas at Austin's Energy Poll surveyed more than 2,000 adults, and found that less than half -- 42 percent -- were familiar with the proposed Keystone XL pipeline. The pipeline, which would carry oil from Canada's oil sands to refineries in Texas, has proved controversial in Washington. Congressional Republicans have tried repeatedly to force approval of the pipeline through legislation, but the Obama administration has so far held off on issuing a final decision on whether to grant a permit for the pipeline." [HuffPost]
FLORIDA HOUSE FLEES MEDICARE VOTE - Remember, we elect politicians Samantha Lachman: "The state House's Republican leadership didn't want to bring a Medicaid expansion bill that the Senate's Republicans support up for a vote, so it decided in an abrupt fashion Tuesday to end the legislative session three days early. The decision to leave town, in what appears to be the country's most overt intraparty state legislative battle, put many policy priorities of Gov. Rick Scott (R) in limbo. As the Miami Herald reported, House Speaker Steve Crisafulli (R) brought the session to a close because he didn't want to force members to vote for an expansion of Medicaid for more than 800,000 Floridians that would use federal funding from the Affordable Care Act. Senate GOP leaders want an agreement on Medicaid as a prerequisite for beginning negotiations with the House over the state's budget." [HuffPost]
BECAUSE YOU'VE READ THIS FAR - Here's a pug voyeur.
THAT TIME BERNIE SANDERS APPEARED IN AN INDIE ROM COM - Andrew Kaczynski and Megan Apper: "While the senator will attempt to appeal to voters by touting his staunchly-left record, Sanders has something else on his resume that might stand out to voters: comedy actor. Sanders played "Rabbi Manny Shevitz" in the 1999 low-budget comedy My X-Girlfriend's Wedding Reception. Sanders, who appears in the trailer, makes an appearance for about two minutes midway through the movie." [BuzzFeed]
COMFORT FOOD
- Five rules for telepresence robots.
- There's a forthcoming movie called "Cowboys Vs. Dinosaurs" and here's its trailer.
- New to us: Photographer plates junk food as if its fine dining.
TWITTERAMA
@morninggloria: twitter has gotten too dangerous
tomorrow you will spend all day tweeting to yourself without an audience
(doing actual writing)
@RheaButcher: Feminism, from the Latin for "don't read the comments."
@MEPFuller: Pretty much every lawmaker is reading Abe's speech. I guess you could say Congress is finally
(•_•)
( •_•)>⌐■-■
(⌐■_■)
on the same page

Got something to add? Send tips/quotes/stories/photos/events/fundraisers/job movement/juicy miscellanea to Eliot Nelson (eliot@huffingtonpost.com) or Arthur Delaney (arthur@huffingtonpost.com). Follow us on Twitter @HuffPostHill (twitter.com/HuffPostHill). Sign up here: http://huff.to/an2k2e