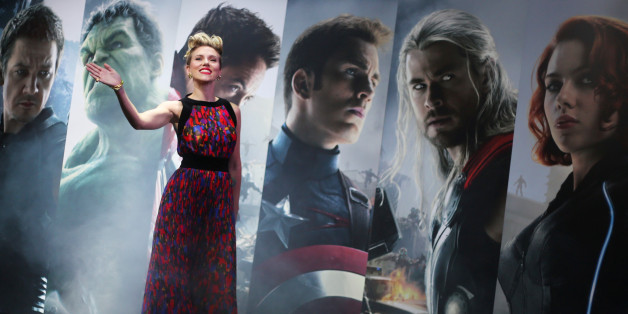 He said please, Marvel.
Mark Ruffalo, actor and professional green giant, really wants to be a good dad and get his nieces and daughters some Black Widow swag ahead of the premiere of his new film "Avengers: Age of Ultron" this week.
.@Marvel we need more #BlackWidow merchandise for my daughters and nieces. Pretty please.

— Mark Ruffalo (@MarkRuffalo) April 29, 2015
But despite Scarlett Johansson appearing in four installments of the wildly popular franchise (soon, five), her character is desperately underrepresented when it comes to fan gear.
The Huffington Post's quick tally of Marvel's merchandise site found nearly all of Black Widow's male compatriots had at least three times as many offerings for fans.
Captain America -- 125 items
Iron Man -- 120 items
Thor -- 105 items
Hulk -- 100 items
Black Widow -- 33 items
Hawkeye -- 30 items
Marvel has come under fire in the past for the lack of female superheroes that have made it to the silver screen, despite embracing a shift in comic culture in print. Earlier this year, the company announced the creation of the "A-Force," an all-female team of Avengers, but there are currently no known plans for a film adaptation.
"Our heroines embody the ideals of what we can each strive to be," A-Force co-creator Marguerite K. Bennett said during the announcement.
Meanwhile, The Hulk wants his heroines to be celebrated not just by kids, but by everyone.
@MarkRuffalo @Marvel or just for everyone in general. The appeal of Black Widow isn't limited to girls.

— abbey (@abbey_maree) April 29, 2015
Please, Marvel?
H/T The Mary Sue
BEFORE YOU GO
PHOTO GALLERY
'The Avengers': Character Rankings